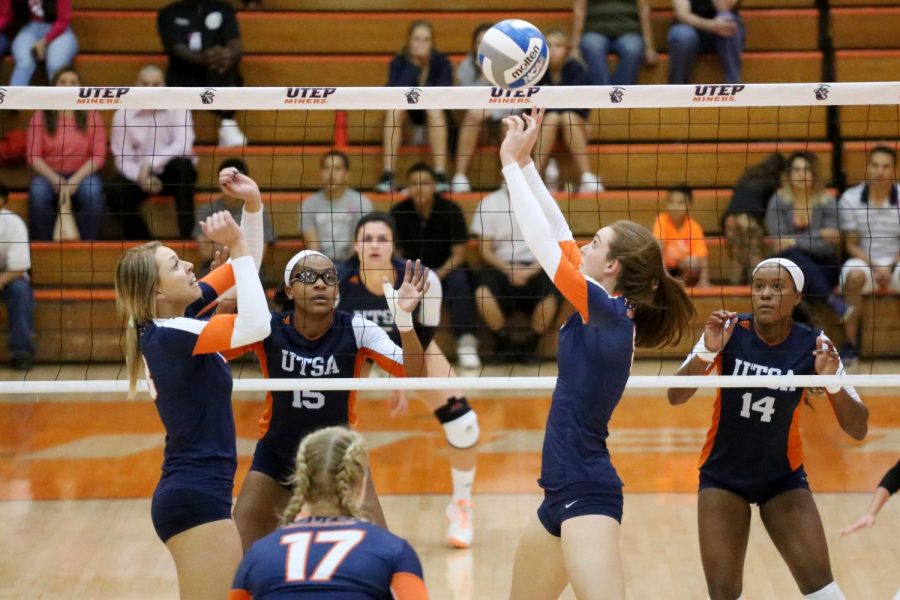 Gaby Velasquez
The UTEP women's volleyball team fell in straight sets (3-0; 25-23, 25-19, 25-15) to Conference USA foe UTSA on Sunday afternoon in Memorial Gym. The fifth straight loss puts the Miners at 1-5 in league play, while the Roadrunners improve to 5-1 and 7-11 overall.
"At the beginning of the first set we came out really hot," head coach Holly Watts said in a press release. "We just need to keep that momentum going by getting our passes where we want them. We've developed some parts of our game that is really going to help us down the road."
Macey Austin put together her sixth straight double-digit kill match in the loss.
She hammered 13 kills against the Roadrunners to lead to Miner offensive effort, and Amanda King dished out 21 assists to lead the squad.
Defensively, UTEP saw double-digit digs from Dania Orozco and Ashley Grzebeniak. Orozco picked up 10 digs while Grzebeniak led the team with 12. Aiding the defense was freshman Mallory Yost, who put together another nice blocking effort, notching the team's lone solo block and a block assist, while King teamed up for two block assists.
The Miners saw service aces from Niki Cebak, Briana Arellano and Grzebeniak, who each had one.
"Our energy was better today than on Friday, which helped us play really well against a very good UTSA squad," Austin said in a press release. "There are still some small plays that made the difference in this game that we didn't capitalize on that we need to fix. It's one thing to work on those things in practice, we just need to execute them in the game."
UTEP (4-15, 1-5 C-USA) will play their third game in four days as they head to Hattiesburg, M.S. to face Southern Miss tomorrow (Oct. 16). The match, which was postponed last week due to Tropical Storm Nate, will begin at 12 p.m. MT.