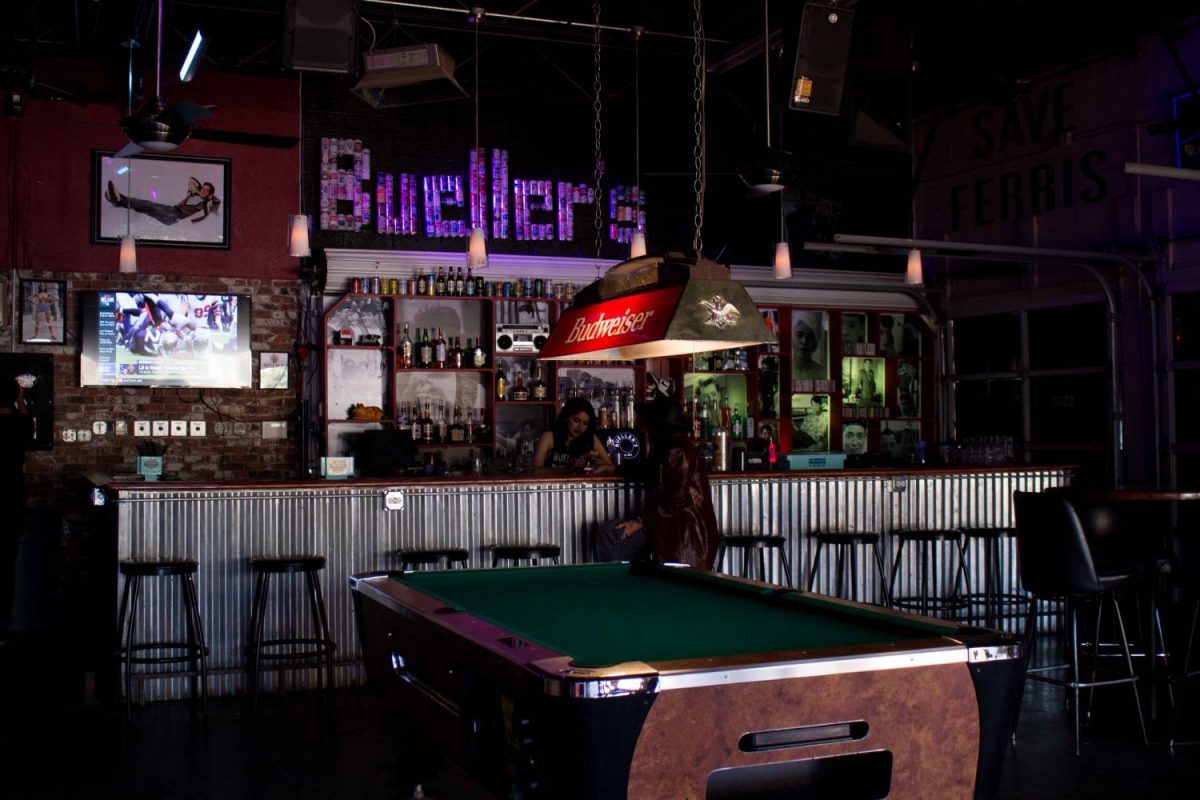 Claudia Hernandez
At the start of September, Bueller's opened its doors and let bar hoppers into the world of everyone's favorite slacker teen from the '80s.
Alex Macias, the owner of Bueller's, was a freshman in high school when "Ferris Bueller's Day Off" was released.
"Who didn't want to be Ferris Bueller when they were a kid?" Macias said. "When I was a kid, he was like the coolest thing in the movies. Everyone wanted to be Ferris Bueller."
Bueller's is located at 4025 Mesa, previously Aviators, and sits right next to Rubiks Arcade Bar. Now, at the start of October, they are adding food to the retro dive bar's menu.
When the space for the bar became available, Macias knew he wanted to get something going and went with what he knows best–the '80s. The decor of the bar includes both items from his very own bedroom growing up and also items that portray what Ferris Bueller's room looked like in the movie.
Macias mixed his childhood posters with his skateboards, childhood dresser and other items. 
"This bar really does take me back," Macias said, as he scanned the bar full of lava lamps, plasma glow lights, black light posters and other '80s memorabilia.
Originally, Macias wanted the entire bar to be a replica of Ferris Bueller's bedroom, but after doing research he found the bedroom was in reality only two walls. Since the space has some nooks and crannies in its original design, he was able to create a small model of a bedroom in the corner.
Along with having an uncommon theme, Bueller's also differs from other bars in its business hours. They open their doors at 7 a.m., Monday through Saturday, and 12 p.m. on Sundays. They close at 2 a.m. every day. This was done to cater to those who work graveyard shifts.
"With the introduction of food, we're trying to target hospital (employees) and students," Macias said. "When they get off early from class, they can come over here. We're trying to target that crowd to bring them in the morning."
A few months ago, Macias and his wife had a baby and overheard the nurses at the hospital discussing where they were going to grab a drink when they finished their shift.
"They said, 'this is our night now' at 7 a.m. because they work all night, so they want to go somewhere to drink," Macias said. "They were tired of going to the same places over and over, so I thought well maybe we can capitalize on that. Maybe we can offer a different option for them in the morning."   
The bar is still developing its selection, but currently offers 33 craft beers, daily $1.50 Hamm's beer and $2 Wells drinks on Tuesdays.
Macias also owns Rubiks next door, which will be three years in business this coming March. He chose to start the new bar rather than to expand on Rubiks.
"Rubiks is already big enough as it is," Macias said. "We already have close to 70 arcade games, the bar doesn't need to be any bigger. There's 12 more bars then when we opened Rubiks so the crowd has been so spread out."
A patio connects the two bars together and drinks that are purchased at either Rubiks or Bueller's can be carried over to each other.
Although both bars are symbiotic in retro themes, Rubiks has a louder environment with the sounds of the machines and DJs. Bueller's has a much more laid-back atmosphere that makes sitting down for a beer and just having a conversation easier.
Macias didn't design the bar to cater to any specific bar or age group. The '80s theme works for older age groups that lived their teen years the same time that Ferris Bueller did and for those that recently discovered the movie or have a fascination with the time period.
"El Paso loves options," Macias said.  "I really hope this is something different for El Paso. I mean it's not anything extravagant or anything. It is very real, it's very honest. It's just a chill and cool place to hang out."
He said with the bar scene is becoming more and more saturated in El Paso, and bar owners have to be more professional than ever and really treat it like a business.
"You have to be different, you have to just be true to what you want to do and in it for the right reasons," Macias said. "It's very easy to get in this and get in the party mentality but that's not what this is."