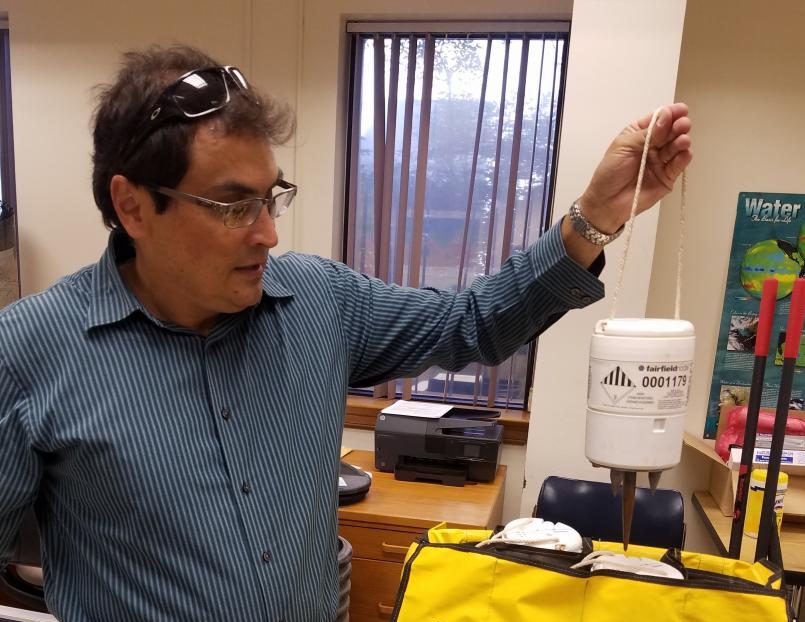 Elenie Gonzalez
In wake of the recent earthquakes in Mexico, including the 7.1 magnitude earthquake near Mexico City, UTEP geologists will be teaming up with scientists from the Universidad Autónoma de Ciudad Juárez (UACJ) to travel to Central Mexico on Wednesday to study the seismic activity that has been shaking region.
The binational effort will bring together a team of professors, students and engineers from the Department of Geological Sciences along with UACJ. The team from UTEP includes research assistant professor Hector Gonzalez-Huizar and doctoral student Solymar Ayala-Cortez.
"UTEP is in collaboration with colleagues in Juarez, and in Mexico City to deploy seismic instruments to monitor the two earthquakes that happened down in Mexico," professor of geological sciences Aaron Velasco said. "It is a true collaboration in the sense that we are going down there in good faith to just help the situation, help the scientists, and try to answer some of these key questions with those earthquakes."
Velasco has helped in orchestrating the upcoming trip. Though he will not be traveling to Mexico on Wednesday, he will be sending two members of the department.
Solymar Ayala-Cortez, a candidate for a doctoral degree in geological sciences, will be part of the research team is excited for this expedition.
"I am a Ph.D. student working with Dr. Velasco so this trip will be a learning experience for me," Ayala-Cortez said. "(The team) is looking for the correlation between the two different earthquakes that happened in Chiapas and Puebla. We don't know yet if they were correlated, but it was kind of weird the way it happened."
The earthquakes that struck Chiapas and Puebla had very strong magnitudes and occurred only 400 miles apart within a span of 12 days, but scientists do not know if they are connected.
"There is no physical mechanism that explains that they were linked to one another, but both earthquakes being close together and very destructive, it is very unlikely. So, we believe it might be unlinked," Dr. Hector Gonzalez-Huizar, a professor of geological sciences, said.
Gonzalez-Huizar and Ayala-Cortez will be traveling to Mexico with a team of four students, three engineers and one professor from UACJ to ensure a successful deploy, and to join the data collected from this trip with the seismic community in Mexico.
The director of the geological research center and geophysics professor at UACJ, Dr. Hector Dena Ornelas, said that his center has been in collaboration with Velasco and Marianne Karplus, assistant professor at UTEP, for the past few years.
Because of the partnership UTEP has made with UACJ, Velasco offered use of the seismologic equipment from Department of Geological Sciences in the research trip. Ornelas knows this will be very valuable in gathering data from seismic activity occurring in Mexico.
"It is important to deploy this kind of technology down there in order to get a better assessment of the tectonic regime beneath the center of the country. It will help to decipher what the dynamic of the events are happening in the crust," Ornelas said.
Velasco has been working with the National Science Foundation to receive funding that will allow UTEP to send more of its scientists. He also hopes to make the trip once more funding is secured.
The idea to travel to Mexico happened after the powerful 8.1 magnitude quake struck off the southern coast near the states of Chiapas and Oaxaca. Velasco got in contact with colleagues in Mexico, but the NSF did not have funding to help send a team to the area.
After the second quake hit on Sep. 19, the decision was made to get to Mexico at all costs.
"That's it. We're going," Velasco said. "We've been working very hard to get this off the ground. I've been collaborating with people from the National Science Foundation, talking with our colleagues down in Mexico and here at UTEP. To get the instruments down in Mexico within a week after that would be a huge victory for us."
Though this is a recent effort, the foundation to work Mexico had been in the planning stages for about six months according to Velasco.
"I had been making a couple of trips down to Mexico City to meet with their disaster agency, trying to build a partnership with our Mexican colleagues, including UNAM (Universidad Nacional Autónoma de México)," Velasco said.
The team from UTEP will be deploying about 12 traditional seismic sensors that are designed to stay underground from a range of months and up to few years. Along with those sensors, UTEP will also take 51 state-of-the-art seismometers that will be used for the first time in this capacity.
"They're actually designed for explosions, but this is the first time that we'll use them in an aftershock zone. The organization in seismology is very interested to see how they'll perform," Velasco said "It's really a collaboration, we don't want to get in their way, but at the same time we're offering state-of-the-art equipment to try and see what we can do."
These seismometers will be buried for 30 days before they will be recollected and returned to the states. The instruments will be able to gather crucial data that will help seismologists figure out why these events are occurring.
After the team arrives in Mexico City, the plan will be finalized to decide where the sensors will be placed. Initially, the sensors were set to be used in Mexico City, near the more devastating earthquake in Puebla, however it seems likely that it will be sent to Chiapas where seismic activity continues to occur.
According to the United States Geological Survey (USGS), the region has continuously been rattled by close to 2,000 aftershocks, including one on Sep. 23 when a 6.1 magnitude earthquake hit the state of Oaxaca.
The activity of these quakes has left scientists baffled. While the area of Chiapas and Oaxaca has experienced more frequent activity since the 8.1 earthquake occurred, the area closer to Mexico City has not had many aftershocks.
This is not the first time that UTEP has sent scientists from the department to a natural disaster zone. Back in 2015, UTEP sent a team of geologists to Nepal to study the aftershocks of a devastating earthquake shook the area. The 7.8 magnitude quake killed more than 8,500 people and injured thousands more.
Ornelas feels that trips like this are important, not only to collaborate research efforts, but to help those devastated by the earthquakes as well.
"We have to provide all the kind of relief and support that we can, but they also need to get a better understanding of what's causing this type of activity," Ornelas said. "And I think the scientific community can join efforts not only for the technical aspect, but also to establish a human relationship between Mexico and the United States."