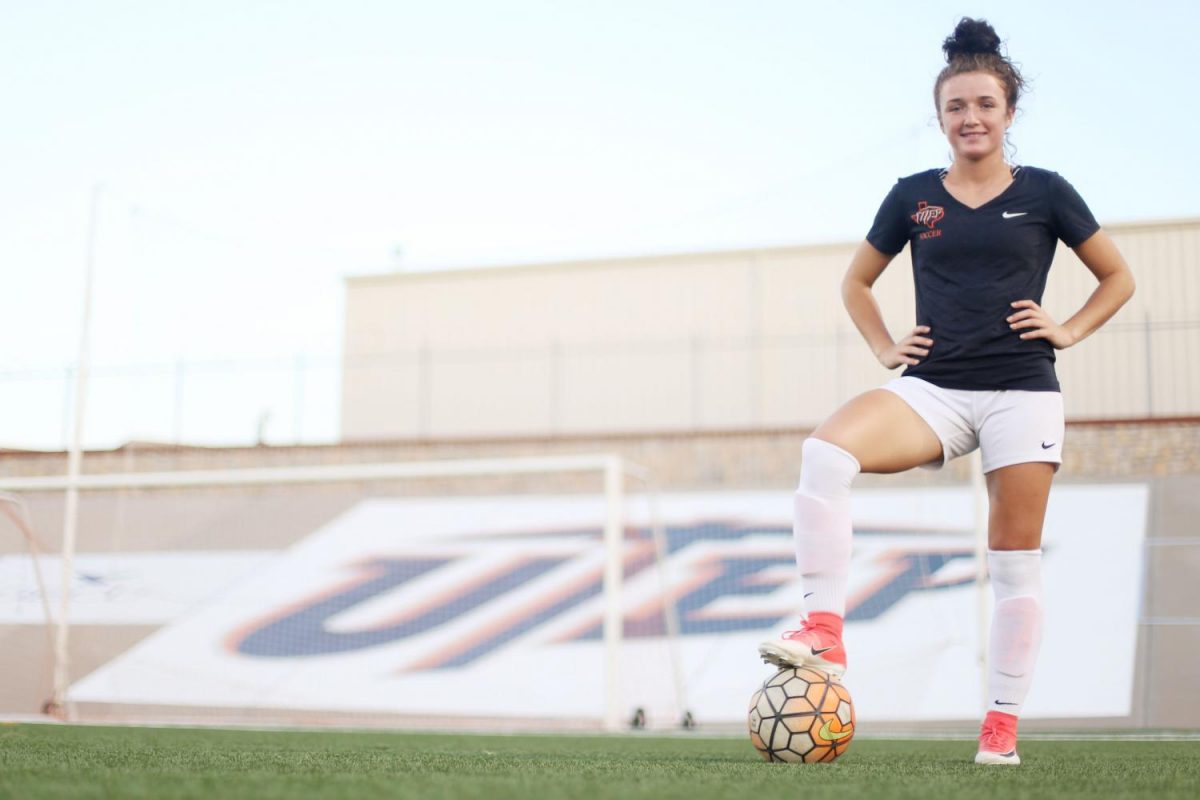 Gaby Velasquez
It is no secret that Canada is a cold place. The highest temperature recorded in the history of Calgary, Alberta, is 27.2 C, which roughly translates to 80.96 F. For a soccer player coming to El Paso from Calgary, the difference in temperature can be an insurmountable obstacle. For Victoria "Vic" Bohdan, it was the hardest thing to adapt to.
"Definitely the heat, that was really hard to get used to," Bohdan said. "Also, in Canada, in soccer, the refs in Canada they call a lot more. Whereas here you are allowed to be more physical, so you get knocked off the ball a lot more."
Bohdan, 17, began playing the game of soccer because of her brother.
"I'd go out to watch him and I thought it was a really cool sport and I told my mom to put me in it and then I had a lot of fun with it, like the competition aspect of it was a lot fun, so I decided to continue on," Bohdan said.
While she was growing up, Bohdan played for the Napoli women's team, where she led the team to nationals and helped secure a bronze medal. She also played for the Calgary Blizzards and her high school team at St. Francis, where she helped the team win their division all three years. She was also selected to represent the school in the All-District All-Star game.
Adapting to Miners' coach Kevin Cross' squad was difficult for the freshman at first, but Bohdan thinks of the team as a family.
"When I first got here, I looked at the other freshmen, and now I'm like 'how did the team get so close?' Because for a little while, the freshmen weren't connecting very well with the rest of the team, but now we are all like a big family," she said. "We all hangout, we all laugh all the time in the locker room. I get a cool vibe from them, it is always fun to be around the team."
The nervousness showed in Bohdan's game at the start of the season. As a forward, she did not take on defenders as often.
"I think I was a little bit nervous starting the season and one day Kevin came to me and told me 'we look up to you as like a starting freshman and we want you to be a leader,' and I think that sort of kinda kicked in and I was like 'I need to start doing what I do best' going up to players one v one with my speed, and I was like 'I can do this, I can take on players one v one," she said.
Bohdan and the Miners were off to a rough start in 2017, dropping their first five games of the season with four coming in overtime.
Since, Bohdan has earned four goals coming off two braces in back-to-back games against University of the Incarnate Word and Stephen F. Austin State University with four assists. The Miners won both of those games and three more since for a total of five victories in their last six contests.
"I would like to be awarded maybe like some type of award, maybe best freshman or something like that," she said. "As a team, I definitely want to reach the conference tournament and win it and definitely win the first round of the NCAA tournament, so I think that is honestly all of our goals as a team."
Coach Cross praised Bohdan for her ability on the ball and her speed. He also highlighted her on-the-field leadership as a freshman.
"We know that we had that special ability and we're not looking at her as a freshman, we are looking at her as an important part of this team, and we needed her to be a big player for this team and she stepped up in a big way," Cross said. "She's been an attacking threat in all the recent games, and in fact last weekend she scored two braces, which is crazy good for any player. I mean that is almost unheard of–scoring twice in back-to-back games and tough games."
Bohdan said she looked at two players to model her game after. First is her teammate and fellow Canadian sophomore defender Peyton Ross.
"I can say Peyton Ross," Bohdan said. "She talks a lot on the field and she tells others what to do and where to position themselves, which is really cool because without her in the back, I feel like she's our main communicator on the field, so I feel like without her the team wouldn't be so connected"
Second is Jessie Fleming from the Canada women's soccer team.
"Jesse Fleming from the Canada women's soccer team, because she is very young and I'd say she's very good. She does take players on a lot and I think that is kinda how I play now that we are further into the season and I'm starting to take players on a lot more," Bohdan said. "She can get around them, she's 18 playing with older players."
Cross has already set in motion plans to showcase Bohdan's skills to Canada soccer.
"She told me her dream was to get an opportunity with Canada soccer, so we've already started that, we are gonna try to get them video of her play," Cross said. "So to do that you have to step up big in these conference games and I know she will."