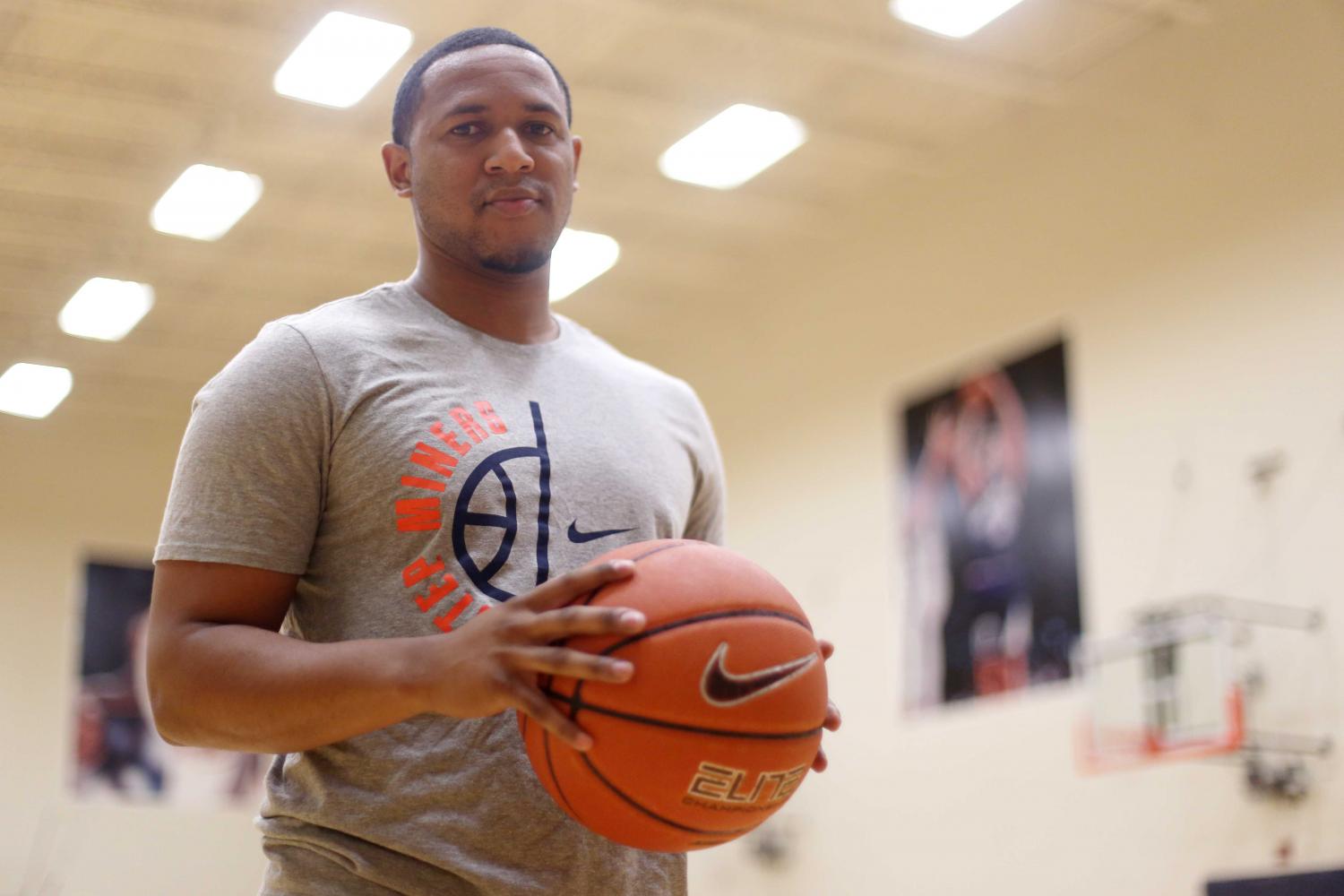 Gaby Velasquez
Just like after high school, many collegiate athletes go through the process of deciding on what they want to do after they graduate. Many players aim to land in professional athletic careers, but the bar to move on to that next level is set extremely high and can be difficult to achieve.
Luckily, if trying to join the big leagues does not work out there's a different way to jump back into the game, as a graduate assistant.
Many UTEP basketball fans will remember the name CJ Cooper. The former basketball point guard played at UTEP from 2011-15, playing an average of 23 minutes while knocking down 158 3-pointers in four seasons. The team won 78 games during Cooper's time with the Miners on the court.
After graduating from UTEP in the spring of 2015, Cooper played for the Malbas Oresund Malmo basketball team in Sweden that fall.
He played there for a year before returning to the Sun City to be a graduate assistant under head coach Tim Floyd. In the classroom, Cooper will be studying leadership studies with a focus in communication.
The opportunity arose for the former player after talking to Floyd shortly after his time in Sweden, and it didn't take long for him to make his decision to return.
"As a player, all you think about is playing, you don't really think about the coaching part," Cooper said. "But I was a point guard and as a point guard you have to be able to coach your teammates, so I think I already had that part in me."
Since becoming a graduate assistant, Cooper says he has learned about the game of basketball in a new way.
"As a coach, you have to look deep into every play, you have to study film and break it down and know what is happening on the court at all times," he said. "It's crazy because you never think about these things as a player, it's a completely different aspect of the game and I enjoy coaching."
Since being a GA, Cooper says his new position with the team has not only given him more knowledge about the game, but has  also opened doors for the future.
"Coach Floyd told me that he would help me start as a GA and then help me get somewhere else, another school or wherever I want to coach," Cooper said. "You have to be open if you want to be successful in this game, you got to be willing to go anywhere and learn from different guys and coaches around the country, which will help you gain knowledge."
Cooper is now entering his second year as a graduate assistant and will be helping the team with individual skill work and breaking down film.
The UTEP football program's last bowl appearance came in 2014. One of the main reasons why the team clinched the opportunity was because of a late fourth-quarter interception by former defensive back Jameel Erving against Middle Tennessee in the regular season finale at the Sun Bowl.
"I remember they were driving down on us and were at the 22, I got lined up late and the Middle (Middle Tennessee) quarterback play action faked it and I was able to tip it and one hand it with my left hand," Erving said. "It was probably one of the greatest moments of my life, to be honest."
Erving played all 12 games for UTEP in his senior season in 2014 and ranked fifth on the team with 43 tackles. The bowl-clinching interception was Erving's first and only interception as a Miner.
The former player is now entering his second season as a defensive graduate assistant since returning to UTEP in 2016. Like Cooper, he will also be studying leadership studies during his time back in the classroom.
"Coaching has showed me the ins and outs of the game," Erving said. "My former coaches put me in a good position during that game (Middle Tennessee), and that's what I am trying to do with these guys on the team now."
Erving will be specifically working with the linebackers during the course of the 2017 season. Erving is thankful for the experienced group of coaches he gets to learn from every day.
"I am lucky to be on a staff where Kugler came from the league and our defensive coordinator, Tom Mason, has some experience from being a head coach," Erving said. "Us graduate assistants are getting a lot of experience, we are learning the game every day and we like to think of it as a coaching tree, they are the initial branches (Kugler, Mason), and hopefully we can keep growing the branches from the people they know and we know and so on."
Not every graduate assistant gets to return to the college where they once suited up to play. The unique opportunity for both Cooper and Erving has brought back memories, experience, new perspectives and hope for the future.