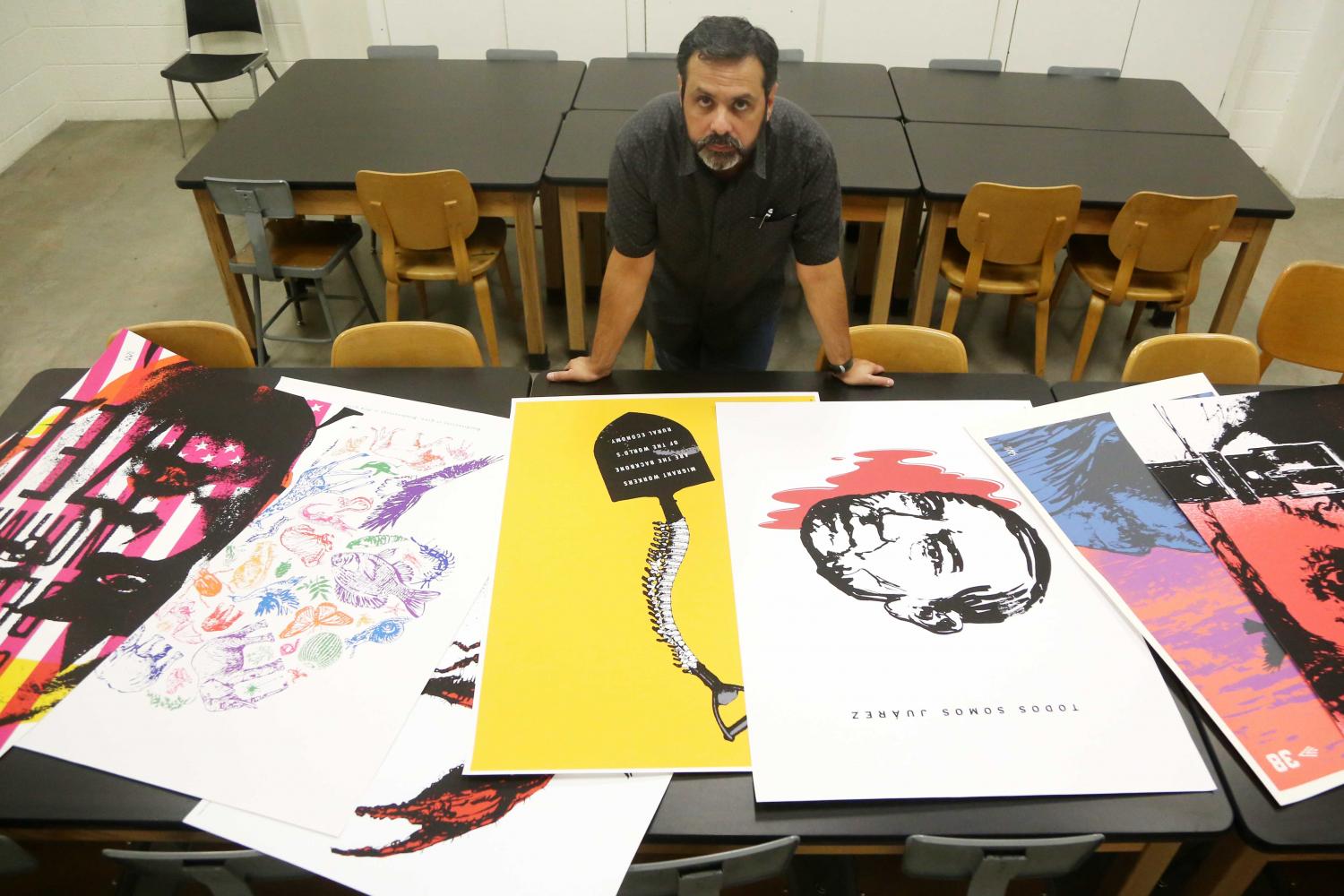 Gabriela Velasquez
Born in Ciudad Juárez, Mexico, but having lived in the United States for all of his adult life, Associate Professor of Art Antonio Castro identifies himself as a "fronterizo" (from the border).
"I'm a fronterizo. I'm not an American, I'm not a Mexican, I'm just like hovering on top of the river, and it is a benefit because you don't have allegiances to anyone but yourself and your family," Castro said.
Castro's binational life experience has had an impact on the ethnic perception surrounding him, having lived in cities away from the border bubble such as Philadelphia, San Francisco and New York.
"The disadvantage is that sometimes even though you feel American, people don't see you as an American," Castro said.
Political statements such as this pushed Castro to become politically active, culminating in the creation of "Posters Without Borders," an international immigration poster exhibition.
The project was born five years ago in Mexico City, when Castro, designer Eric Boelts and University of Alabama Birmingham professor Erin Wright realized that there was only one major political poster event in the United States in Boulder, Colorado.
"We wanted to create something that we would have to come with a topic every two years, a topic that would be affecting our political lives," Castro said. "So the first one was about voter problems, then the second was supposed to be about borders, but the subtitle was about the election, 'The Right to Decide.'"
Since the project began, the group has had two exhibits in Mexico City and Birmingham, Alabama. The next "Posters Without Borders" event called "Action, Reaction, Interaction" will take place in La Paz, Bolivia, at a later date. The event will feature 50 different designs.
"That is the theme based on the political outcomes under Trump's election and not only that, but terrorist threats and attacks and everything happening around the world. Our idea is that there is always an action, we obviously react to it," Castro said. "We invite designers from all over the world and then we are gonna have people that either we know of or that we admire their work."
For a "fronterizo" like Castro, it is important to use creative spaces like these because of the different world issues, especially those related to borders. "We are in a field that obviously is perceived as a field where we just sell things or we sell advertising or we sell packaging or we sell goods," Castro said. "We can use exactly those same tactics to talk about how we feel politically and hopefully we could convince people of our vision or maybe just raise awareness of how we think. I think it is important to use our tools to use our ammunition or our ways of thinking to work for causes that we believe in."
Fronterizo in America
As a child, he grew up surrounded by graphic arts. His father is an illustrator and Castro is quick to tell his students about the paternal influence on his work. "My father is an artist, he is an illustrator, so I was always in it," he said. "I was always around it and from a pretty early age I always knew what I wanted to do. That is what I always tell my students."
When it came to choosing his concentration in the design field, he was torn between being an architect or a designer. "I ended up majoring in graphic design and minoring in printmaking," Castro said. "When I was in high school I was involved in everything I could get my hands on in doing illustration or graphics, so it was an easy choice for me in the end."
While Castro has always enjoyed living in the border region, he always had dreams of leaving to diversify his education. "When I came here (El Paso), my idea was to study in Mexico City, but then because of the way things happened in my life at that moment, I started here, I liked it and so I stayed," Castro said.
He worked at a local advertising agency after graduation. "I personally hated advertising, I didn't like it at all, but I learned a lot," he said. "I knew how to draw, but they had me do a lot of storyboarding for TV commercials and things like that and I always felt like more an artist than an ad man, so that immediacy and sometimes a sense of feeling, I don't wanna say dishonest, but it was a little empty for me. I wanted more meaning in what I was doing."
His dissatisfaction with his job and his eagerness to learn made him apply to different graduate programs around the country. He finally landed in Philadelphia, receiving the Future Faculty Fellowship at Tyler School of Arts' two-year program.
After graduating, it was time for him to make a decision between two job opportunities, one in San Francisco and the other one in New York. "I went to interview at both places, my idea was that I was gonna go to the first place that offered me a chance and SF was it," Castro said "While I was in there, I liked the place, but I still had the calling from the East Coast, so I only stayed three months in San Francisco and I got a call back from New York, so I moved back."
He settled at marketing firm Parham Santana, but after three years he decided he wanted to do something else.  "I was young, I wanted things to happen faster for me," he said. "UTEP was looking for a design professor, it was a tenure-track position and those seldomly come. So they offered me to apply and I did and I got the position and when I came back I told my wife–I was married at that point–'let's do this for a year, let's see what happens' and this is my 17th year teaching."
The artistic influence of the border permeated, not only in Castro's work but also in the way he perceived things.
"The way I see color, the way I see the sun or the way the sun lights things. Even if I was in New York, I would see oranges the only way we see them here, and my influences like literature-wise, they are border people," Castro said.
As a professor, Castro sees this kind of noticeable influence disappearing in his students' work. "When I was a student, I used to always have certain people that I was always following artists–both designers and printmakers–the work and the life of those people really influenced me," he said. "Somehow you would always see parts of their work appearing in mine but I don't really see that a lot with younglings. It seems as if they come into the field blindfolded, they know that they want to draw, they know that they want to make logos or websites, but they don't really have influences and I think that is extremely important.
Senior studio art major Ana Ramos highlighted the way in which Castro presents Mexican culture in "Posters Without Borders." "I think it's an amazing thing to use his abilities of design to bring light to very important issues of the borderland and the way he represents Mexican culture in them," Ramos said