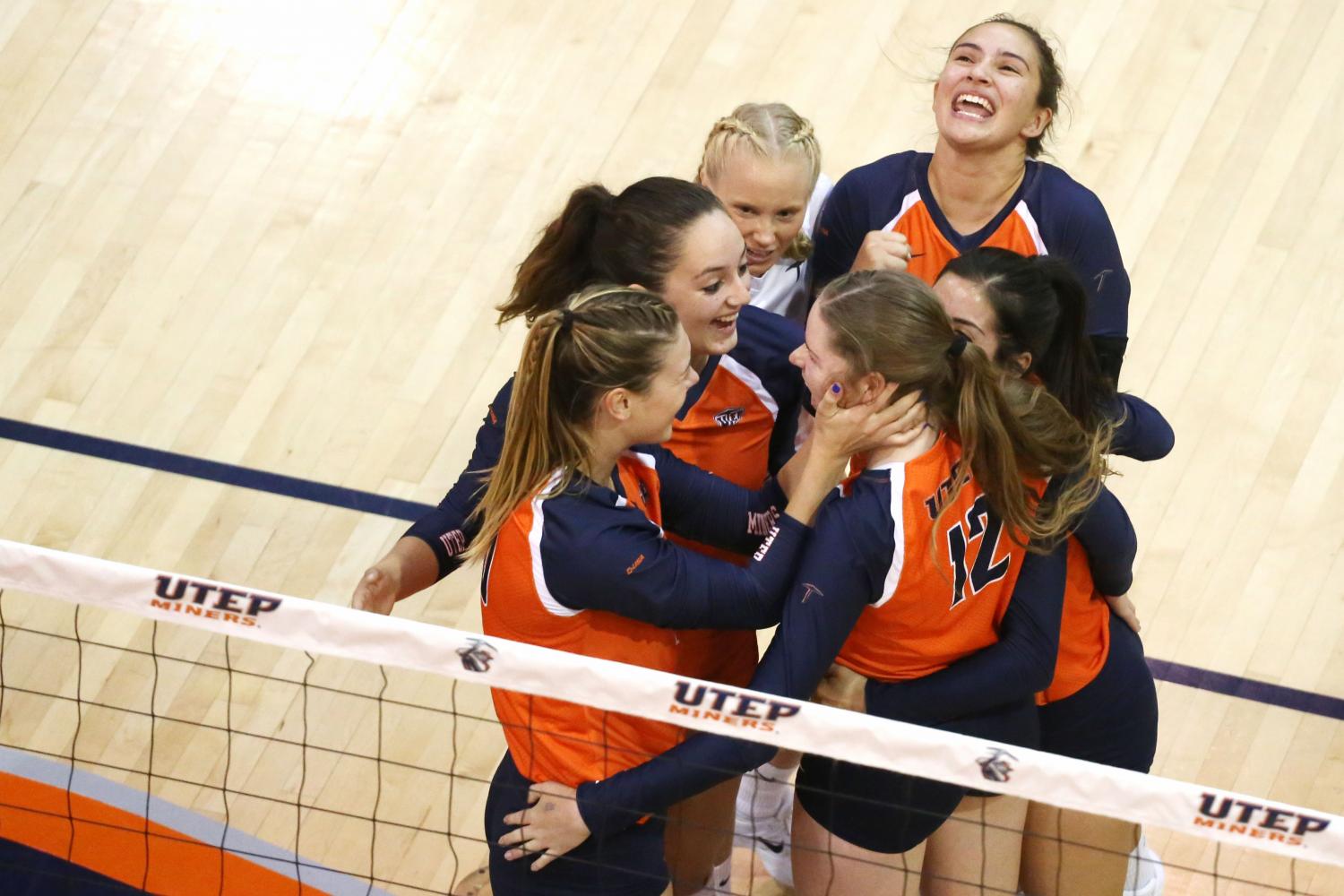 Gaby Velasquez
The UTEP women's volleyball team (1-5) will host their second-straight weekend tournament starting on Friday, Sept. 8, against Samford University at the Borderland Invitational.
In the Glory Road Invitational this past weekend, the Miners went 1-2. UTEP earned their first win of the season in the second game of the invitational and the first game of a doubleheader on Saturday, Sept. 2, against Youngstown State (3-2). The Miners were shutout 3-0 in both the first match against New Mexico on Friday and final match (second of doubleheader) against North Dakota on Saturday.
"For hosting this weekend and next weekend there are few tweaks in our schedule, which is nice because we get to sleep in our own beds and take care of things a lot easier than when we travel and have to plan ahead," said head coach Holley Watts after the conclusion of the first tournament. "We learned a lot about our team this weekend, it was a great weekend because we pushed ourselves and battled, we just need to limit the runs we allow."
Early in this young season the Miners have had trouble with using their momentum to push them in the win column. In their last match against North Dakota, UTEP got off to solid starts in the first two sets, but could not carry it throughout the set.
In the third set, UTEP rallied from a 12-3 deficit to eventually come within a point of forcing a fourth set at 24-21, but could not get another point and ended up losing 26-24.
"Typically, defense and blocking spark rallies," Watts said. "In this case, I think the rallies were off our serving, we were serving really tough and it made defense a little easier, we just didn't carry it through to the end."
Senior setting captain, Amanda King, tweaked her ankle in the match against New Mexico on Friday and did not play in Saturday's doubleheader. She is expected to return to the floor this weekend for the Borderland Invitational.
Freshman Sahara Martinez did a nice job of filling in for King on Saturday, proving she can be a success behind the team's captain. Martinez handed out a combined 74 assists–47 against Youngstown State and 27 against North Dakota–in Saturday's split.
"Sahara definitely stepped up when Amanda went down on Friday with a rolled ankle," sophomore Macey Austin said. "She took control of the game, she was confident in herself, she was smart and she worked with the hitters to get as many points as possible."
While a setter can put the ball in the best spot, the size of the opponent can sometimes disrupt even the most perfect setup.
The Miners have five players that are 6-foot plus, while the Fighting Hawks (North Dakota) had double that amount with 10 players that were 6 feet or taller. This was certainly an issue in the loss for UTEP.
"They are a big team (North Dakota) and very good at blocking," Austin said. "You have to work around that and pay attention to where they are, it was a good learning experience to play a team like that because when we get to conference or face other teams that are really big, we'll have experience to work around that."
The Miners will face a similar team as North Dakota in relation to their size when they play Abilene Christian (1-5) in Sunday's finale (Sept. 10) of the Borderland Invitational. The Wildcats have seven players that stand six-feet or higher.
"This weekend we had really good serving and passing, so we want to definitely carry that over," Austin said. "We are going to build off what we didn't do this past weekend, which was finishing strong, while also building around bigger blocks in case the teams we play are bigger."
Meanwhile, on Saturday, Sept. 9, the Miners will face Delaware State (0-3) as they search for their first win of the season.
The Miners first opponent this weekend is Samford. The Bulldogs (2-4) are coming off a 3-1 loss to Loyola in Chicago.
Last season, UTEP met Samford and the Bulldogs won the match 3-1. Watts is hoping this season's match-up will yield a different result.
"We played Samford last year and we went to four with them," Watts said. "It was a well-played game for us on both sides, but we still lost."
The Miners I-10 rival, New Mexico State, is a part of the Borderland Invitational as well, but will not play in El Paso. The Aggies are the tournament's second host and will host the same three teams the Miners do, but at the Pan American Center in Las Cruces.
The Aggies play Abilene Christian and Delaware State on Friday, Sept. 8, and play Samford on Saturday, Sept. 9. The Miners do not play the Aggies in the tournament because the two will face each other in Las Cruces on Sept. 19.