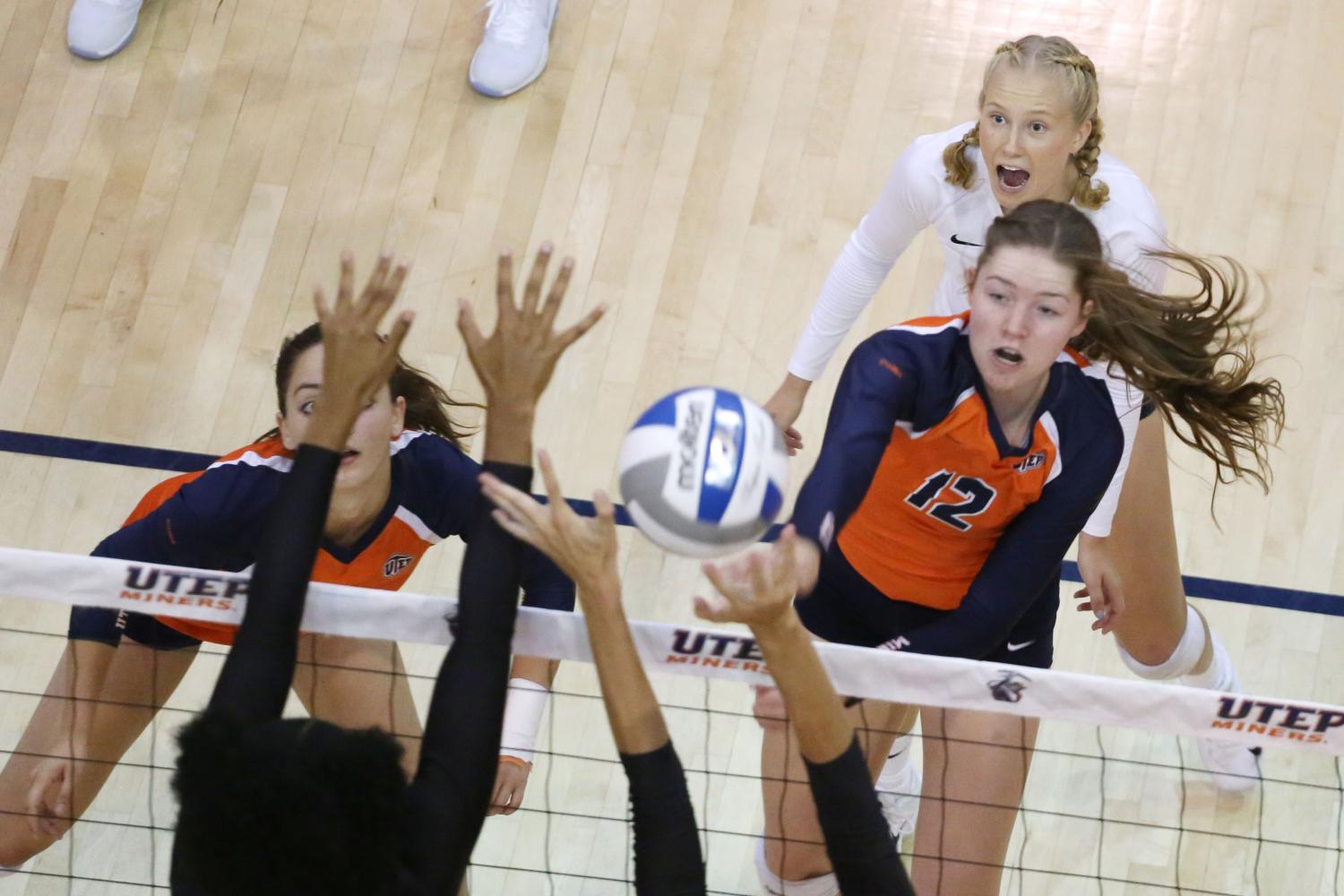 Gaby Velasquez
The UTEP volleyball team lost 3-0 (25-18, 25-15, 26-24) to North Dakota in the final match of the Glory Road Invitational on Saturday night (Sept. 2).
The Miners fall to 1-5 overall and 1-3 at home this season. The Fighting Hawks improve to 9-1 while going a perfect 9-0 in sets during their three matches of the Glory Road Invitational.
UTEP was led by freshman Mallory Yost who had a team-high 11 kills on 16 attempts while sophomore Macey Austin had nine on 24 total attempts. Freshman Sahara Martinez, who had 47 assists in the win earlier against Youngstown State, added 27 tonight against North Dakota in the loss.
"Earlier our game went really well (Youngstown State) and we fought hard," Austin said. "We wanted to bring in the same energy and carry it over from the first game, I think we did but there were a couple moments where he match had a lull and that's where we dropped down and had to comeback to play the game of catch up."
UTEP led 11-8 in the first set but the Fighting Hawks were able to use their size and blocking ability to put together a six point rally and turn the momentum of the first set in their favor. North Dakota would take set one 25-18.
In the second set, the Miners started strong yet again to lead 6-2 but once again North Dakota was able to shift the momentum of the match with some tremendous blocks. Jordan Vail led the Fighting Hawks in block assists with four while earning a solo block herself.
It appeared as if the Miners had given up in the third set when they trailed 12-3, however the Miners somehow put together a run of six straight points and nine of the last ten to climb back in the set. UTEP had an opportunity to force a fourth set with a 24-21 lead but could not manage to get a single point the rest of the way as the Fighting Hawks scored five straight to win the third and final set 26-24.
"We really pushed and battled at the end, we didn't just let them blow through us" head coach Holly Watts said. "We gave up too many runs and even in the third set we gave up a big run but we had some of our own to help us get back in the game but it just wasn't enough. We learned a lot about our team this weekend going forward."
As a team, UTEP totaled 42 points, 35 kills, 33 assists and 32 digs. North Dakota had a total of 51 points, 40 kills, 35 assists, and 30 digs.
"Our game plan was to be aggressive and boost our confidence to gain some points," Yost said. "I think we were aggressive and worked our hardest but sometimes it doesn't always work out."
The Miners will try to get back on track when they return to the court this Friday (Sept. 8) to host Samford for the first game of their second straight home tournament (Borderland Invitational). The Miners will then play on Saturday (Sept. 9) against Delaware State and Sunday (Sept. 10) against Abilene Christian.