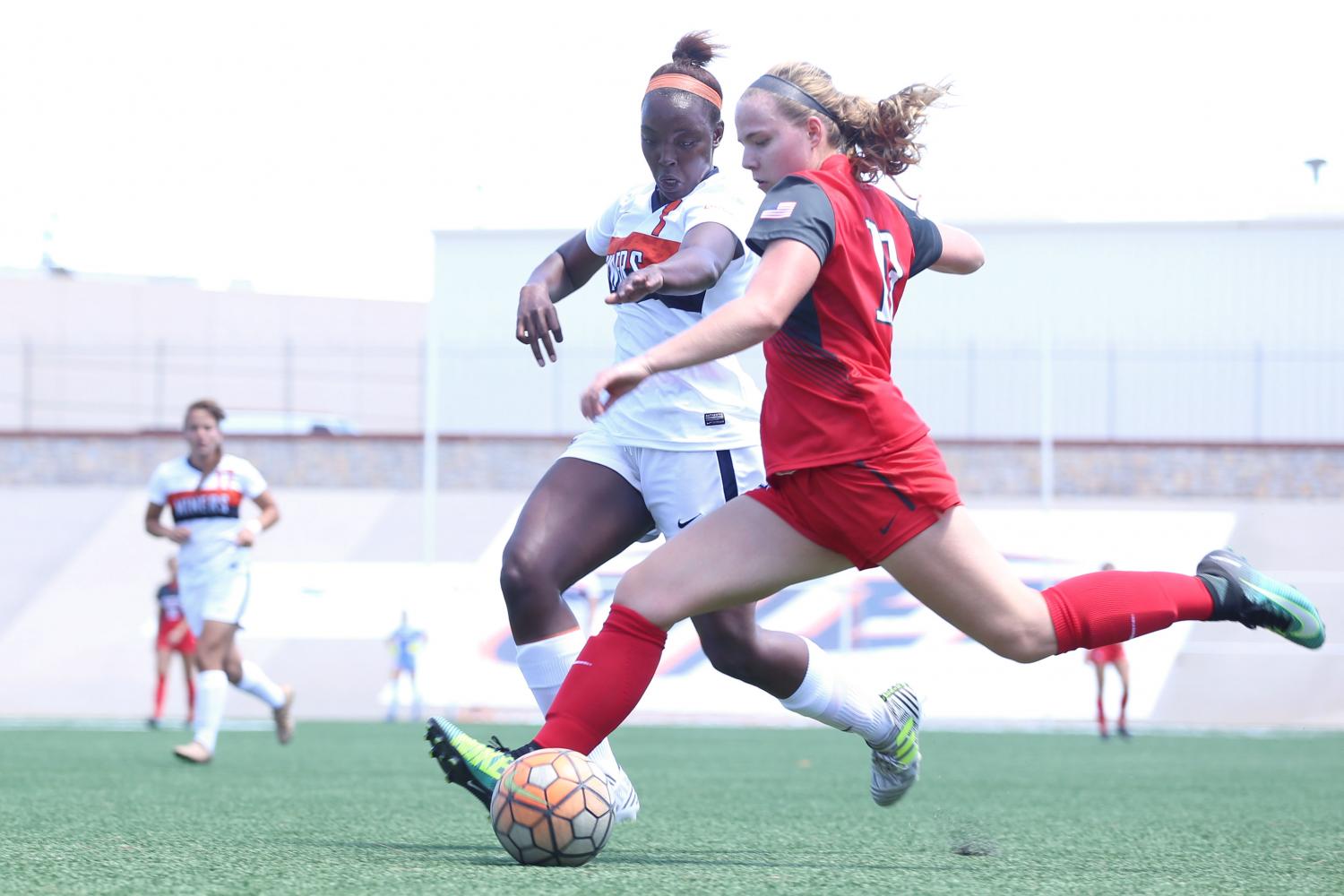 Gaby Velasquez
Despite a late score by midfielder Lauren Crenshaw, the women's soccer team fell to Arizona 2-1 on Sunday, in what was their first exhibition match in 14 years.
It was a tale of two different offenses in the first half. The first 10 minutes of the game saw UTEP's junior goalkeeper Alyssa Palacios' goal threatened non-stop, with the keeper having to punch out a couple of dangerous long balls in the box. Palacios finished the first half with five saves.
The Miners could not get past their own half in the first 20 minutes thanks to Arizona's high-pressing tactics and pacey fullbacks finding space to go upfield.
The first goal of the game came in the 31st minute when a slow developing play and some sloppy defending in the box gave Arizona midfielder Amanda Porter a chance to score.
UTEP finished the first half with a single shot, compared to Arizona's 11.
In the second half, the Miners started getting forward through set pieces and long balls to the wide midfielders.
The second goal for the Wildcats came at the 79th minute, when midfielder Cali Crisler beat Palacios with a diving volley.
Freshman forward Vic Bohdan had the most exciting play of the day for the Miners in the 87th minute. She took on a couple of defenders in the box and was fouled, which resulted in a penalty. "At one point it was me against two people and I didn't know what to do, so I kept battling and I got shoved from the back and kicked in the back," Bohdan said.
Defender Lauren Crenshaw pulled one back from the spot for the Miners, ending the game at 2-1. "This summer I did (practice penalty kicks). We didn't get a lot of chances (to kick from the spot) last year, but something told me to just practice them and I did because it definitely helped," Crenshaw said.
Palacios emphasized the importance of an exhibition game ahead of their clash on Friday at NMSU. "We wanna emphasize learning today, we knew it was gonna be a new experience for a lot of people and we're glad we can work out the kinks this week and get ready to come out on Friday with all of it fixed," Palacios said.
The Miners will open the season facing the Aggies at NMSU's Soccer Field on Friday, Aug. 18, at 5 p.m.