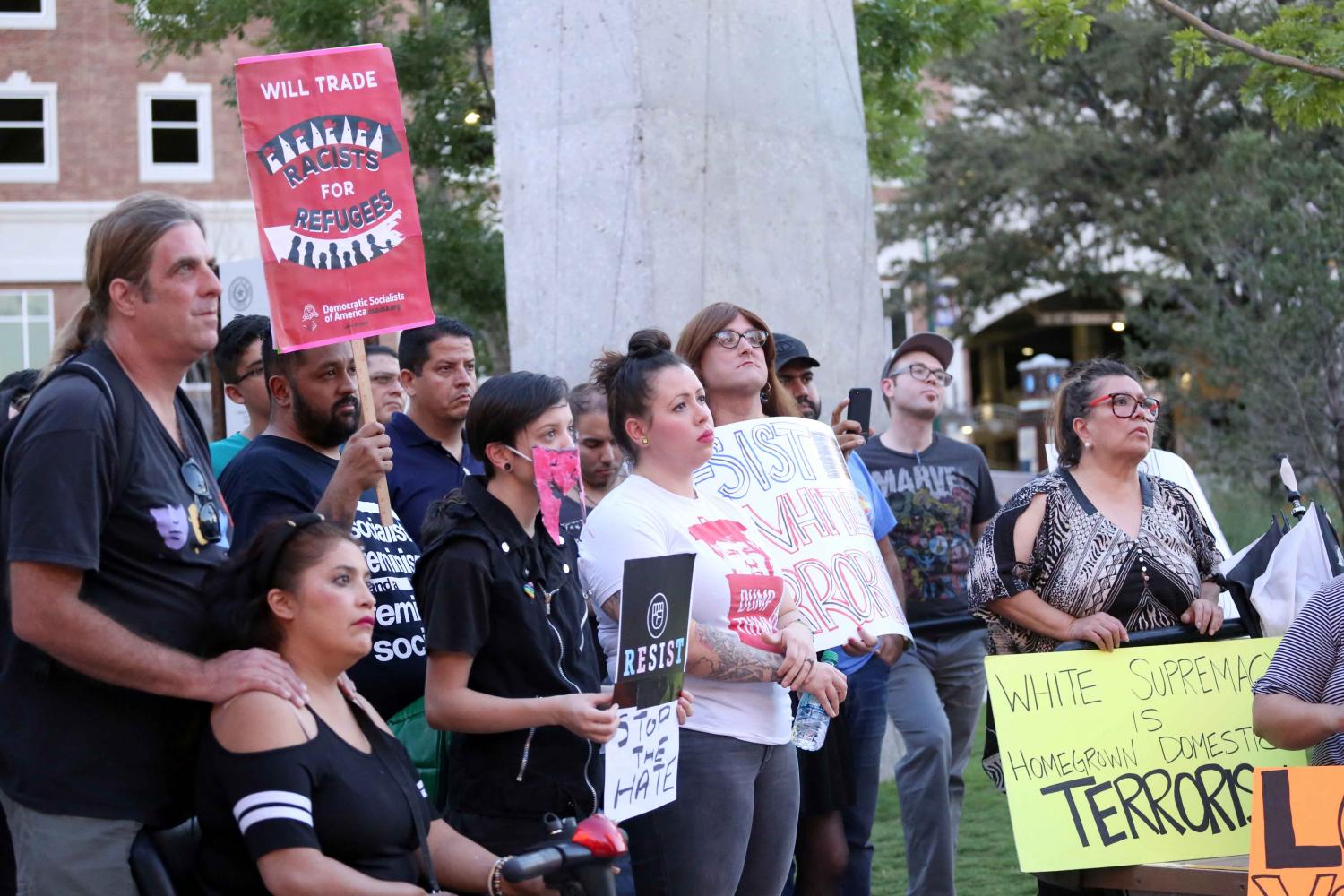 Gaby Velasquez
In light of the events in Charlottesville, Va., El Pasoans and representatives from local civil rights organizations gathered at San Jacinto Plaza for the vigil "Solidarity Against Fascism and Hate" on Sunday.
In February, the city of Charlottesville voted to remove a statue of Confederate General Robert E. Lee and renaming two parks previously named after Confederate generals. This provoked white nationalist groups to converge at the University of Virginia campus, holding tiki-style torches prior to Saturday's "Unite the Right" rally. After violent clashes with counter-protesters, the events in Charlottesville have resulted in three dead and 34 injured, according to the city.
Alejandra Alcalde, a member of the Democratic Socialists of America (DSA) in El Paso, also known as the El Chuco del Norte chapter, organized the vigil with a sense of urgency. "We weren't planning to do something in such a rush, but we believe that it is a matter of urgency to send a message that 'El Paso will not stand for the terroristic attacks that happened,'" Alcalde said.
The vigil featured different speakers and performers, starting out with a prayer and a song by activist Cemelli de Aztlan.
"We want to show our support for protesters and repudiation for what is going in the country," Alcalde said.
Alcalde also wanted to honor fellow DSA member, Heather Heyer. Heyer was killed when 20-year-old James Alex Fields drove a car into a crowd of counter-protesters.
"The victim (Heyer) was an organizer for DSA in her local chapter and she was part of the industrialized workers union and many of the people marching with her were part of that same DSA chapter," Alcalde said.
According to Alcalde, the main difference between this vigil and the protest in Charlottesville–ruled an unlawful assembly by the city–lies in the difference in diversity in both places.
"The main difference is that we are here representing El Paso; a proud migrant city populated by people of color, of every age and stance, and we support every orientation unlike the alt. right and the assembly in Charlotteville," Alcalde said.
Executive director of the El Paso Republican Party, Bob Peña, echoed President Trump's message to stop the racial hatred. "In El Paso we welcome diversity," Peña said.
Much like Peña, the chairman of the El Paso Republican Party Adolpho Telles was unaware of the vigil due to an out-of-town trip. However, he did comment on the violent nature of the events in Virginia. "They have the right to march in support of their positions, they just all need to do it peacefully," Telles said.
The vigil concluded with "Black lives matter" chants being adopted into other ethnicities and minorities.