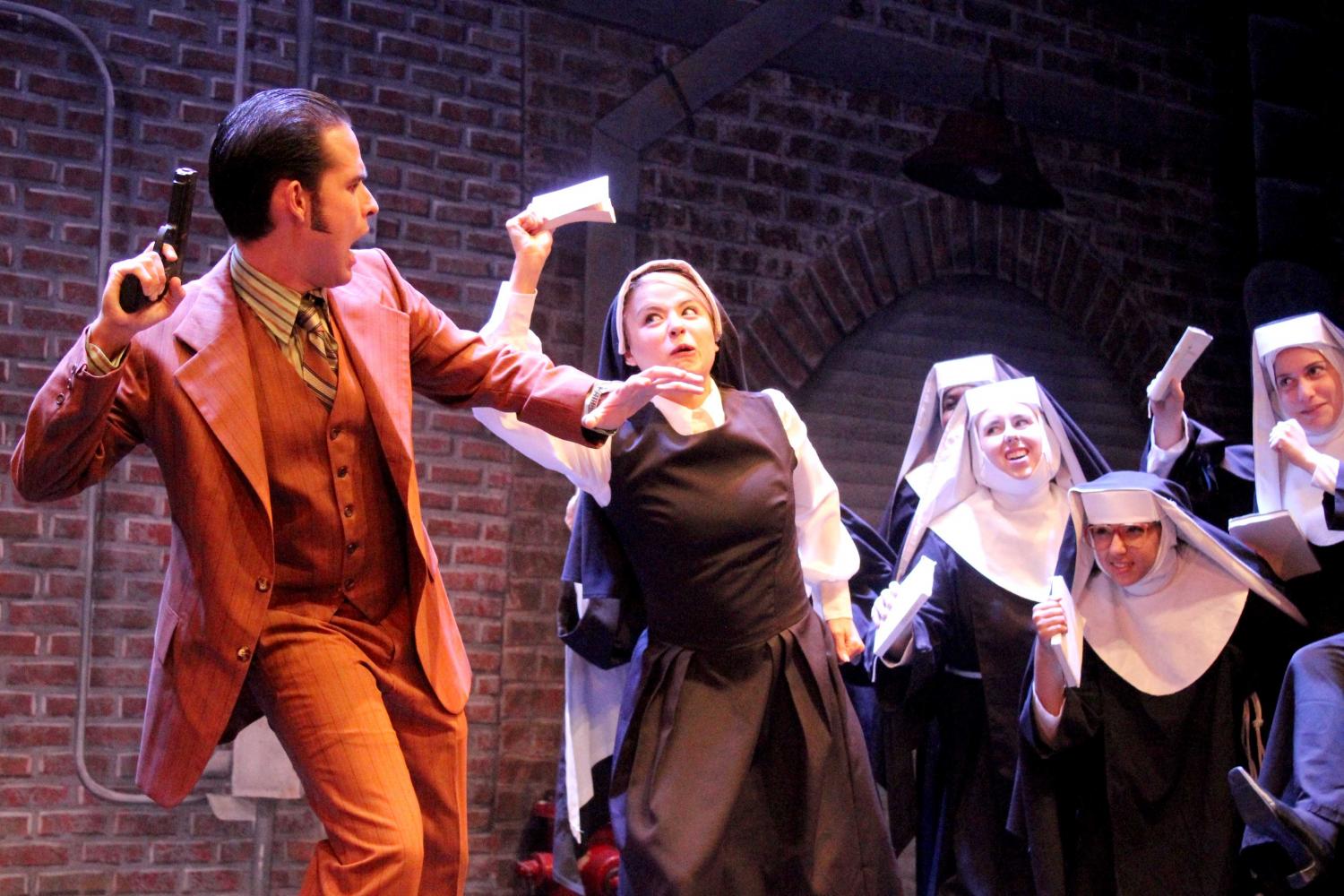 Sergio Munoz
From its charming talk show-like opening to its thrilling final confrontation, "Sister Act" is a performance that rewards the audience with great musical numbers and an entertaining plot line from start to finish.
Taking place in Philadelphia, "Sister Act" tells the story of Deloris Van Cartier, a singer looking to thrive in the booming Philly soul scene of the late 1970s. Complications arise when Deloris' crooked boyfriend Curtis, played by Hugo Arreola, kills a police confidential informant. After she witnesses the murder, Deloris is forced by the police to go hide at the Holy Order of the Little Sisters of Our Mother of Perpetual Faith Convent. Once there, Deloris has to acclimate to the life of a nun, making for a classic fish-out-of-water story for the other sisters at the convent.
The show runners have much to thank actress Tanisha Lewis for, as she steals the show as Deloris. Lewis' character exudes great confidence in her talents, her sexuality and her role in the blooming of the Philadelphia black music scene. Lewis shows an uncanny sense of being comfortable with her character and embraces every line and song.
Another one of the show's stars is Carol Viescas, who plays Mother Superior. The veteran actress shows a more irreverent side to a religious figure because of her more relaxed, yet authoritative personality. Songs such as "Haven't Got a Prayer" really reflect her sense of humor and feeling of hopelessness; an interesting contrast for a person who is known for her faith.
However, her witty banter with Deloris is one of the most enjoyable aspects of this production. Director Jay Stratton said he felt lucky to have both actresses play such significant roles so strongly. "Deloris Van Cartier is an unstoppable force eager to squeeze every drop out of life," Stratton said. "Mother Superior is the immovable object, steadfast in her faith and her abstemious denial of the same earthy world that Deloris loves." 
On the technical side of things, most musical numbers are accompanied by great backup vocals that add a nice depth that enhances some of the characters' personalities, particularly Deloris' and officer Eddie Souther's–played by UTEP alumnus John Guevara.
In terms of lighting, numbers such as "I Could be That Guy" show a twin shadow projection of Eddie's shadow, symbolizing the character being torn between his current persona and the dashing, brave and cool guy he aspires to be. This projection is also a sign of foreshadowing that indicates Eddie will undergo that transformation.
On that same note, in the song "Sister Act," Deloris also shows sign of a struggle between her life as a glamorous singer and her experience at the convent with the Sisters, whom she established a close relationship with.
When it comes to tone, this production puts comedy front and center, with subtle and powerful messages about feminism and the schism between the secular and religious worlds. However, the comedy can be hit and miss in some instances, especially when some racial jokes fall flat since the musical does not take full advantage of the racial tensions experienced during the '70s.
The humor really excels when it is self-referential and the musical is aware of the religious aspect. It offers insight of the restrictions that come with leading a life of religious service through Deloris' outsider perspective.
This exploration of character is captured in detail with UTEP alumnus Nabil Gonzalez's performance as Sister Mary Robert. Mary Robert shows an inferiority complex throughout the play. She always feels sheltered and wonders what the outside world is actually like. That changes once Deloris comes into the picture. In fact, "The Life I Never Led" is one of the most impactful numbers in the whole musical. It mentions indecision and the "what could have been?" factor present in a life of service. Much like with all the other sisters, Mary Roberts' transition into an outspoken and confident character is one of the more satisfying plotlines in the story.
The final encounter is a solid example of empowering women in any medium. While the script could have gone to greater lengths in making one of the sisters the savior, all the sisters take a final stand against Curtis, coming full circle in their transition to firm and strong characters.
While there is comedic dissonance in some sequences, the great performances almost always shine through. Most of the musical numbers have one or two moments that adequately showcase the casts' vocal talent. The production values, while not definite, add an extra element of delight for the senses, putting "Sister Act" over the top and making it a show worth attending.