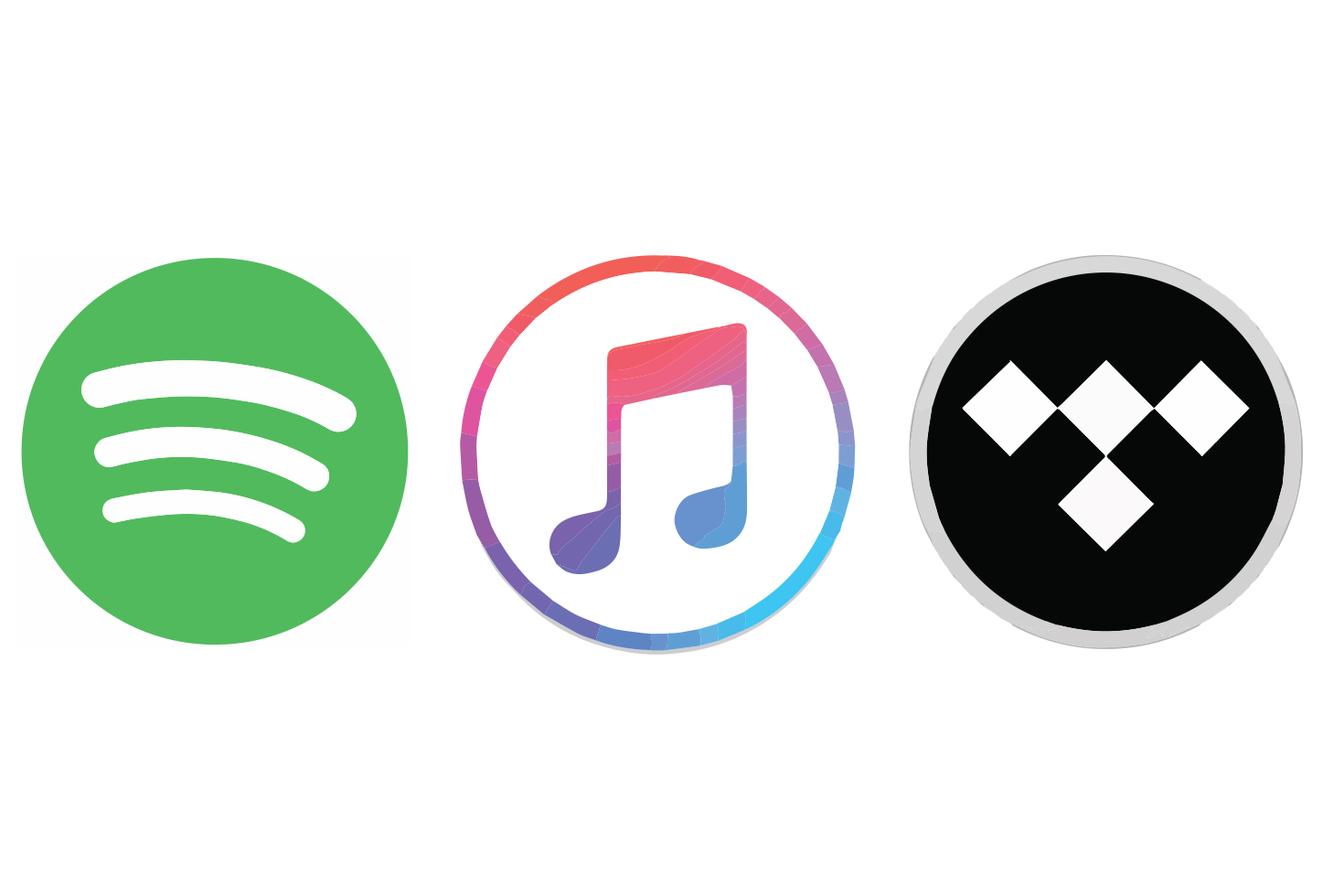 Spotify
Grade: A-
Price: $9.99;
$14.99 for family;
$4.99 for students
Overview:
What started out in Sweden as a small music streaming service has turned into a worldwide phenomenon that holds 140 million users. It streams over 30 million tracks and is really user-friendly. Whether the listener prefers to listen to new mainstream hits or discover new music, Spotify provides a well-rounded service to its users.
Comparison breakdown:
When Apple Music began in June of 2015, the first thing that came to mind was that the layout looked very similar to Spotify's. Price-wise, Spotify is the same as most. However, what makes Spotify truly great is how simple it is to navigate through their app. While Apple Music doesn't offer the same access to discover new music as Spotify does, Tidal tops Spotify in finding new music.
The odds are truly stacked against Spotify as it doesn't come preinstalled in a particular phone-unlike Apple Music, which comes with the iPhone. They also have trouble paying artists and making a profit off the subscribers. Additionally, importing local files into Spotify is not as intuitive as in the other apps.
Why subscribe:
Despite all of these odds, Spotify still seems to be the most user-friendly, accessible streaming site. When you download albums, playlists, songs or albums to their "offline" feature, the amount of space taken is a fraction of what it is to download music on Apple Music. If you have a phone with a storage space of 16 gigabytes (GB) or less, Spotify is almost a necessity to truly download a reasonable amount of music.
The layout, design and idea are all factors in which Spotify truly pioneered in the music-streaming business. Look at the way Apple Music and Tidal have their layouts; from discovery pages to downloadable content, most derive inspiration from Spotify's original ideas. Let's be honest, if it weren't for Spotify, services like Apple Music and Tidal might not be what they are today, or might not even be here.
One of the coolest new things Spotify has added is Spotify Codes, where users can share music with each other with the snap of a Spotify Code. It's like a Snapchat code, but instead of adding each other as friends, it shows the user new music.
Why it might not be worth it:
Playback quality, timeliness on releases, lacks exclusivity.
Being a music snob, 320kbs, MP3 stream might take some getting used to. It's obvious to the music quality aficionado that FLAC files are the way to go, so Spotify takes the back seat on this one. Even the 256kbps AAC files that Apple Music have to offer top Spotify's.
Also, artists such as Drake, Jay-Z and Taylor Swift, are more inclined to go exclusive with some albums or jump-start their album release through a music service like Apple Music or Tidal, rather than Spotify. This makes listening to some new albums right when they drop nearly impossible for the Spotify premium user.
Apple Music
Grade: B
Price: $9.99;
$14.99 for family;
$4.99 for students
Overview:
In just under two years since its launch in 2015, Apple Music has captivated a plethora of users throughout the globe and especially through iPhone users. The music service offers the first three months free to any new user and it is definitely worth the trial. With just two years under its belt, it is going to be interesting to see where Apple Music goes in the future.
Comparison
breakdown:
Since the iPod, the iTunes library was the destination for purchasing and downloading music to devices and being the source for most users. Apple Music took the next step for mobile device users. It offers a way to discover new music and also download any music you had in storage in your iTunes library.
Why subscribe:
Easily accessible, more than music, broad catalog.
Any previous or current iPhone user would agree that Apple Music's simplicity goes a long way. It's easy to download music to the cloud or the phone's library, and fairly easy to get the music to your phone.
Also, Apple Music subscribers are among the first to get their hands on some new music. For example, Frank Ocean released his "Endless" audio movie exclusively to Apple Music subscribers, so there are some interesting exclusive perks for subscribers.
Apple Music also offers listeners more than just music. There are exclusive videos and iTunes radio stations that make $9.99 worth it.
They also offer one of the greatest radio stations of all music streaming services, Beats Radio. Beats Music was bought by Apple Music, and now Beats Radio is one of the most-listened-to stations. In the past, the service has streamed exclusive songs and even released tracks from Drake's "More Life," when the hype was brewing earlier this year.
Why it might not be worth it:
iPhone exclusive, memory hoarder, hard to discover. 
Anyone without an iPhone is probably going to be turned away from subscribing to Apple Music because it is a little difficult for the non-iPhone user to use. Why waste money on a music subscription that will not be receptive to your Android device?
If you don't have too much memory on your phone, Apple Music might not be the best route. Downloading music takes up a good chunk of memory and makes it pretty difficult to keep a wide variety and quantity of music. Unless you're prone to deleting music ever so often to conserve memory, Apple Music might not be the choice for you.
Apple Music does not feature a well-established discovery page such as Spotify or Tidal. Apple Music is good to discover the latest chart toppers, but discovering independent artists is not as accessible as it is on Spotify or Tidal. iTunes' library is already a little outdated and it feels as if they made little to no effort on helping the user find new tracks or tunes to listen to.
Tidal
Grade: B-
Price: $9.99 per month ;
$19.99 for hi-fi lossless quality;
$4.99 for students
Overview:
It's always easy to root for Jay-Z because the man is a legend. But, let's be honest, when Tidal came out in 2014 a lot of negative reception came out of it and most were basically waiting for the fad to die out. However, this October will be the service's three-year anniversary and it seems to continue to attract people.
Comparison
breakdown:
While Tidal probably offers the most exclusive content out of the three music services, it seems that big investors, such as Jay-Z, Rihanna, Daft Punk, Beyoncé and Arcade Fire are just counting the days before they are out of business or bought out.
Recently, Sprint bought 33 percent of the company for a reported $200 million, so who knows what they have in store. However, as far as user-friendly, it doesn't compare to Apple Music or Spotify. The app definitely takes some getting used to.
Why subscribe:
Best quality of music, deep quantity of music and mixtapes
For the music quality fan, Tidal is the perfect way to go. In fact, this January, the company announced they would be partnering with UK company Master Quality Authenticated to improve their audio quality. Tidal is still the highest-quality music streaming site, delivering a variable FLAC quality to users. If you have the money, pay the $19.99 for incredible music quality and you will not be disappointed.
Also, the deep selection of music Tidal has to offer is impressive in itself. They offer a catalog of 46 million songs and exclusively offer new content from artists like Jay-Z and Beyoncé. They plan to release Jay-Z's new project, "4:44," which will exclusively stream through Tidal. For hip-hop fans and indie lovers, Tidal is almost a must. It's so easy and accessible to find new music from independent artists, who release anything from LPs, EPs and even mixtapes. Each week they update their discover playlists, new music to check out and truly help people find new music based on their interests.
Tidal is one of the only music streaming services that truly gives the royalties back to the artists. One artist claimed that the royalties per track from Tidal are over three times more than those paid by Spotify.
Why it might not be worth it:
Layout, cost, lack of presence.
Honestly, how many people do you know have Tidal? It truly lacks the presence that Spotify and Apple Music have. Even though they are fairly new, it almost seems like the business is doomed to fail unless they amp up their subscription rate.
The layout of Tidal takes some getting used to. In fact, it might take a couple trials of frustration and error to navigate through the app. For anyone not apt for change, they may be turned away from Tidal's confusing layout and may even cancel their subscriptions.
Even though it may offer the latest hits, is spending $19.99 for high-quality music really worth it? The basic version is the same cost as Spotify or Apple Music, but is $9.99 extra really a bang-for-your-buck? The answer: it depends. If you are one of those who downloads music constantly, listens to music on expensive Bose headphones or a defiant speaker, then maybe it is. But if you listen to music on a day-to-day basis without much contextualizing or care, then Tidal Hi-Fi might not be worth the extra cost.