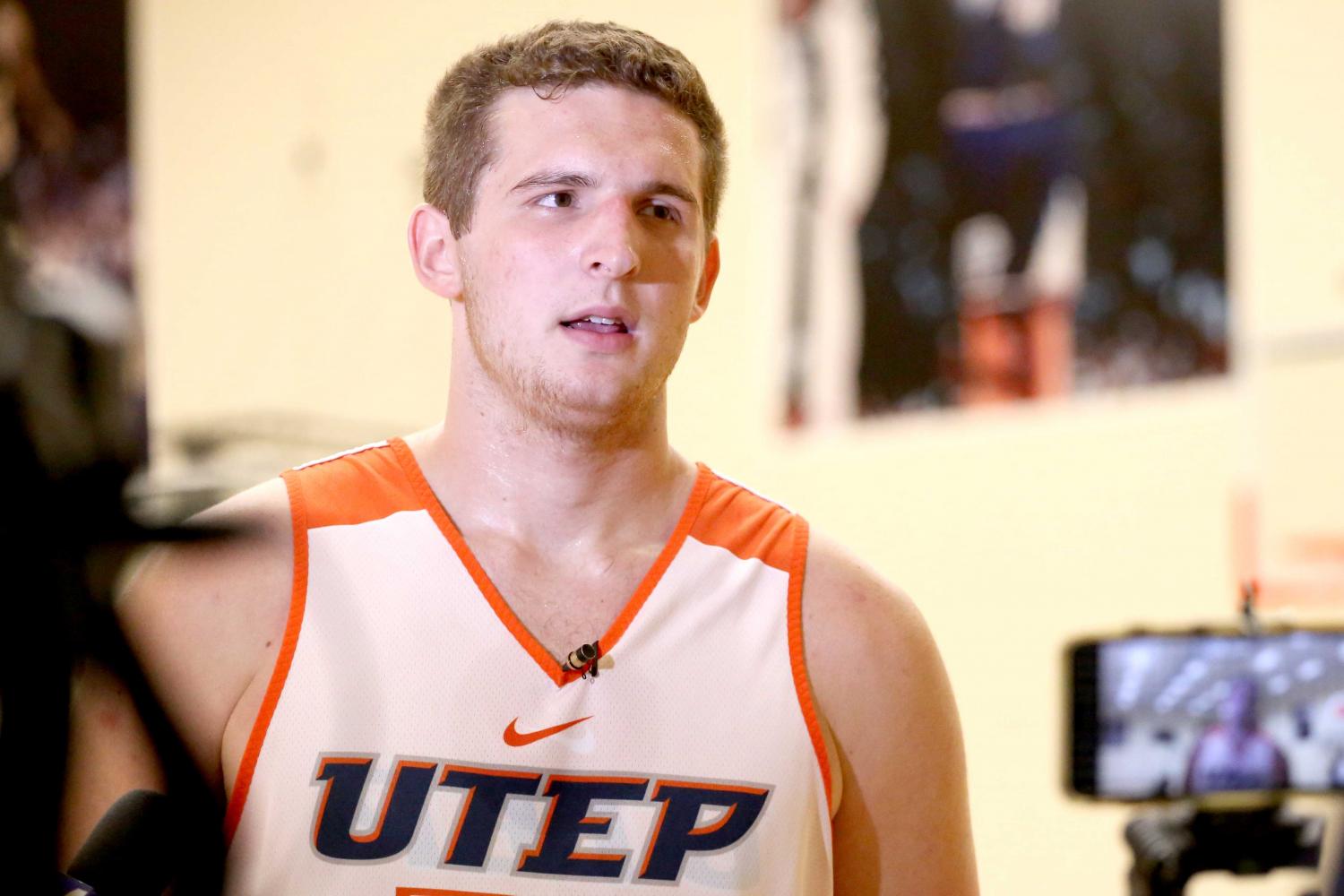 Gaby Velasquez
UTEP men's basketball introduced incoming freshman Joey St. Pierre on Thursday at the Foster Stevens Basketball Center.
The 6-foot-10, 280-pound 3-star athlete is regarded by ESPN as the No. 11 player in the state of Illinois.
St. Pierre is from Richmond, Illinois, Burton High School in Spring Grove. The two-sport athlete spent three seasons on varsity basketball where he averaged 11.7 points per game, 6.4 rebounds per game and averaged 2.7 blocks in his career.
In the 14 games that St. Pierre appeared in throughout his senior season, he averaged 13.7 points per game, 7.6 rebounds per game, 2.6 blocks per contest and recorded three double-doubles.
However, St. Pierre's senior season was cut short after he underwent kidney surgery. St. Pierre was battling pain in his back from a scar tissue that was blocking his kidneys, but the near seven-footer confirmed he is completely healed and ready to get back in shape before the regular season kicks off.
"It was rough missing my senior season. I tried to play through it for a while, but I couldn't after all. It took a toll on me. I got out of shape, I couldn't do anything for a couple of months, so that really slowed me down a lot. Now, I'm trying to cut down on weight and get back into things," St. Pierre said. "I'm 100 percent now."
St. Pierre's weight goal before the season is to get down to 260-pounds so he could run the floor again and be a reliable piece for the Miners. Floyd has compared St. Pierre to former Miner Cedrick Lang.
New Mexico and UIC (Chicago) were the other schools to offer St. Pierre, but the soon-to-be freshman was set from the start to work with UTEP head coach Tim Floyd due to Floyd's history and ability to flourish former big men to reach their full potentials.
"Floyd kept in constant contact with me, and he saw me play in an AUU tournament in Wisconsin. After that we talked a lot and he told me about his background. I looked into it, he has a good track record," St. Pierre said. "All the big guys that Coach Floyd has put through the NBA and the way he has developed them is great. There's a bunch of guys that keep coming in that aren't very skilled, and he kept working with them, and developed them."
With the arrival of St. Pierre and the skillset he brings to the table, along with the opportunity to learn alongside big men Matt Willms and Kelvin Jones, UTEP has added potential to beef up their front court play.