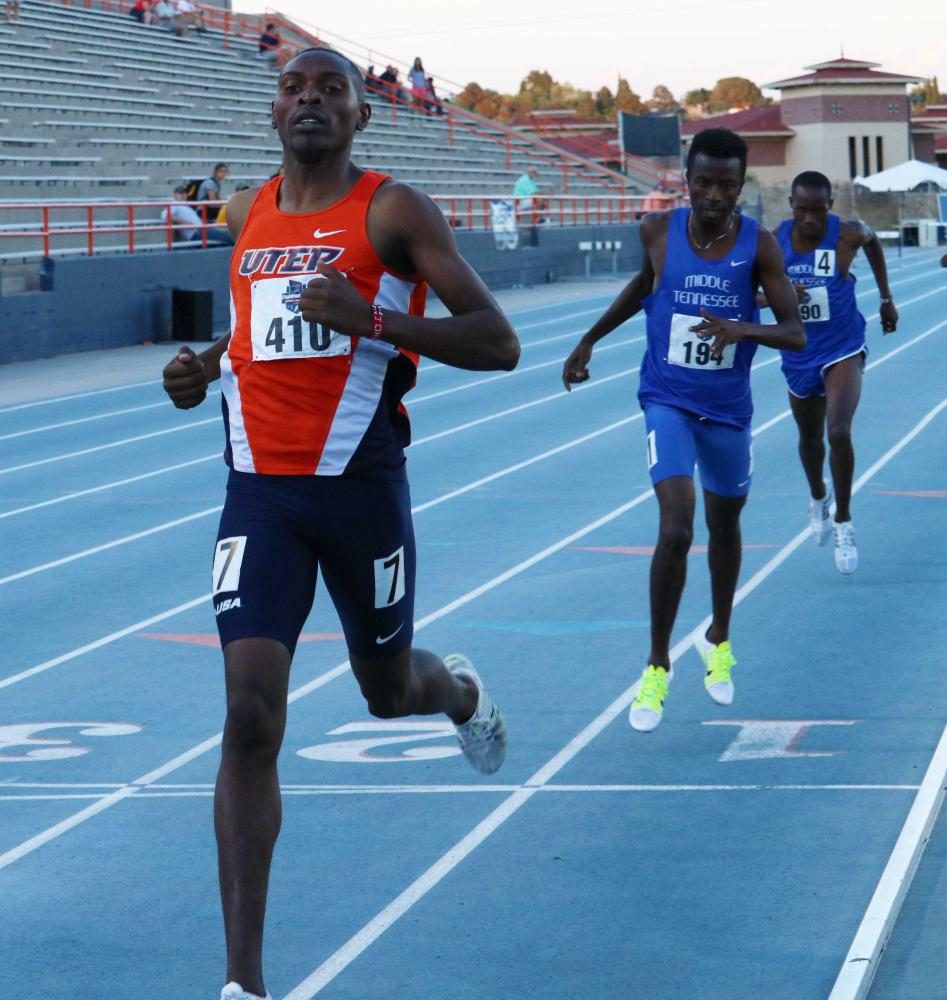 Nina Titovets
The first two days of the NCAA West Preliminaries in Austin, Texas are in the books and six Miners have punched-in their tickets to the NCAA Championships which begin on June 7 in Eugene, Oregon.
Day One (Thursday, May 25)
Men
The first event on the day was the men's hammer throw, which featured sophomore Karol Koncos for the Miners. Koncos, who ranks 18th overall in the west region, hit a 63.13-m (207-3) mark to place 20th in the hammer throw.
In the 1,500-m run, senior Cosmas Boit placed 12th in heat two and 29thoverall with a time of 3:58.20. Sophomore Jonah Koech placed third in heat one and 34th overall with a time of 3:59.27. By placing third in his heat, Koech earned an automatic qualifying spot in Saturday's final of the 1,500-m run.
In the 400-m dash, junior Asa Guevara placed fifth in heat four and 20th overall with a personal best time of 46.76. Guevara qualified for the quarterfinal on Friday.
Highlighting the day for the Miners were a pair of freshmen All-Americans in Emmanuel Korir and Michael Saruni, who both placed first in their respective heats of the 800-m run. Overall, Korir finished fourth with a time of 1:49.82 and Saruni finished 31stwith a time of 1:51.96. Both freshmen moved on to the quarterfinal on Friday.
Women
Sophomore Winny Koech became the first Miner to secure a spot in the NCAA Championships with a time of 34:39.41 in the 10,000-m run. The top 12 competitors in the run move on to the NCAA Championships and Koech placed fifth to secure her first trip to Eugene.
In the 400-m hurdles, senior Yanique Bennett placed third in heat three and 15th overall for UTEP, with a mark of 59.49 that earned her a spot in the quarterfinal. Sophomore Dreshanae Rolle did not finish.
In the 400-m dash, senior Ada Benjamin placed second with a time of 53.46 and senior Florence Uwakwe placed fourth with a 54.14 mark, both in heat three for the Miners. Overall Benjamin placed 13th and Uwakwe placed 25th. Benjamin will return Friday in the quarterfinal.
Sophomore Lilian Koech will also compete in Friday's quarterfinal of the 800-m run thanks to a qualifying time of 2:10.12. Koech placed second in heat two and 29th overall with her time.
Day Two (Friday, May 26)
Men
In the 800-m run, Korir placed first in his heat and set a meet record with a time of 1:45.88 that broke Oregon's Elijah Greer's time of 1:45.98 set back in 2011. Korir will be making his first appearance at the NCAA Championships and currently ranks #1 in the nation. Saruni finished second in his heat with a time of 1:47.32 and will also be heading to Eugene next month while ranking No. 6 in the nation.
In the 400-m dash, Guevara registered a new personal best with a mark of 46.31 to finish seventh in heat one and 17th overall. The time of 46.31 is .45 seconds better than his previous personal best time that was set in the first round of the 400-m dash.
In the 3,000-m steeplechase, junior Daniel Cheruiyot finished 10th in heat one and 30th overall with a time of 9:22.46.
Women
Amusan broke the meet record on the women's side of the 100-m hurdles with a time of 12.63 (4.3 m/s) that tied her personal best from the UTEP Springtime meet. Amusan currently ranks No. 2 in the nation and qualifies for Saturday evening's quarterfinal.
Senior Samantha Hall tossed a season-best mark of 56.60-m (185-4) in the discus throw to finish seventh overall. Hall will return to the NCAA Championships since finishing 13th overall in 2015.
In the 400-m hurdles, Bennett scored a time of 59.19 to place fifth in heat one and 15th overall. In the 400-m run, Benjamin placed seventh in heat two and 21st overall with a 54.48 mark.
Lilian Koech qualified for the NCAA Championships with a 2:07.68 finish in the 800-m run to place third in heat three and 13th overall. This will be Koech's first appearance in the national stage.
On Saturday, Linda Cheruiyot will get the action started in the 1.500-m run at 5:30 p.m followed by Jonah Koech on the men's side of the 1,500-m at 5:45 p.m. The 4×400-m relay takes place Saturday with the women's race starting at 8:25 p.m., followed by the men's race starting at 8:45 p.m.