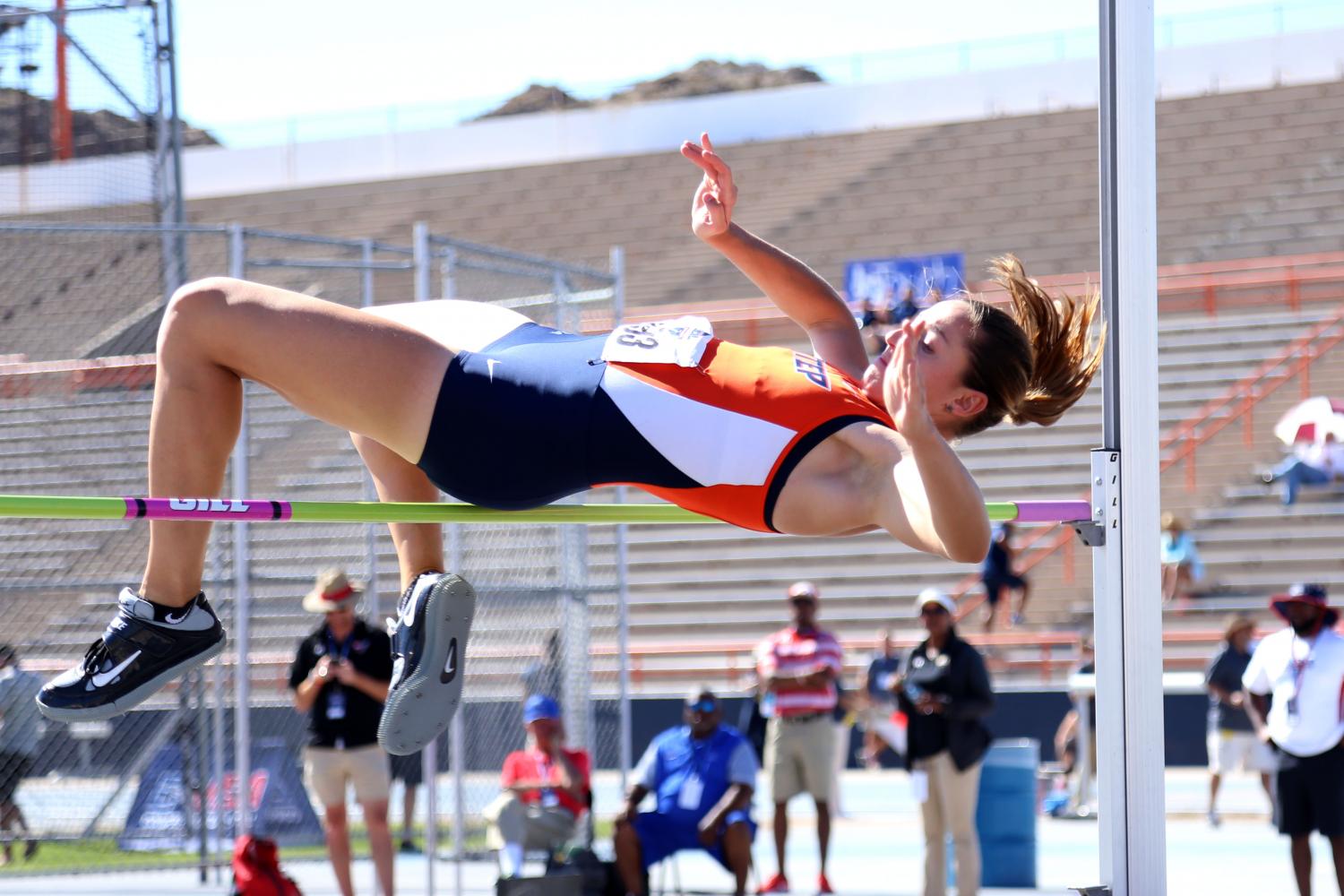 Gaby Velasquez
Action in the 2017 Conference-USA men's and women's outdoor track championships got underway Thursday afternoon at Kidd Field. This year marks the fourth year UTEP has hosted the outdoor championships since joining Conference-USA in 2006.
The UTEP women are looking to win their first-ever outdoor conference title in program history and the men will be aiming at their first outdoor conference title since they won it in 2013.
Just two events kicked off the first day with the first parts of both the heptathlon (women) and decathlon (men).
For the women, the heptathlon is a seven-part event, and the first day contains the 100-meter hurdles, high jump, shot put and the 200-meter dash.
For the Miners, Lucia Mokrasova finished second out of 20, running a personal-best of 13.78 in section two of the 100-m hurdles to earn 1,010 points. Mokrasova finished behind Middle Tennessee's Elizabeth Dadzie, who ran in section four where she earned first place, running a 13.48 and earning 1,055 points.
In the high jump, two freshmen, Marshall's Torie Derrow and Southern Mississippi's Zaria Jones, tied for the highest mark of 1.70 meters for 855 points. Mokrasova finished in sixth along with six others for a 1.64-m jump for 783 points.
Mokrasova claimed the shot put with a toss of 13.53 m for 763 points, finishing in front of Frida Thorsas from Florida Atlantic, who had a toss of 12.23m for 676 points.
In the 200-m dash, the top finisher was Dadzie, who ran a 24.59 for 925 points in front of Mokrasova, who finished just .07 points behind Dadzie for 918 points.
Mokrasova finished day one of the women's heptathlon in first place with a total of 3,474 points, placing in the top two in three of the four events of the day and will look to continue her success into day two tomorrow. She currently holds a 37-point lead over Dadzie from Middle Tennessee.
For the men, the decathlon is a 10-part event, with the first day containing the 100-m dash, long jump, shot put, high jump and the 400-m dash.
Finishing first in the 100-m dash was Scott Filip for Rice, who ran a 10.66, earning 938 points. In second behind Fillip was Adrian Riley from UTSA, who ran a 10.88, earning 888 points.
In the long jump, Riley (7.58m) jumped just .03 meters farther than Filip (7.55m) to claim first place and revenge on Filip, earning himself 955 points. Filip earned 947 points on his jump.
Chris Sullivan from Florida International finished in first place in the shot put, with a 13.23-m mark, earning 681 points. Rice had a pair finishing behind Sullivan, with Charlie Card-Childers finishing second at 12.56-m for 640 points and Filip taking third at 12.35-m for 628 points.
Sullivan and Card-Childers finished in a tie with a jump of 2.11-m for 906 points in the long jump.
Filip (47.58-m for 930 points) and Colton Torrance (48.44-m for 888 points) finished in the top two for Rice in the 400-m dash.
Rice and Filip dominated the men's side on day one. The Owls had six top-two finishes and Filip had three top-two finishes in the five events on day one.
UTEP had no one compete in the decathlon.
Day two of the conference championships will consist of the final part of both the heptathlon and decathlon along with the hammer and 10,000-m for both men and women.