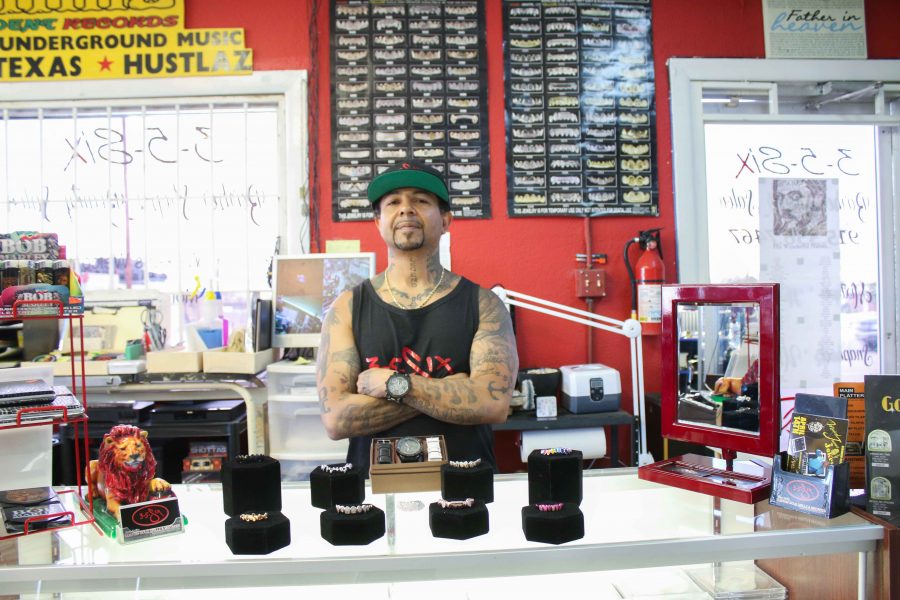 Michaela Román
On the Northeast side of El Paso, you'll find blocks and blocks of local restaurants, body shops and other small businesses running down Dyer Street.
Something you might not expect to find is a store that specializes in the late '90s, early 2000s mouth jewelry craze—grillz.
The 3-5-Six Custom Gold Grillz is a barbershop, mixtape store and studio all in one, located at 5929 Dyer St.   
Samuel Griffin, owner of 3-5-Six, started the shop in 2001 and came up with the name from the Bible, Proverbs 3:5,6, which talks about trusting the Lord with all your heart and him providing in return.
The grillz are custom made to fit the customer's mouth from a mold of their mouth. They run from six to 22 karat gold. They can be made in sterling silver and gold. By using ceramic, the white gold can be painted to any color, even hot pink or bright yellow. The teeth can be diamond cut or have a stone finish. They also offer to provide cosmetic teeth for those who cannot afford to get it replaced at the dentist.
[arve url="https://www.facebook.com/plugins/video.php?href=https%3A%2F%2Fwww.facebook.com%2FUTEPProspector%2Fvideos%2F764832130362095%2F&show_text=0&width=560″ title="Northeast store keeps Grillz alive" /]
One silver tooth starts off at $35, and cheapest gold starts at $65. The shop asks for a 50 percent deposit and then the customer has 90 days to pick them up.
When Tyler Batson, UTEP football wide receiver and senior multidisciplinary studies major, came to El Paso he had just lost his grill. One of his teammates told him about 3-5-Six.
Batson has had a grill since his junior year in high school in Houston. He paid around $250-$300 for this most recent piece.
"Everyone says, 'why would you wear a grill?' I say, why would you wear gold earrings? I just want gold in my mouth,'" Batson said. "I like to be different in that aspect."
Although there was a time in the early 2000s, when Griffin was selling 26 grills each week, he says he still sees a variety of customers. Soldiers from Ft. Bliss, UTEP and NMSU students, high schoolers, parents and everyone in between.
Griffin's support for UTEP football made Batson feel comfortable when getting his teeth molded for his grill.
"I thought it was my kind of thing I could bring from Houston to El Paso. A few of my teammates have them, but they're also from the Houston area or Dallas area," Batson said.  "In high school it was all a competition about who had the better one. Being on the team we do a lot of formal things, but I don't wear it to anything like that. You know just going out on the weekends or just hanging out with friends."
Batson says as much as he enjoys wearing grills, it's probably not something he'll do much longer.
"I actually have had three or four and after losing my most recent one, I realize as you get older there are more priorities to spend money on," Batson said.