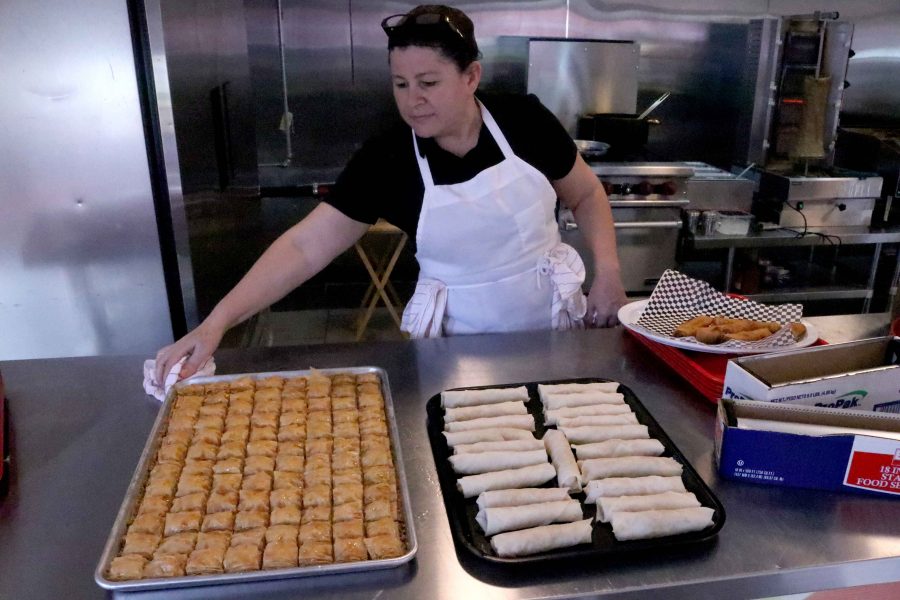 Nina Titovets
The new restaurant at 3501 Sun Bowl Drive, behind the empty Krispy Kreme building, is more than just an outstanding place to get Mediterranean food at a great price; it is the culmination of one man's life's work, his drive to succeed and if need be, the pouring out of his love on anyone who needs it.
Café Istanbul opened just weeks ago after Habib Gumus and his crew worked for months to convert the old barbershop around the bend from Helen of Troy field, just blocks from campus.
They added a patio for outdoor dining, with plans to add some hookahs further down the line along with an open kitchen. It's the first of it's kind for a Mediterranean restaurant in El Paso and Gumus' top priority.
"These days, in the restaurant industry, once the kitchens are closed you don't know what's going on in there," said Gumus over a Turkish tea. "I'm in the food business almost 15 years and it's become a major issue for people. It's like this – if you don't show love to the food, that food's not going to taste good."
Taste is not a problem at Café Istanbul. On a recent Friday night, our table of four dove into Iskander (Doner Kebab meat with an excellent tomato-based sauce over the top), Lamb Doner Kebab, Chicken Doner Kebab and the Beef Saute. All of the plates come with a choice of two sides: fries (amazingly seasoned), salad or rice.
While debating amongst the table about what sauce we would prefer, from Tzatziki, garlic or chili, our phenomenal waiter Okun told us that they were all on the house, so why not have them all. Midway through the meal, Okun was back to ask for our votes on the favorite—the staff was in competition apparently. Tzatziki, the Mediterranean classic, was the winner.
All of the meats were amazing, moist and flavorful. Upon talking to Gumus later, I found out that the meat is never frozen and seasoned completely in house. According to Gumus, in the case of the Doner Kebab (often referred to as Gyro), this is a great departure from other restaurants.
"If you ask me a question, I can tell you what's in it," Gumus said. "That's why the kitchen is open, you don't see anything frozen."
Café Istanbul did not come to the west side without experience. Gumus has served food all over the world, since getting his start in Iraq.
After working as a translator for the military in Iraq, Gumus realized that the soldiers needed some time to relax and eat a good meal. He began to serve Turkish food to the troops to great success. He continued to work as a translator, while serving food, for multiple tours in Iraq and Afghanistan.
Following his time with the military, Gumus was able to parlay his cooking into a food truck gig with the Army and Air Force Exchange Service, traveling around the United States serving food—eventually landing at Fort Bliss.
Gumus worked tirelessly at Ft. Bliss, often with a 30 or more minute wait for the kebabs that soldiers with experience overseas had learned to love. Now, he has parlayed that experience and income into a permanent home near the UTEP campus.
This new home is where Gumus is already working to build a relationship with the UTEP community—with the $7.50 UTEP student kebab specials and 50 percent off for police in uniform.
"Say it's a school break, you don't have too much to do, you don't have too much money," said Gumus. "You don't have to have food. You can come here have a chai, have a coffee, whatever."
Gumus said that students do not need to feel pressured to order food and are free to use the soon to be installed free Wi-Fi for their studies.
"We are human beings, we face difficulties sometimes," said Gumus. "We cannot force the people that either you eat or you take off.  No, my friend, you come drink water if you need."
It is this personality that rubs off on the employees under Gumus' command and builds the family atmosphere at Café Istanbul. The restaurant is inviting and clean.
More offerings are on the way from the upstart restaurant like more live Turkish music on the weekends and an in-house oven for baking fresh pita bread.
The food is indescribably fresh and clearly homemade when compared to other offerings around town.
You owe it to yourself to try the food at Café Istanbul and maybe also come out a better person for having eaten there.
Café Istanbul is open daily from 11 a.m. to 9 p.m.