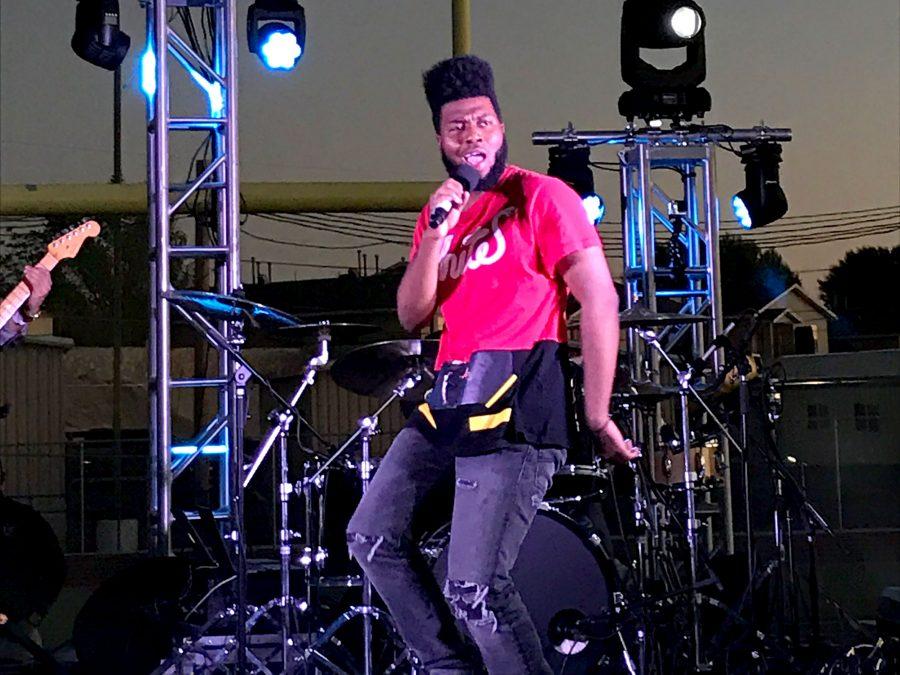 Eddie Velazquez
El Paso's man of the hour, Khalid, had an incredible reception at Americas High School during a surprise show on Friday, March 24,  at 6 p.m. The unexpected event was organized by the online  music streaming service Spotify.
Some premium subscribers of the service were notified of the event on an email detailing the location and time of the homecoming gig.
"It just happened out of nowhere," said Karina Garcia, a junior education major. "I never check my email, but something told me to check it and there was an invite to see Khalid."
Americas' football field served as the stage, while also hosting food trucks and a gif-making booth along the track. Guests were able to enjoy free food from tacos to elotes (corn on the cob) and received "American Teen" branded t-shirts and hats in support of Khalid's debut full-length album of the same name.
To pump up those in attendance prior to the concert, a camera crew was present making the rounds. Some of the footage was made available on Spotify's Instagram story, and through a post with Khalid doing the sound check earlier that day.
Finally, after setting up with his band, there was only an "American Teen" banner separating Khalid from his fans. He came through the tunnel alongside the Canutillo High School cheer team to a mid-sized, but raucous, crowd that shouted his name from start to finish.
It was all action from there, as he opened the evening with "Let's Go," an apropos track that would set the mood for the rest of the show.
During the performance, drones flew around the stage filming the whole show as well as a camera crew taking pictures both on and off the stage.
With its characteristic mellow tone, "Hopeless" followed shortly thereafter. Fans sang along to the track about broken bonds with an energizing, unified voice that encouraged Khalid to show off some of his best moves.
Following this song, the Americas graduate addressed the home crowd.
"I love El Paso," Khalid said. "You guys go hard, I'm going to go hard for you guys tonight."
With the crowd in his pocket, Khalid performed "Saved" next, receiving a loud cheer from seemingly everyone in attendance.
It is easy to see why the local fans think so highly of Khalid, as he was hyped and showed an electric vibe.
He was also responsive to the fans, interacting with them on the microphone after songs. A member of the audience repeatedly asked for the local idol to be his "best friend," and before "Young Dumb & Broke," Khalid responded "I will think about it," drawing a huge reaction from the crowd.
"Young Dumb & Broke" was one of the most surprising songs of the night. Khalid's crooning vocals and on-stage antics drove the crowd wild, making it a fan favorite for future shows to come.
His smash hit "Location" took full advantage of the live stage and accompanying band. The guitar arrangement was sharp and blended seamlessly with the flow of the song, while Khalid surprised those in attendance with his strong and fluent stage presence.
For his last song, Khalid described "American Teen" as a "song that is very important to me and to this school.
The Coronado High School band also had a drum arrangement exclusively crafted for this song.
"Khalid was talking about us having a drum break in there, and my band director asked me if I could come up with a drum fill we could use, so I listened to 'American Teen' a lot trying to think of some rhythms that could go along with it," said Esteban Mesa, section leader for the Coronado High School drum line.
As a pioneer of providing an experience of this caliber to his fans, young Khalid and his meteoric rise to fame keep proving his worth to El Paso and its development in the areas of popular culture and music.