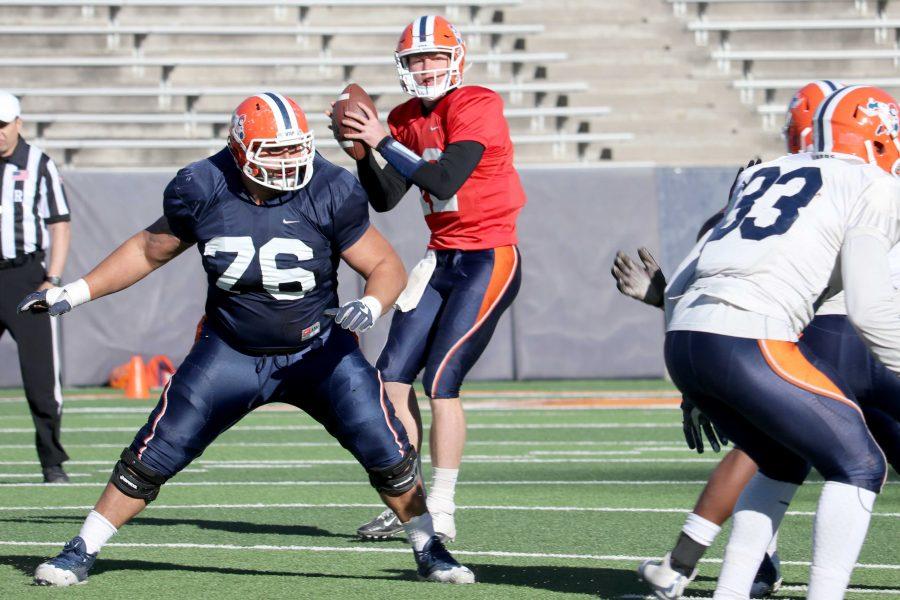 Nina Titovets
El Paso's own Ryan Metz, out of Andress High School, and his development into UTEP's starting role at quarterback has been one of the more exciting things in UTEP football for the past two seasons.
Metz's most memorable moment as a Miner came in his first season as a freshman during the 2015 campaign. In just his third collegiate game, down 44-30 with just three minutes and change to go against rival New Mexico State in Las Cruces, Metz initiated a comeback connecting with Cole Freytag on a 48-yard touchdown pass to cut the Miners' deficit to seven. Following a defensive stop and an Aggie punt that was downed at the two-yard line, Metz came back onto the field leading an eight-play, 98-yard drive to tie the game with an eight-yard rushing touchdown up the middle with just 42 seconds remaining in regulation.
Metz became the hero when he connected with former UTEP basketball center, Cedrick Lang in the end zone for the game-winning touchdown in overtime (50-47). Metz finished the game 15-of-19 passing for 218 yards and three touchdowns, helping the Miners extend the winning streak over New Mexico State to seven at the time.
In 2015 overall, Metz played in eight games, starting in five and threw for 900 yards on 82-of-140 passing (58.6 percent), with six touchdowns and seven interceptions while rushing for 130 yards and that one crucial touchdown at New Mexico State.
His first collegiate start came the following Saturday against FCS team Incarnate Word after proving his worth in the win at New Mexico State. Metz led the Miners to victory with a season-high 275 yards on 20-of-29 passing (69 percent) with a pair of scores, including a career-long pass of 57 yards, while also leading the team with 46 rushing yards.
In his 2016 sophomore season, Metz started in seven out of 12 contests, while playing in 11. On the season, Metz threw for a total of 1,375 yards on 130-of-201 passing with 14 touchdowns and four interceptions with a 64.7 completion percentage that ranked third best in Conference-USA.
Metz again proved to be a clutch player  with another game-winning overtime pass when he hit wide receiver Warren Reddix in the right corner of the end zone during a nail-biting five-overtime game at UTSA. UTEP won the game 52-49. Metz finished the season with a 141.14 passing efficiency, which was the program's fifth-best single-season performance and was  ranked sixth in Conference-USA.
In the classroom, Metz has been just as efficient. In high school, Metz received the Presidential Award for Excellence and was a member of the National Honor Society with a 100.1 GPA, while ranking fourth in his class in 2011. In 2012, Metz was named to the 1-4A All-Academic team and ranked third in his class.
At UTEP, Metz has been named to the Conference-USA Commissioner's Honor Roll in both of his first two seasons (2015,2016). The Honor Roll is awarded to student-athletes in Conference sponsored sports that have achieved a 3.0 cumulative GPA or above.
With two years of experience now under his belt and spring ball for the 2017 season under way, Metz is ready for his junior season and the next step in his UTEP career. The Miners began their second week of spring practice this past week and on Wednesday, March 22, Metz got in important reps during practice in the pocket with applied defensive rush pressure.
"I've been working on a lot of footwork. I was decently accurate last year, but I'm working even harder to be even more accurate to make those tough passes when coverage is really good," Metz said. "It's nice to pass to the open guys, but sometimes I've got to make those tight window passes, and it all starts with footwork and getting my feet in the right place."
Metz was quick with his feet and efficient completing passes on Wednesday. During team drills on the line, Metz nailed all of his throws and was quick in the pocket as well. Metz did have a couple of balls come up short from his receivers on his early individual drills, but the focus was clearly there for the junior.
"Metz is very comfortable in the offense and most comfortable in the pocket," said head coach Sean Kugler. "That all comes with experience and maturity. He's been in this program and understands everything and he's now more focused on the little things, the fundamentals, all of which will make him a better quarterback overall."
The Miners held their first scrimmage on Friday, March 24, on a cold and windy El Paso morning in the Sun Bowl, which made the task of trying to move the ball through the air difficult for the junior.
"Accuracy wise, there's still a lot of growth, my second or third pass came out a little wobbly, it wasn't a great one," said Metz. "I can't let the climate or conditions affect me, I don't think that was in my head, but I tried to change my delivery, other than that I felt good out there."
Metz finished 4-of-10 for 36 yards and an interception. His longest pass during his full-drive sequence was an 11-yard slant route completion to Warren Reddix across the middle, and his longest rush came on a 20-yard scramble during a fourth-down situation.
"That was cool weather and it was extremely windy, but our quarterbacks handled it well," Kugler said. "We just had a couple off throws due to the wind."
Metz believes his offense needs to be much quicker as the season approaches. Last season, UTEP ranked 104th in offensive efficiency with a 31.3 percentage.
"We need to pick up the tempo a little bit better going forward," Metz said. "I don't think we ran into any issues with the play clock, but we need to make sure we are getting in and out of the huddle quick and that we get our calls in quick."
The Miners' annual spring game is slated for a 7 p.m. kickoff on April 14, in the Sun Bowl. The season opener is set on Sept. 2, against the Oklahoma Sooners in Norman, Oklahoma.
After having the easiest ranked strength of schedule in 2016, the Miners will enter 2017 with two "Power Five" programs—Oklahoma and Arizona—waiting on their schedule while they will also face eight teams who went to bowls last season.
Despite the tough task at hand, Metz is excited and thinks they can surprise some people.
"I am so excited to play Oklahoma and Arizona," Metz said. "To get a chance to play a Big-12 and PAC-12 team while representing your city, you've got to make the most of it and I think we can have a special season, it all starts now."