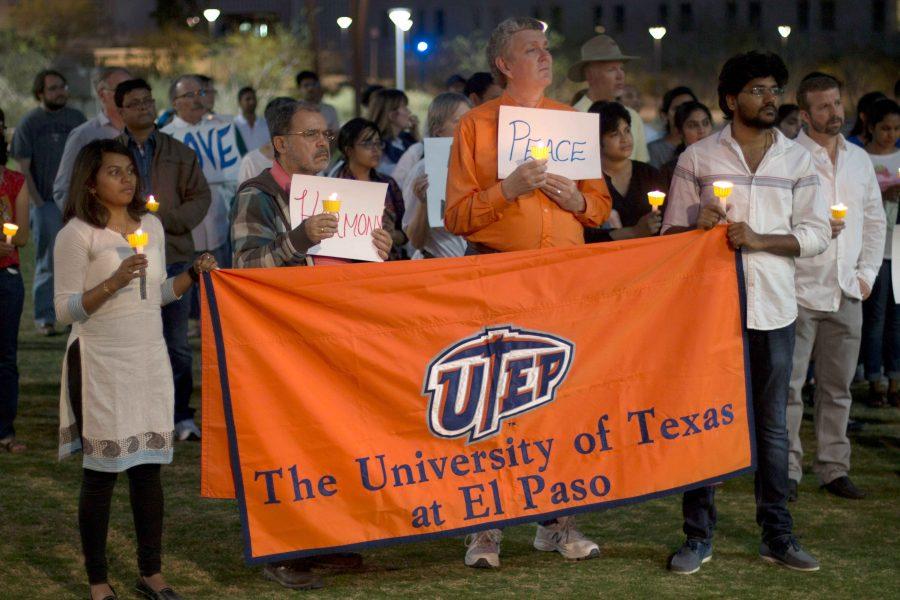 UTEP's Indian Student Association along with the University Cricket Club held a peace walk and candlelight vigil, on March 11, to honor UTEP 2007 engineer graduate, Srinivas Kuchibhotla. He was fatally shot on Feb. 22 at a bar in Kansas City, MO, in a hate crime by a man who yelled, "Get out of my country" before firing.
Attendees quietly walked from the Mike Loya Academic Services building holding signs that read, "Hate can't and won't win," "Every life matters," "Stop hate" and "promote love," to Centennial Plaza where those that knew Kuchibhotla and members of the El Paso community spoke.
The vigil was held in honor of Kuchibhotla and the millions of immigrants who live in the United States.
ISA and UCC hosted the event so UTEP students, faculty, staff and any El Pasoans had the chance to express grief, support and solidarity in light of the tragedy and to peacefully stand up against xenophobia and appreciate diversity in the nation.
Former El Paso mayor John Cook spoke at the vigil saying the county has a very dangerous mood to it but diversity is what made this country what it is today.
"When elected officials will get up there and start fostering hatred and telling people to not accept people that are different, we cannot accept that," Cook said. "I just can't fathom that someone would walk into any place and kill someone just because of the way they look."
Vinyak Melarkod was a good friend of Kuchibhotla. The two met in 2005, when it was Melarkod's job to help incoming internatial students adjust to UTEP. They soon became close friends along with other engineering students. Melarkod says he'll remember the group of friends hanging out every Friday at their houses near campus.
"He always made sure guests ate until they were full as the night went on, that was his rule," Melarkod said. "I remember him to be a dedicated student,  he respected his mentors and faculty at electrical engineering, he tried to understand the subject matter in depth. He was also a dedicated teaching assistant for undergraduate engineering."
Although it was hard for Melarkod to part ways with Kuchibhotla and their other friends, they would stay in touch through a group chat that Kuchibhotla created himself.
"My friends and I are devastated by this senseless act of rage. We still can't believe that he's not with us anymore and something like this happened within our close circle of friends, we're just normal people," Melarkod said. "With his sudden passing, our group has decided to not take life for granted."