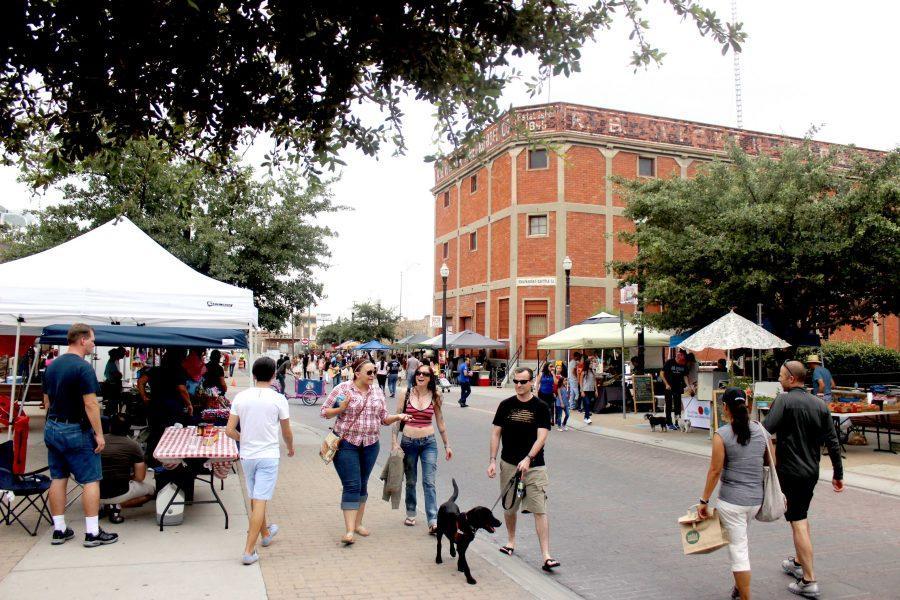 El Paso Artist and Farmers Market
Every Saturday, from 9 a.m. to 1 p.m.
As a year-round event, it is easy to overlook an El Paso institution such as the Downtown Artist and Farmers Market. However, its original approach to arts and genuine local vibe make it a great source for locally grown agricultural produce and a cultural reminder of the binational identity of the Sun City.
Located on Anthony Street and San Antonio Avenue, the multipurpose space offers an environment that is friendly for all ages, with accessible activities for children and a great selection of food for everyone to enjoy.
DeadBeach Block Party
Saturday, March 11, from 3 p.m. to 1 a.m.
This free event will take place at 406 S. Durango St., where they will commemorate the release of DeadBeach's bottled beer to the public. The brewery will introduce five different 22-ounce beers. Additionally, the event will feature 17 beers on tap  including four new flavors.
Aside from the local brew, guests can expect live performances from local bands such as Great Shapes and Ribo Flavin.' Food from Kaedama Food Bus, Panini Bus and DeadBeach's Smoke Wagon Texas Craft BBQ will also be available.
Potter Pub Crawl
Saturday, March 18, from 6 p.m. to 11 p.m.
For fans of the popular franchise, this Harry Potter-themed bar hopping experience is a fantastic opportunity to connect with other die-hard fans in El Paso.
The pub crawl will start at Blackbird featuring Quidditch Pong. Hope and Anchor will be the next stop, featuring the Sorting Hat Drink. From there, attendees will travel to the Owl Emporium at The Hoppy Monk. Lastly, after a brief stop at Prickly Elder, the event will culminate at Rubik's Arcade with a costume contest.
Pre-registration is $5 ($7 at the door) and it includes a themed beer koozie, exclusive drink specials and the opportunity to win special prizes throughout the night.
For information on tickets and pre-registration, visit www.eventbrite.com/e/potter-pub-crawl-tickets-32427167531
Electric Social Showcase
Friday, March 17, 2017, doors open at 9 p.m.
Local label, Electric Social, will be showcasing some of the up and coming local talent at Lowbrow Palace.
Local rapper Stan Z—who just released his newest LP—will headline the event, alongside 2017 Battle of the Bands winners Nico & The Silent Films. Indie veterans If We Were Turtles, Trost House and newly reshaped act Rose.Golden, formerly known as ANiMAL$OUL, will round up the showcase.
Tickets  are  $5  at  the  door  or  can  be  purchased  at:
www.lowbrowpalace.com
Downtown Ghost Tour
Saturday, March 18, from 9 p.m. to 11 p.m.
With the Wigwam Museum as its starting point, the Downtown El Paso Ghost Tour is a viable option to spend a chilly spring break night. As tourists spend the night walking the streets of haunted downtown El Paso, they will hear about the eerie symbolism in historic buildings and strange stories of yesteryear in well-known areas of the Sun City.
For $15, the tour will feature places such as the Wigwam Museum's basement and the Palace Saloon.
For more information, Ghosts915 may be reached at 915-274-9531.
3 Artworks in 30 Minutes
The El Paso Museum of Art is showcasing the graphic work of local artists Kim and Therese Bauer as part of its "3 Artworks in 30 minutes" series.
Education Curator, Elisabeth Sommer, will give a free tour detailing the exhibit located at the Dede Rogers Special Events Gallery.
Kim, an associate professor at UTEP's Department of Art, focused on the printmaking aspect of this project, while Therese, a full-time lecturer for the same department, explored the different drawing techniques and materials used in this exhibit.