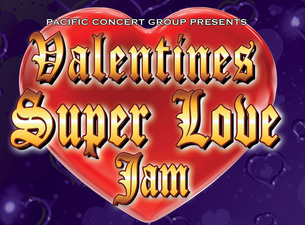 Pacific Concert Group is bringing the funk and soul multi-act concert "Valentine's Super Love Jam" back to El Paso. This year, the Valentine's Day-themed event will take place at UTEP's Don Haskins Center on Friday, Feb. 10, at 7:30 p.m.
The concert will feature 10 artists: The Delfonics, Zapp, One Way, The Temprees, Thee Midniters with Little Willie G, Evelyn "Champagne" King, The Persuaders, Rene Rene, Sunny Ozuna and Tierra. 
The lineup represents different eras of funk, soul, disco, R&B and Chicano music, not to mention the diverse ethnic backgrounds behind these genres.
The Delfonics found their biggest successes in the 1960s and 1970s during the booming R&B scene of Philadelphia, with the Grammy-winning hit, "Didn't I (Blow Your Mind This Time)."
Zapp's "More Bounce To The Ounce" was a huge success during the late '70s, landing the band from Hamilton, Ohio, a record deal with Warner Bros. Records.
Formerly known as Al Hudson and the Soul Partners, One Way is seen as a centerpiece of an active soul community in Detroit. Their hit song "Cutie Pie" reached no. 4 on the Billboard Soul Singles chart.
Tennessee soul trio, The Temprees have enjoyed a lengthy career, releasing five albums over the span of 28 years. They were one of many artists to perform at legendary concert Wattsax in front of 100,000 attendees commemorating the 1965 riots in the African-American community of Watts, Los Angeles.
As part of the first wave of vocal Chicano artists, Thee Midniters had a visible impact in the Chicano rock scene due to their pro-civil rights approach to music. The song "The Ballad of Cesar Chavez" is a reflection of the Chicano struggle during that era.
Evelyn "Champagne" King was one of the prominent female artists in the disco scene in Philadelphia in the 1970s. Her biggest hit "Shame" came during the peak of the disco era in 1978.
The Persuaders were at the center of the massive R&B mecca that was New York City in the 1970s, contributing a gold-certified single to the movement. "Thin Line Between Love and Hate," which topped the Billboard R&B Chart, immediately becoming a hit.
Rene Ornelas, performing under the name Rene Rene, is half of the iconic latin pop duo Rene y Rene. Their hit single "Lo Mucho que Te Quiero" reached no. 14 on the Billboard Hot 100 chart.
Sunny Ozuna started his career as the lead singer of Sunny & the Sunglows, a Chicano blues band in 1960s San Antonio. The band released albums under their own label Sunglow, including the single "Talk To Me," which reached no. 11 on the Billboard Hot 100 chart.
Tierra contributed to the Chicano arts movement in California playing across different venues in Los Angeles. Their biggest hit was a cover of The Intruders' "Together," which reached no. 9 on the Billboard R&B chart.
Ticket prices range from $28.50 to $49.50 and can be purchased at ticketmaster.com