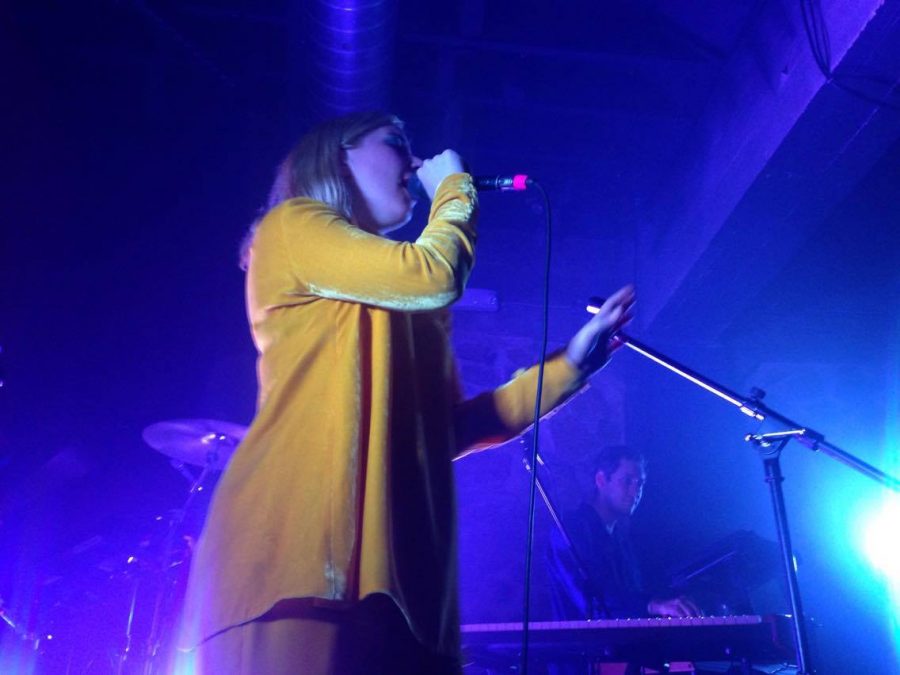 Eddie Velazquez
Amidst a deluge of smoke and fluorescent lights, Canadian Indie Pop band Austra made their El Paso debut to a sold out crowd at The Lowbrow Palace on Monday. The band is on an international tour from North America to Western Europe for their new album "Future Politics," which was released on Jan. 20.
Accompanying the band were local synthwave duo Dirty Circuits and DJ The Range.
Dirty Circuits warmed up the night with their homemade electronic tunes and crooning vocals. "Circuitry" prompted the crowd to dance along, showing support for local talent. The pair ended the performance on a high note with "Unfeeling," which brought a bigger crowd to the lower level stage.
Pennsylvania native James Hinton, also known as The Range, followed suit with a brief but entertaining set. Aside from his mix, The Range also featured a set of psychedelic backdrops projected on a screen, adding another dimension to his stage presence, and a more expressive element to his material. "Copper Wire" lit a fire under the DJ who started jumping and hyping up the crowd with complex beats and aggressive drumming techniques.
Last but not least, it was time for Austra to take the stage with drummer Maya Postepski's heavily modified drum set and the assortment of different synthesizers. This is something fans of the band have come to know and love. "We are alive" opened their set list with a warm reception from the crowd and a stream of purple lights that embellished the stage.
The fashion progressive band did not disappoint with their attires, however the concert did get to a slow start in terms of on-stage antics. This would get gradually better with songs like "Gaia," and "I'm A Monster," which occasionally brought the wild side out of lead singer Katie Stelmanies. This was telling due to the engaged, yet awaiting crowd, who looked for any reason to compliment the Canadian singer.
Halfway through the set however, "I Love You More Than You Love Yourself" unleashed a set of dim lights, inciting the audience to emotionally sing along and inviting Stelmanies to shake off the rust. The track also showcased the evolution of the band's sound, with tangy but refined vocals and a well-curated and defined dose of synthesizers to enhance the mellow feeling behind the compositions. "Beat and the Pulse" followed, and the heavy bass strums sparked the audience into what was the most active song of the night.
The encore was "Painful Like," one Austra's most popular tracks. Its club-like vibe connected with the crowd immediately, making the band's return to the stage for one last song an effective success
Throughout the night, Stelmanies kept praising the desert crowd for being "awesome," and vowed to make a return to the Sun City soon.