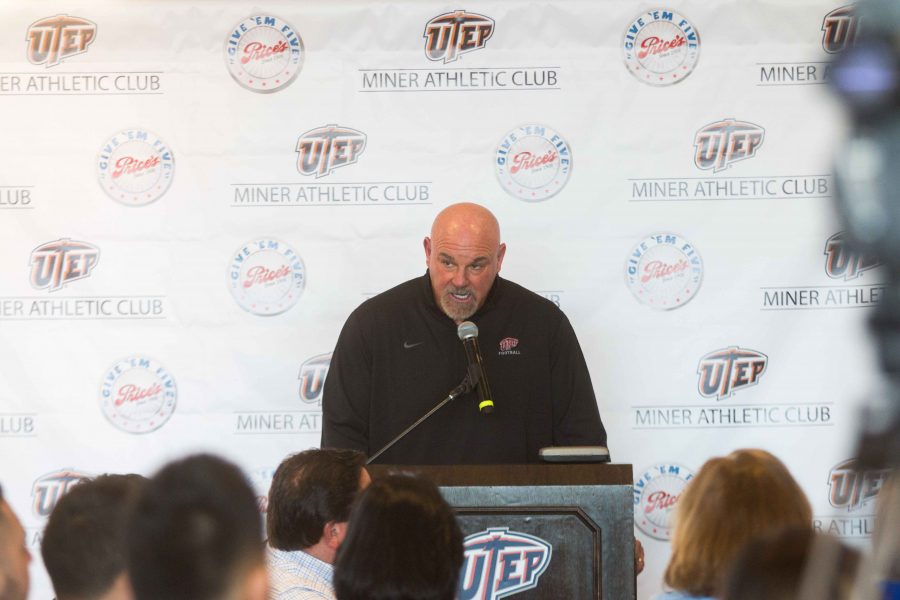 Michaela Roman
Head coach Sean Kugler annouced that the program signed 17 football players for National Signing Day on Wednesday, Feb. 1.
The Miners grabbed seven offensive and 10 defensive football players to join their squad. The team's motive this offseason was patience when handing out offers, and in fact, they have two extra scholarships to give out late, per Kugler.
Sticking to his luck in hometown recruitment, Kugler signed five local El Pasoans to the team including Joshua Fields from Americas, Cutter Leftwich from Franklin and Javaughn Thomas from El Paso High. Now, the Miners have signed 22 players from El Paso and have 35 locals on the roster.
Of the new class, 10 of them are from Texas while the rest are from California, New Mexico, Maryland and Georgia.
"We're very excited for the class that we have here. But more importantly, when we first took over this program, we said we were going to recruit El Paso," Kugler said. "We're ultimately looking for football players who care about getting a degree and that they are on the same mission we are on – win a bowl and a conference championship. We're not going to stop working at it until we achieve it."
Kugler and UTEP will begin spring play on March 6 at Glory Field. Below are the signees:
2017 UTEP SIGNING CLASS ROSTER
Alex Fernandes QB 6-3 200 Austin, Texas (Vandegrift HS)
Calvin Brownoltz QB 6-1 200 Carmichael, Ca lif. (Jesuit HS)
Forest McKee FB 6-1 240 Las Cruces, N.M. (Onate HS)
David Lucero TE 6-5 230 Holtville, Calif. (Arizona Western College)
Cutter Leftwich OL 6-1 285 El Paso, Texas (Franklin HS)
Jalen Spady OL 6-3 340 Huntsville, Ala. (Huntsville HS)
Trace Mascorro DL 6-1 275 Refugio, Texas (Refugio HS)
Javaughn Thomas DE/LB 6-2 230 El, Paso, Texas (El Paso HS)
Kalaii Griffin LB 6-1 220 Bethesda, Md. (Ventura CC)
Kobie Herring LB 6-0 220 Refugio, Texas (Refugio HS)
Jamar Smith LB 5-11 230 Lyons, Ga. (Holmes CC)
Brent Ugochukwu LB 6-0 210 Richmond, Texas (George Ranch HS)
Joshua Wells LB 6-1 215 El Paso, Texas (Parkland HS)
James Tupou LB 5-10 230 Allen, Texas (Allen HS)
Kahani Smith DB 6-1 185 Los Angeles, Calif. (Riverside CC)
Tyson Wilson DB 5-10 165 McKinney, Texas (McKinney HS)
Follow Adrian Broaddus on Twitter @adrian_broaddus