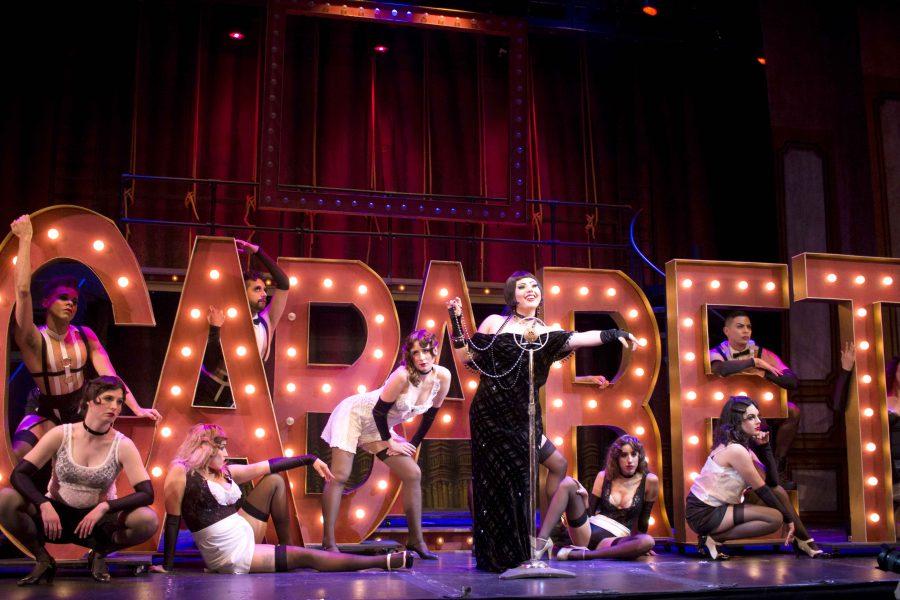 Michaela Román
The UTEP Dinner Theatre kicked off the year with the Broadway classic musical "Cabaret" on Jan. 27, which promises to entertain both students and adults. With songs like "Welcome to Berlin," "Money" and "Cabaret," the musical was a success on its first night of performance.
To this day, the story of  "Cabaret" still holds a truth in society. It dates back to 1938 just before the rise of the Nazi Party in Berlin. The play's topics such as abortion, homosexuality and the equal rights of citizens are still an issue 60 years after the story was written.
Walking into the dinner theater, I had no idea what I was about to experience for the first time in my life. People all around me are having dinner and, most importantly, having a good time. I asked Silvia Berdeja, one of the spectators, about her experiences while attending these performances.
"We love the environment of the theater, the director always does a great job, and it is really interesting to see what new musicals they will bring to UTEP," Berdeja said.
Starring UTEP students Lauren Pena as Sally Bowles, John Levick as Clifford Bradshaw and Joel Aguilera as the Master of Ceremonies, or the emcee. It started off with a welcome from the Kit Kat Klub, in a comedic yet sensual style.
"Leave your troubles outside!" shouted the Master of Ceremonies. "Outside is winter, but inside it is really hot."
Writer Clifford Bradshaw arrives in Berlin to write his next novel. He attends the nightclub where Sally Bowles suggests that they meet backstage. This chance meeting eventually turns into a love affair. Clifford later experiences the same type of encounter with Kit Kat Boy Bobby.
The romance between Clifford and Sally continues to grow, and everything seems to be going well until the situation in Germany begins to get more violent with the rise of Hitler. Sally is pregnant, and with the thousands of abortions she's had before, she is willing to see a doctor and do the same once again. Clifford decides that he wants to return to America, yet Sally refuses to leave her life at the cabaret.
"Caberet" is an astonishing and fierce musical whose issues continue to affect us today, from prejudice, homosexuality, abortion, and fighting for equal rights, all are part of who we are. These issues divide us, and it is great to remember what we continue to fight for, by accepting each other, with differences and flaws.
A great show awaits, be prepared to get out of your typical night and experience something incredible. Extended dates were added due to public request.
The UTEP Dinner Theatre is located on the second floor of the Union West Building and has dinner performances at 7 p.m. on  Feb. 1-4, 8-11 and 16-18.  There is   a no-dinner matinee at 2:30 p.m. on Feb. 5, 12, 19.
Prices range from $17.50 to $46.50, and you can buy tickets at the UTEP Ticket Center or at www.ticketmaster.com. For more information, call 915-747-6060.