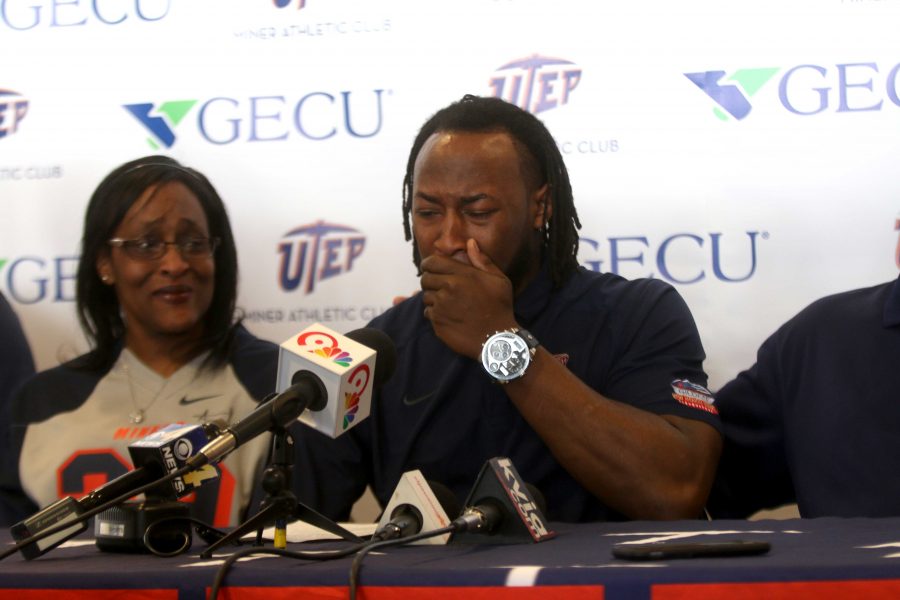 Michaela Román
UTEP junior standout running back Aaron Jones announced that he will enter the 2017 NFL draft on Saturday, Dec. 31. By doing this, Jones has decided to forfeit his final year of eligibility with the Miners to enter the draft.
"First I would like to thank God for allowing me to play the game I love," Jones said to a room full of family, friends and media members. "I would also like to thank coach Kugler. He gave me and my brother an opportunity to play together."
"After sitting down with my family, I made the decision. Running backs don't last long in the NFL. I'm ready for the next challenge coming to my life."
Jones electrified this season on the ground at tailback. He finished third in the nation with 147.8 rushing yards per game and rushed for the single-season program record of 1,773 yards. This season Jones also became UTEP's all-time leading rusher with 4,114 yards.
"It's crazy," he said. "I never pictured myself here. I had a dream and dreams come true."
Jones has already signed with an agent and started the preparation for the draft. He applied for a draft grade, but according to him, it recommended that he stay at UTEP for his senior season. However, because of the advice and insight both Kugler and his agents gave him, Jones decided to decide against the draft grade recommendation.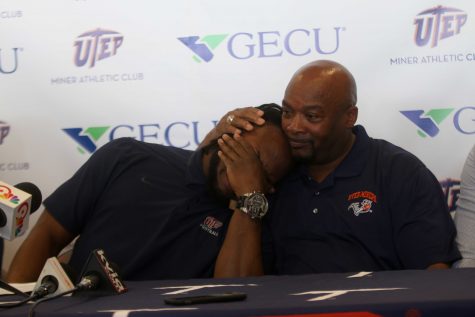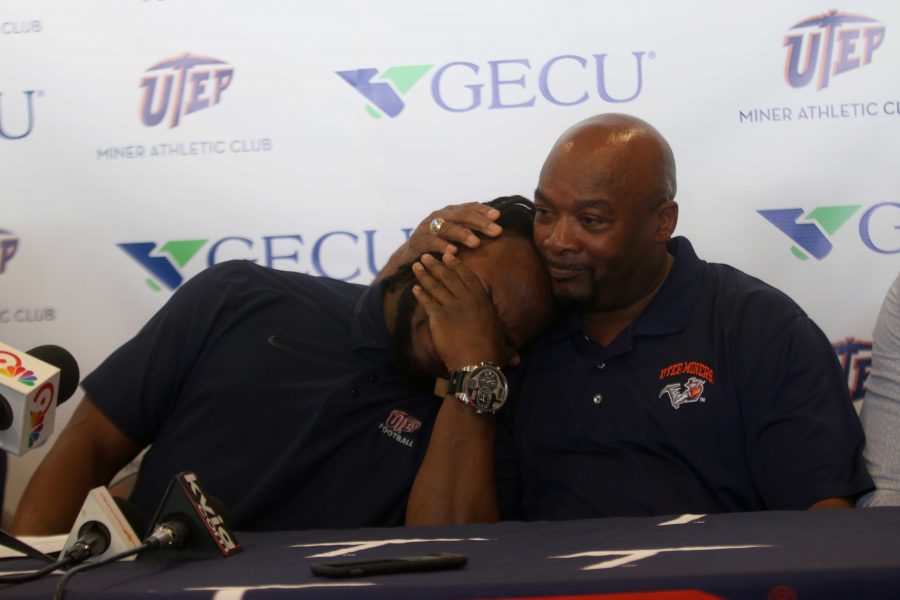 "It doesn't matter [what team he gets drafted to]," Jones said. "I just need an opportunity."
Although Kugler acknowledges he will lose one of his best players, he fully backed up Jones' decision.
"My thing was supporting him," Kugler said. "I wanted to tell him I support him either way. Guys like Quadraiz Wadley and Kevin Dove want to be like him. He set his legacy."
This is the same legacy that he believes will go down in UTEP history. Jones claimed that he set his own personal goal of becoming the program's all-time leading rusher and setting the single-season rushing record for himself.
"I set those goals for myself coming into this season," Jones said. "The only thing I would've liked to do is win a conference championship. I feel like I've done everything I could."
Sitting next to his mother and father, Alvin Jones Sr. claimed that from a father's perspective, he could not be more ecstatic.
"This is every father's dream," Jones Sr. said. "Watch our child, watch his childhood dream come true. For me to do that is every father's dream. This couldn't be a happier day for me."
With his impending departure, Jones has some words of encouragement for his teammates and the community.
"Kids from El Paso can do what they want," Jones said. "Listen to coach Kugler. He's probably visioned this since day one. Respect and listen to your teammates."
But what he will miss the most is playing alongside his twin brother, UTEP linebacker Alvin Jones. Aaron and Alvin had played every sport together since they were children. In fact, according to the Jones brothers, they have never been separated.
"The toughest part is leaving my brother," Aaron said. "He's been with me through it all. We're grown up and he's still going to be with me through it all."
And with the conclusion of the press conference was a turning of a new chapter in Jones' life.
"Running backs don't last long in the NFL. I'm ready for the next challenge coming to my life," Jones said. "We're ready to go. Can't thank you guys enough for the wonderful times you've given us."
Follow Adrian Broaddus on Twitter @adrian_broaddus