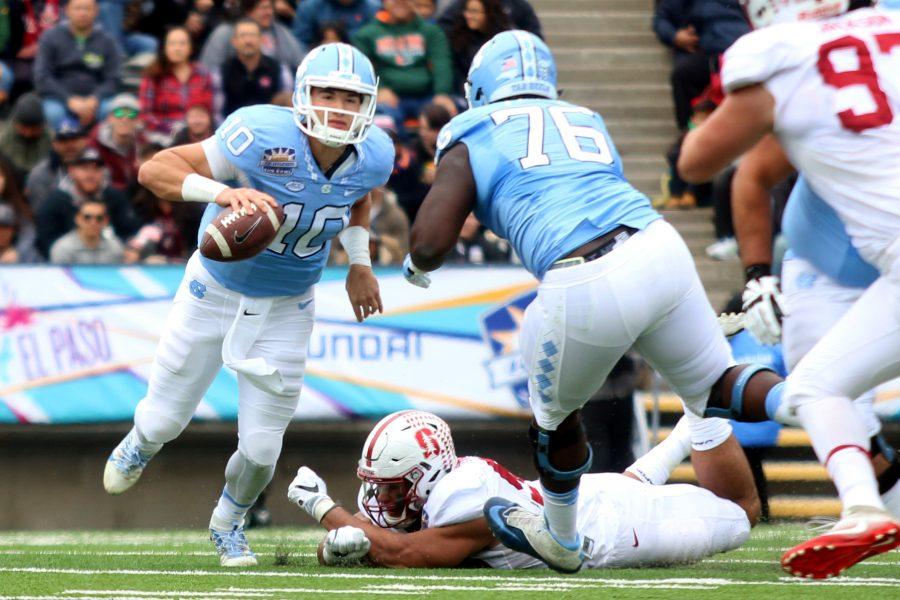 Michaela Román
In a tough Sun Bowl dual, North Carolina quarterback Mitch Trubisky threw two touchdowns and two interceptions as the Stanford Cardinal defeated the Tar Heels 25-23.
"I got to give credit to Stanford for preparing their team so well," UNC head coach Larry Fedora said. "Our guys fought all the way to the end but we couldn't get it done to win the game."
With 1:34 left in the fourth quarter, North Carolina was down by eight points, 25-17, and backed up at their own 3-yard line. Trubisky, who could not get anything going their previous drive before this one, believed that they could march their way to the end zone for this score.
"It was a huge task but we looked at each other and believed we could do this," Trubisky said. "Those are the type of situations we were in. We were in this situation because I couldn't take care of the football. We had to go 97 yards and I said lets do this."
And Trubisky did it to keep the 42,166 fans on the edge of their seats. He darted a deep 44-yard pass to Bug Howard, followed by a 27-yard toss to Ryan Switzer on the Stanford 1-yard line to inch closer to the end zone. After a run that went nowhere and a pass that fell incomplete, Trubisky found Howard in the back of the end zone on a third-and-goal situation to score the potentially-tying touchdown.
Trubisky had just orchestrated a 10 play, 97-yard drive to put the Tar Heels at 25-23—if only, however, it was enough to send the game into overtime.
The Tar Heels were forced to line up for a 2-point conversion to tie the game with 25 seconds on the clock. However, it was Stanford's standout defensive end Solomon Thomas who broke through the UNC trenches and took down Trubisky to win the game for the Cardinal.
"It seemed like every time there was a play, number 90 [Thomas] was on it," Fedora said. "I'm not sure we ever blocked him."
In fact, Thomas finished the game with an impressive seven tackles, another sack and two tackles for losses. For his performance, Thomas was awarded the Sun Bowl Most Valuable Player award.
"The mentality you have is you never want to get blocked," Thomas said. "Credit to my teammates. It's a testament to our team."
Through the first half, North Carolina started off hot with a 10 play, 71-yard drive that resulted in a 19-yard dart from Trubisky to Ryan Switzer. After that touchdown, their offense was completely nonexistent and only put up 12 more total yards offensively.
Trubisky left the half with two turnovers—one an interception at the top of the second quarter and one fumble towards the end of the half.
North Carolina went on a scoring drought as the Cardinal put up 16 unanswered points up until the middle of the third quarter.
But then, in desperation to march a comeback, the Tar Heels put up back-to-back scoring drives and scored 10 unanswered points for themselves to regain the lead, 17-16, in the late third quarter.
At the top of the fourth quarter, Trubisky had the chance to cook up another drive inside his own 20-yard line. However, Dallas Lloyd of Stanford had his second pick of the night, but this time he stole it and hauled it in for a touchdown, which put the game at 22-17 in Stanford's favor.
Stanford should have scored another touchdown in the under eight-minute mark, but the Tar Heels' defense had a goal line stop and forced the field goal and led 25-17.
In what could have been his final game as a Tar Heel, Trubisky completed 23-of-39 passes for 280 yards through the air and 67 on the ground. He had three receivers have 50-or-more total yards of receiving with Austin Proehl leading with 91 yards, followed by Switzer and Howard, who had 85 and 59, respectively.
Now Trubisky will have the off season to make the decision whether or not to go into the 2017 NFL draft or stay for his senior season.
"I'm not going to think about it for a couple days," Trubisky said. "I will go home, talk it out with my parents and coaches and pray about it. Whatever I feel is right, I will do."
The Tar Heels (8-5) have now lost four of their last five bowl games, but, Fedora believes this loss will be added fuel for his team going into the off-season.
"Every game is important when you talk about winning or losing," Fedora said. "They didn't prepare so hard for three weeks to have this outcome. They practiced hard these weeks as they did the start of the season. It was the last goal we could achieve. The significance is it will null in our gut until we get back in next September. The guys will use that to motivate them. I hope they can still feel this feeling in their gut. I hope they never forget it. It makes you a better person because you can lay down and cry about it or you can rise up from it."
Follow Adrian Broaddus on Twitter @adrian_broaddus