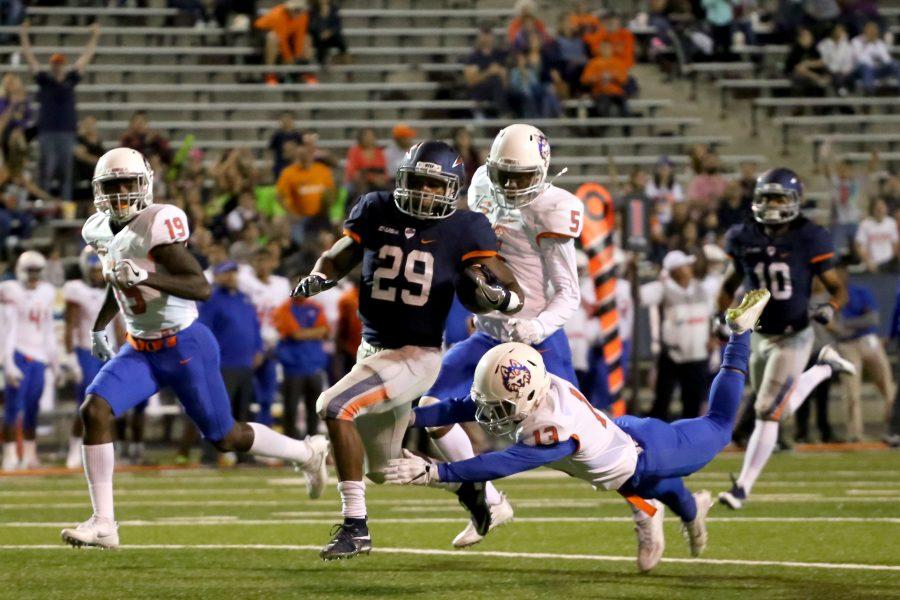 Gaby Velasquez
Standout running back Aaron Jones rushed for 228 yards with two touchdowns and the Miners kept their bowl game hopes alive with a 42-10 victory over the FCS affiliate Houston Baptist.
It was a victory that the win-hungry Miners needed in order to lift up their spirits before facing their last three conference opponents—Florida Atlantic, Rice, and North Texas, respectively. They are forced to win out their remaining games this season for any shot at post-season play.
"The thing we haven't been this whole year is consistent. The thing we hammered the most in this game is to play consistent through four quarters and I think we did that today," head coach Sean Kugler said. "I thought it was a very clean game offensively, defensively, and through special teams"
The Miners (3-6, 1-4 C-USA) showed off their talents on both sides of the ball in a very collected and poise manner. They opened up with a four-play, 77-yard drive that ended with a 39-yard rushing touchdown by Jones. They held off the Huskies' force for the remainder of the first quarter, and finished off the period with a nine-yard link-up between quarterback Ryan Metz and Hayden Plinke for a pass-catch touchdown.
Metz continued his success through the air in the second quarter when he connected with Cole Freytag for a 18-yard touchdown in the back of the end zone. Then, it was Jones who exploded with a 62-yard haul for a touchdown, extending the lead to 28-0. Luckily for the Huskies, they were able to get a desperate 52-yard field goal right before the half ended.
It was a one-sided game through 30 minutes of action—the Miners totaled 300 total yards of offense, while their defense held the Huskies to only 119 yards, including only 33-yards through the air.
After the half, the Miners notched two more touchdowns—Kevin Dove with a seven-yard touchdown run and Plinke with a 11-yard touchdown catch.
Metz had a solid game, completing 16-of-21 passes with three touchdowns and no errors. And, the gunslinger believed that throughout this game the energy transferred so swiftly between offense and defense.
"It's always great to go out there and put points on the board," Metz said. "We fed off each other's energy very well—when the defense had a stop, the offense went back out there and did some work."
Plinke, who had a monstrous game, caught seven catches for 77 yards and two touchdowns.
"Metz went through his progressions, but I just happened to be the guy," Plinke said. "As a whole, the receivers did a great job."
Defensively, one of the most impressive stat lines was the fact that the Miners held the Huskies to only 90 yards through the air throughout the night. They had four defenders record five or better tackles, with Dante Lovilette leading with eight tackles.
Next week, the Miners will travel to Florida Atlantic on Saturday, Nov. 12, with hopes to keep a bowl game in their sight.