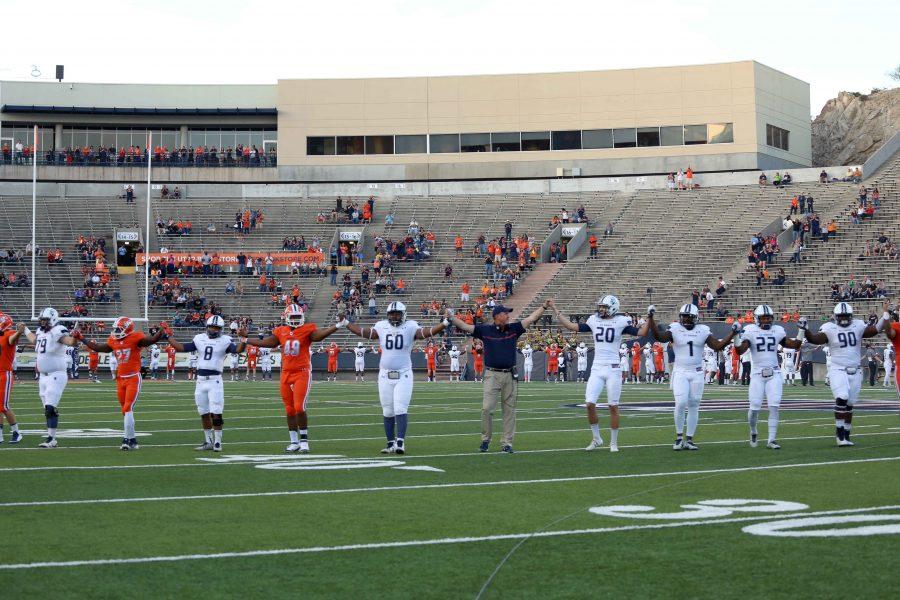 Gaby Velasquez
Prior to Saturday night's homecoming football game, a "Black Lives Matter" banner was unfurled next to the UTEP student section just as the national anthem began to play. A group of UTEP students, along with local organization Radical Soup, chose this game as a chance to protest against recent injustices against people of color in the United States.
Gabriel Solis of Radical Soup said that the entire purpose of the protest was in response to a history of oppression in America and that protest is the logical next step.
"I studied history at UTEP and for me, if you take a brief survey of American history you'll see that it is founded on conquest and white supremacy—it has a very, very racist past. I do believe that that racist past continues to haunt us today and these sorts of actions need to be taken to confront that past, acknowledge it and try to get beyond it," said Solis.
Not only were the protestors harassed online in the comments sections of their own Facebook page and on pages where articles appeared announcing their upcoming protest, they also faced taunts, jeers and counter-protests during their anthem protest on Saturday. Several people held signs near the group, including children—while one person holding an American flag was heard to have yelled, "Go back to Africa."
One such counter-protester was UTEP graduate student, Adam Vera. Vera donned a UTEP luchador mask and held an American flag in the vicinity of the protestors. Vera claimed that his pride for the United States and the men and women who have served in the military were the reason behind his patriotic anti-protest.
"You have a right to do what you believe and I did what I believe," Vera said. "I did this for the family members and friends who may or may not have lost somebody overseas."
Asked specifically about the "Black Lives Matter" movement and not the national anthem protest, Vera emphasized that he did not agree with the thinking behind the movement itself either.
"It's not about black lives, it's not about white lives—it's about all lives," Vera said.
Perhaps the "all lives" ideal is what lead to the "Circle of Unity" performed by UTEP and the visiting Old Dominion Monarchs prior to the game. Both teams joined hands and raised them skyward in a show of unity.
The tradition started after several ODU players began wearing "Black Lives Matter" shirts in warm-ups prior to games and instead of entering into what could have become a divisive situation, head coach Bobby Wilder came up with the "Circle of Unity." For weeks now, ODU has joined hands with opponents prior to games as a show of respect for law enforcement and as an acknowledgement of the situation that minorities in the U.S. find themselves in.
Game attendee and semi-pro football coach Darrell Parker agreed the "Circle of Unity" was a nice gesture, but unfortunately not enough people were in attendance to see it.
"If they would have done it in a packed house, then the message of unity would have been better but, this is UTEP, this is homecoming, there ain't nobody here," Parker said.
The attendance Saturday was 19, 254—not the lowest of the Miners' season but, not a large crowd by the Sun Bowl standards or the UTEP homecoming standards.
The protest and "Circle of Unity" both drew attention—maybe even to the causes that they were meant to draw attention to. Sadly on Saturday, it was not just the ODU and UTEP fans who were rivals. Perhaps someday soon, a UTEP game will once again be a place where politics will be left at the door and football, perhaps winning football, will rule the night.