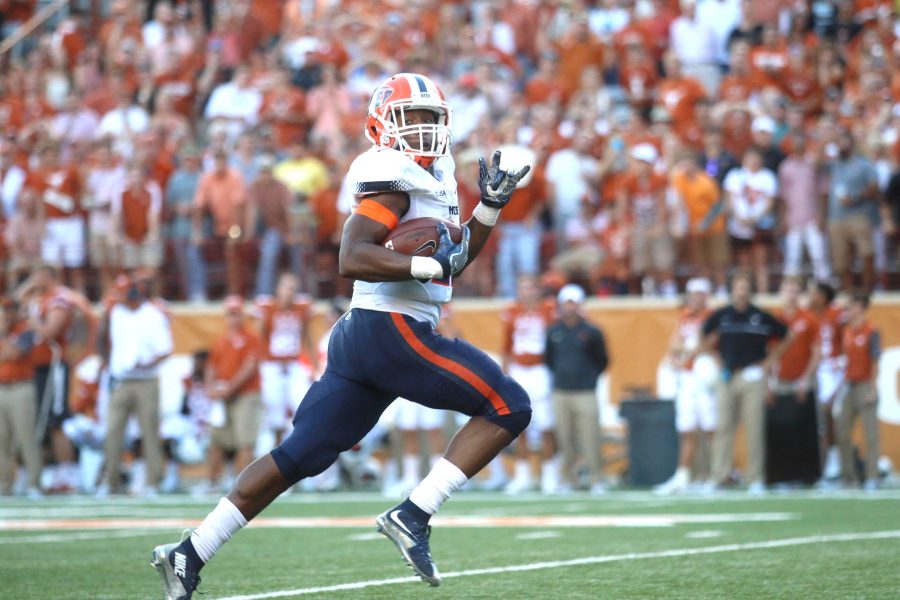 Michaela Roman
It did not take much for UTEP head coach Sean Kugler to forget about the 41-7 loss against Texas. In fact, Kugler said immediately following the loss to the Longhorns, "there's not long to dwell on this game—about five minutes—then our focus immediately switches to Army."
This statement was not surprising since Kugler and the squad have had the Sept. 17 game against Army marked on their calendars for a while now. Due to Fort Bliss and Army's deep fan base comprised of soldiers and veterans, the Sun Bowl will be packed with a sea of divided fans.
However, it is not about the matchup between fan bases; rather, it will be a test of two entirely different offenses going against each other—the triple offense of Army taking on the balanced attack of the Miners.
"We're facing a 2-0 team that's playing energized football," Kugler said. "Our menatlity isn't about their team; it's about our team."
The Miners (1-1) are coming off a game that Kugler, running back Aaron Jones and linebacker Nick Usher all agreed tested their physicality. And, according to the three, they passed the test showing they can be physical with any team.
"If you can line up against Texas, you can line up against anybody," Jones said.
Usher, who totaled 6.5 tackles against a Longhorn offense that put up 416 total yards on the Miners, agreed with Jones, and believes the squad can only move up from the loss to the Big 12 team.
"We can work on getting everybody running to the ball," Usher said. "I feel like we can do that a little bit better. But other than that, I feel like we played really good (against UT) and we showed a lot of people that we can play with a top-notch team."
Filling in for starter Zack Greenlee against Texas, quarterback Kavika Johnson struggled against the Longhorns, completing 9-of-15 passes for only 41 yards. However, Kugler expects Greenlee to be back with the Miners against the Black Knights.
"Having Zack back will help," Kugler said. "Kavika needs to learn that when everything isn't there, he needs to throw it away."
With the help of Greenlee as gunslinger, his receivers gained 230 yards in the pass-and-catch system. After Greenlee's injury to his MCL (strained), the Miners only passed for 72 total yards between two quarterbacks. Nonetheless, the presence of the starting quarterback has been missed.
Although he missed the entire second half to preserve him from getting hurt, Jones had a dominant game against the Longhorns. He rushed for 123 yards including a 52-yard haul to the end zone.
And, after week two of college football, Jones is second in the nation amongst all rushing leaders with 372 yards, and he is only seven yards behind San Diego State's Donnel Pumphrey (379).
Defensively, the Miners definitely turned some heads and raised some eyebrows against Texas. Despite allowing 41 points, the defense stopped Texas twice as they were threatening the goal line, and forced field goals. The linebacker core halted the Texas run game and only allowed big pass plays from the Longhorns late in the game.
The status of Aaron's twin brother, linebacker Alvin Jones, is still uncertain. Alvin sprained his ankle in the second quarter against Texas and did not return for the remainder of the game.
"We don't know his availability yet," Kugler said. "It set us back not having him. Alvin will be day-to-day. If he can play, there's nobody keeping him from playing."
Defensive coordinator Tom Mason will not have to tweak his pass coverage this week, however. He will need to develop a scheme to stop the erratic, fast-paced Army triple option, which chips yardage from three-four yards each play. Three to four yards a play do not seem like much, but they accumulate to first downs and could end up in touchdowns or scoring plays. They currently lead the nation in time of possession (38:00) and average 29.5 points per game.
The Miners will have to develop a way to effectively stop the Army run. As a team, the Black Knights have rushed for 677 yards and only passed for 81 yards. Leading the rushing charge are the quarterback-running back duo of Ahmad Bradshaw and Andy Davidson, who collectively have 379 yards this season.
"Covering the triple option is very difficult; you don't see it often," Kugler said. "You have to be very disciplined. All it takes is one guy to be off his assignment and then they'll get you."
Also, Army (2-0) is very adamant about scoring. They have outscored their opponents 59-27 already. The undefeated team, who has not been 2-0 since 1996, also has exceptional rush defense. In two games, Army has only allowed 179 yards of total rushing yards, compared to the 310 yards that the Miners have allowed on the ground.
While the Black Knights do allow their pass coverage to flake sometimes, they bring heavy pressure on the quarterback. If the Miners are without Greenlee this week, they will need to find a true quarterback to sling some passes; one who can avoid causing turnovers—Army has already swiped four interceptions off quarterbacks this year.
"These guys are playing outstanding defense," Kugler said. "They have great speed and great production from their linebackers."
The quality of the Miners' defense will be highly tested on Saturday's matchup. If they can stop the run early, not allow a substantial amount of first downs and keep the Black Knight's time of possession to a minimum, they will be able to shut down Army defensively. However, if there is no reciprocation offensively, the Miners will struggle throughout the game.
Adrian Broaddus may be reached at [email protected]