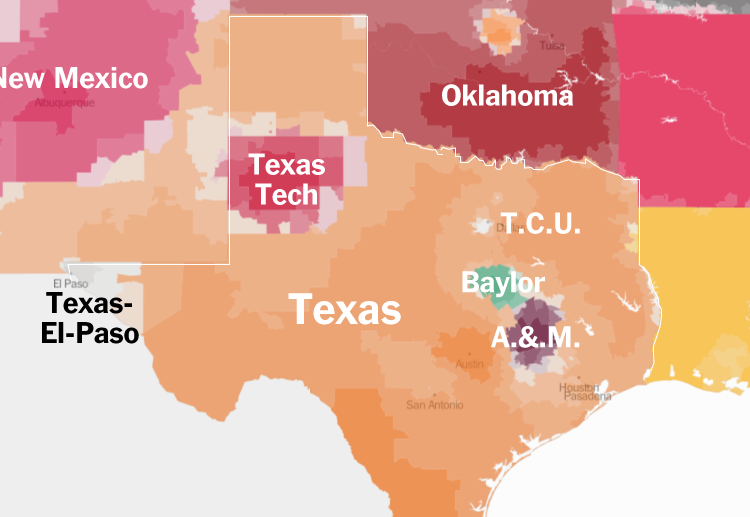 Editor's Note: Every week, The Prospectors' own Jason Green will rank all 12 Division I college football teams in the Lone Star State.  The Texas 12 power rankings are based on the results from the past week of games, along with the strength of wins and losses, according to Jason. 
In the opening week of college football, only two FBS teams from the state of Texas lost and one of them came at the hands of another Texas team. The standings have slightly changed from the preseason rankings and will no doubt change again next week as more Texas teams face off. From the look of things, 2016 could be a big season for Texas!
12 – RICE OWLS (0-1) C-USA
Last week: Lost to Western Kentucky 46-14
The Owls had no defense to speak of as Hilltoppers quarterback Mike White torched them for 517 yards and three touchdowns. On the Rice side, I guess the player of the game would be quarterback Tyler Stehling. The senior went 23-for-38 for 186 yards with no touchdowns and two interceptions. Stehling also led the team in rushing with 85 yards and a touchdown.
This Saturday: at Army Black Knights (1-0) 10 a.m. MT
11 – NORTH TEXAS MEAN GREEN (0-1) C-USA
Last week: Lost to SMU 34-21
The Mean Green put up a decent fight against the Mustangs, although the score made the game look a lot closer than it actually was. UNT's last touchdown came late in the game to avoid a 34-14 defeat at the hands of a pretty impressive SMU passing attack. Mean Green quarterback Alec Morris threw for 237 yards and two touchdowns, but also had three interceptions.
This Saturday: Bethune-Cookman (0-0) 5 p.m. MT
10 – UTSA ROADRUNNERS (1-0) C-USA
Last week: Won against Alabama State 26-13
Everybody likes to have an FCS team on their schedule and pad their stat line a little bit. When it works out, your coach looks like a genius and you get a little extra practice in. When an Appalachian State shows up to the "Big House" and takes out Michigan, then you have problems. Alabama State did not upset the Roadrunners and a late touchdown helped the team looked respectable, so maybe everyone came out a winner. The UTSA defense walked away with a team-record six sacks in the game.
This Saturday: at Colorado State (0-1) 2 p.m. MT
9 – UTEP MINERS (1-0) C-USA
Last week: Won against New Mexico State 38-22
The Miners drop from their preseason ranking based not entirely on gameplay, but more so on how the other teams in Texas played. UTEP faced a depleted NMSU team who was missing star running back Larry Rose III. While the Miners looked impressive on both sides of the ball, other teams just happened to look more impressive. However, if the nation's leading rusher Aaron Jones continues to run wild, UTEP will head north on the charts.
This Saturday: at Texas Longhorns (1-0) 5 p.m. MT
8 – TEXAS STATE BOBCATS (1-0) SUN BELT
Last week: Won against Ohio 56-54 (3OT)
To be honest, the Bobcats and UTEP are almost interchangeable at numbers eight and nine. The difference maker here was that unlike the Miners, the Bobcats played on the road and came away with a victory. Quarterback Tyler Jones was 40-for-55 for 418 yards and four touchdowns. It may have been a close game but, in the end, what matters is coming back to Texas with the victory.
This Saturday: Bye week
7 – SOUTHERN METHODIST MUSTANGS (1-0) AAC
Last week: Won against North Texas 34-21
Defeating a fellow Texas 12 team definitely makes this job a little easier. SMU looked pretty good on defense after the second quarter, where they gave up 14 points. The Mustangs also gave up a meaningless touchdown late. SMU receiver Courtland Sutton had an outstanding day with 162 receiving yards on four receptions, three of which were for touchdowns.
This Saturday: at Baylor (1-0) 1:30 p.m. MT
6 – TCU HORNED FROGS (1-0) BIG-12
Last week: Won against South Dakota State 59-41
Former number one in the Texas 12, TCU, should have easily defeated the Jackrabbits and did not. This has dropped them from number one and likely from No. 14 in the USA Today Coaches Poll. TCU last gave up 41 points against Oregon in the Alamo Bowl at the end of last season. This was not Oregon. This is definitely something to worry about in the Big-12.
This Saturday: Arkansas (1-0) 5 p.m. MT
5 – TEXAS TECH RED RAIDERS (1-0) BIG-12
Last week: Won against Stephen F. Austin 69-17
The Red Raiders did exactly what you are supposed to do with an FCS opponent in the opening game of the season. The team put up a lot of points, just as you would expect Kliff Kingsbury's high-powered offense to do. Quarterback Patrick Mahomes looks like an early Heisman contender after going 30-for-43 for 483 yards and four touchdowns. Mahomes also ran for two, before leaving in the third quarter. It still remains to be seen how last year's 126th ranked defense will fair against an FBS offense.
This Saturday: at Arizona State (1-0) 8 p.m. MT
4 – BAYLOR BEARS (1-0) BIG-12
Last week: Won against Northwestern State 55-7
Baylor also did just what you want to do against an FCS team and perhaps assuaged the fears of fans in new head coach Jim Grobe's first game. The offense appears to have not missed a beat with the departure of head coach Art Briles. The defense shut down Northwestern State completely minus one slip up in the third quarter. Bears quarterback Seth Russell was 14-for-20 for 163 yards and four touchdowns despite only playing the first half.
This Saturday: SMU (1-0) 1:30 p.m. MT
3 – TEXAS A&M AGGIES (1-0) SEC
Last week: Won against No.15 UCLA 31-24 (OT)
In front of 100,443 fans in College Station, the Aggies almost collapsed and gave away a sure win against the visiting Bruins on Saturday. A&M went into the fourth quarter up 24-9 before the, until then, staunch Aggies defense gave up two quick touchdowns in succession. In overtime, Aggie quarterback Trevor Knight ran for his second touchdown of the day and the A&M defense stopped the Bruins for the upset victory.
This Saturday: Prairie View A&M (1-0) 10 a.m. MT
2 – TEXAS LONGHORNS (1-0) BIG-12
Last week: Won against No.10 Notre Dame 50-47 (2OT)
The Longhorns could have seen themselves jump to number one had they beaten the Fighting Irish without the need for overtime. One would prefer to see Texas win without giving up 47 points, but then again, the Notre Dame offense did look absolutely unstoppable at times. True freshman quarterback Shane Buechele was outstanding for the Longhorns going 16-for-26 for 280 yards and two touchdowns. Running back D'Onta Foreman rushed for 131 yards and a touchdown. The Longhorns appear to have finally found an offense to go along with the defense that has carried them for the last few years.
This Saturday: UTEP (1-0) 5 p.m. MT
1 – HOUSTON COUGARS (1-0) AAC
Last week: Won against No.3 Oklahoma 33-23
After a first quarter where it looked like the Sooners may just run away from the Cougars, the Cougars began to play just like their old selves. The defense began to suffocate the Sooners and the high-powered Houston offense began to click on all cylinders. More importantly, Houston's special teams made world class play with a 109-yard missed field goal return for a touchdown. Houston quarterback Greg Ward Jr. looked every bit the dark horse Heisman contender after going 23-for-40 for 321 yards and two touchdowns. Houston looks like they are going to crash the playoff party.
This Saturday: Lamar (0-1) 10 a.m. MT