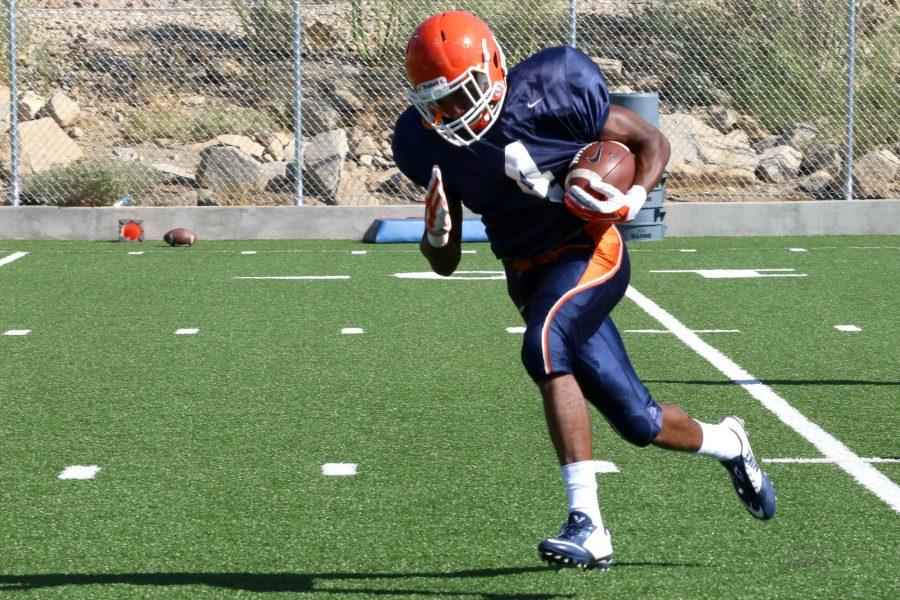 Gaby Velasquez
For most, joining a team requires an extensive process to get adjusted to the new teammates, system and coaches. For freshman running back Quadraiz Wadley, joining the Miners' football squad for summer camp was not about fitting in; rather it was about proving he belongs.
From the get-go Wadley is not like most people.
"You see what he can do on the field," head coach Sean Kugler said. "I hate to put a comparison on a guy, but he reminds me of (starting running back) Aaron Jones when he was a freshman."
Jones, who has been impressed by Wadley's performance all summer, can attest to the comparison and is excited to see him grow.
"Everyone tells me, 'If you want to see yourself as a freshman, look at (Wadley)," Jones said. "He's been working hard and reading the playbook every night. You could tell he's hungry and wants to play. I can help anyone who wants to do that."
Kugler also added Wadley to the list of individuals who performed the best during summer camp—a list that was made up of predominately seniors or returning starters.
After the Miners' last scrimmage on Saturday, Aug. 20, Kugler named Wadley the second-string running back behind Jones.
"He finished camp as the number one backup," Kugler said. "If we run it 50 times a game and Aaron runs it 25 times, that's 25 carries for the other guys."
But what is it that makes the 6-foot, 180-pound running back so special? Wadley is able to combine swift agility with running power to evade defenders. He also reads defenses at an accelerated level as he is able to spot holes to run through.
Impressive as it may be, during the Miners' last scrimmage at their summer camp in Ruidoso, Wadley took each carry as explosively as one would in an actual game.
"It's just my competitive nature," Wadley said. "It was how I was always taught how to play the game—to be the toughest out there."
It was his resume prior to UTEP that attracted the coaching personnel. The high school standout played varsity football at Kennedale High School and rushed for 3,511 yards with 45 touchdowns. He was a strong kickoff returner and also helped his squad to a 12-1 record. Wadley was named to the 4A All-State football first team due to his dominant senior campaign.
"He's going to play for us this year out of necessity," Kugler said. "I really loved what I saw out of camp with him. I'm not afraid to put talent on the field if they're ready."
Performing in a new offense, run by first-year Miners' offensive coordinator Brent Pease, Wadley is learning to run plays at a quick tempo. Since the offense is new to most of the returning players, Wadley is on the same level as some of the others.
"My favorite thing about our offense is we run the ball a lot," Wadley said.
Although the offense will include new schemes, one of the most straightforward game plans the Miners have is the fact that they will give a substantial amount of carries to standout running back Aaron Jones.
"I think I have a good shot of becoming the backup," Wadley said. "My teammates are starting to like me a lot more as I show them what I do."
Transfer quarterback Zack Greenlee, like Kugler, was also impressed at Wadley's performance during his first summer practices.
"Quadraiz made some plays," Greenlee said. "It's good to see a freshman do that. He's going 100 percent every time. You like to see that from young guys. Going a 100 percent and leaving it out on the field, him doing that is a good sign."
Adrian Broaddus may be reached at [email protected]