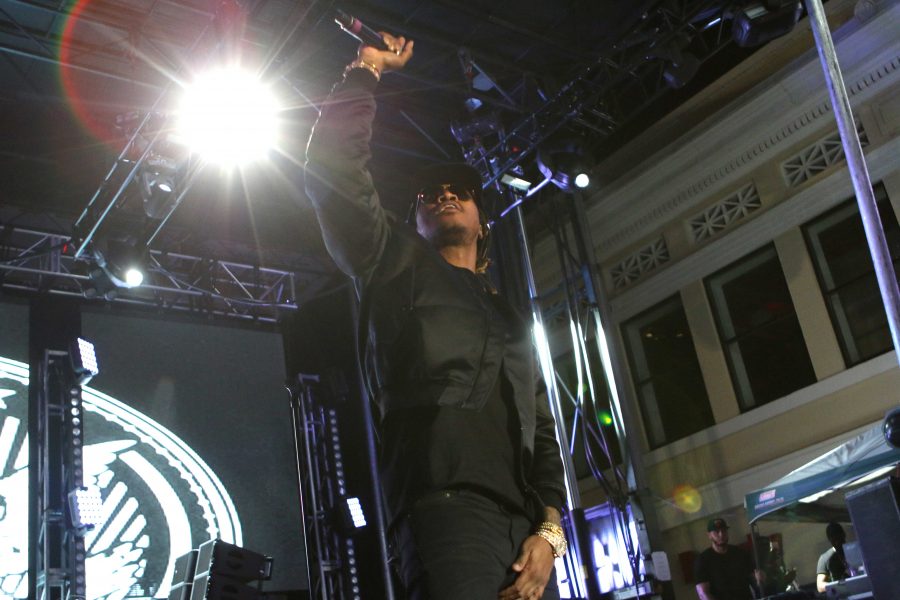 Michaela Román
Kicking off the two-day festival, day one of Neon Desert was filled with big-name headliners, strong acts and served as a promising start to the sixth-annual music fest. Fifteen artists and bands performed on three main stages (Franklin Mountain Stage, Rio Bravo Stage and Paso Del Norte Stage) throughout the day, while 20 local acts played on both the Homegrown stage and GECU Silent Disco stage.
Starting off the festival on a hard rock footing, Nalgadas took the stage on the Paso Del Norte Stage. The hard thrashing drums collided with a heavy guitar sound and began the day in an exciting manor. Although there were not too many people at their show, or rather at the festival yet, Nalgadas performed with such intense energy and never let their cool off. They ventured through their year-old tracks such as "What a Waste" and "Midnight Witch."
The first group to attract an admirable crowd was Louis the Child. The block was filled for the electronic-indie DJ duo of Freddy Kennett and Robby Hauldren. The passion of the crowd at such an early slate resembled that of GTA when they first came to Neon Desert in 2014. The duo DJ's vibed through different song adaptations, such as "Ms. Jackson," and rallied the crowd with their new hit, "It's Strange."
Combining sexual dance moves with beautiful vocals, Niykee Heaton was a treat to experience. She swayed from her tracks like "Bad Intentions," "Skin Tight" and "Sober." The crowd did not seem to know too many of her songs, but they danced along to the easy-going beats.
Three years ago, Wolfgang Gartner was one of the higher-level acts of Neon Desert; this year, although he was not at a late nightspot, the DJ provided deep house sounds and pumped the crowd up. While a good amount of the crowd was probably there to get a good spot for Future, who was playing after, Gartner was a solid act that had the El Paso crowd dancing along and getting into it.
Easily the top performance of the night, Tyler, the Creator destroyed Neon Desert for all the right reasons. The amazing thing about the 25-year-old rapper is his extremely energetic stage presence. This was his third trip to the Sun City and he claimed to have a stomachache; however, that did not slow Tyler down the least bit. From the get-go, he had crowds jumping around like crazy to his vicious lyrics. His humorous attitude over the city was also very entertaining, as he said, "What do you guys do in this city? There's just a bunch of rocks. I think I saw one Asian today…" The crowd stretched over a block and everyone was going crazy for Tyler.
After Tyler, a swarm of people hustled to the main stage to see Future—who was a spectacular act. Carnage was technically the main act, but the number of people who were there to see Future was almost mind-boggling. Future seemed to love El Paso and it was a tremendous experience to see a rapper of his caliber headline the festival. He visited a multitude of his long and extensive discography, stretching to projects he did almost two years ago, such as "Monster." He did crowd favorites, such as "Wicked," "Jumpman" and "Low Life." One of Future's best tracks he performed was "Diamonds Dancing," which slowed things down, swayed from vocals and rapped hard at the hook. Minus the small stage that caused a dangerous overcrowding, Future was almost larger than life and experiencing him was special.
Deftones, the second headlining band, performed after Future on the Franklin Mountain Stage. Despite them being a hyped band to watch, they did not attract the crowd expected for a headlining group. Nonetheless, Deftones were so enthusiastic throughout their set. They mashed heavy rock with clashing vocals, which excited the mature crowd greatly. Mixing things up by playing tracks off their new album, "Gore," while still playing songs from almost six years ago was a pleasure.
To finish off the night, Carnage took the main stage to close out the first day of the festival. Opening with Carnage, Madeintyo brought to the stage his party-filled rap rhymes. It was exciting for the crowd to see Carnage bring him out as his special guest, and the entire block was singing along to "Uber Everywhere." After he got into his set, Carnage stopped and admired the enormous crowd. He said, "This is the city I've waited to come back to for two years. I hear this city is filled with some crazy Latinos." Carnage played everything, from deep house, to trap bangers, and even shot out some popular hip-hop songs.
In between acts, there was plenty to do around the festival grounds. Street artists dabbed with unique art twists and presented it to the public. Festivalgoers were able to get their face and body painted at different booths to be in theme with Neon Desert. Also, there were plenty of places to take NDMF-inspired photos, a multitude of food trucks, an entire block dedicated to drink stations and more.
The second day of Neon Desert will feature a diverse mix of popular artists, ranging from A$AP Ferg, Tiesto, Daddy Yankee and Ludacris, while also mixing up-and-coming talent, like Trill Sammy, Alunageorge and Duke Dumont. Gates for the second day will open at 3 p.m.
Adrian Broaddus may be reached at [email protected]