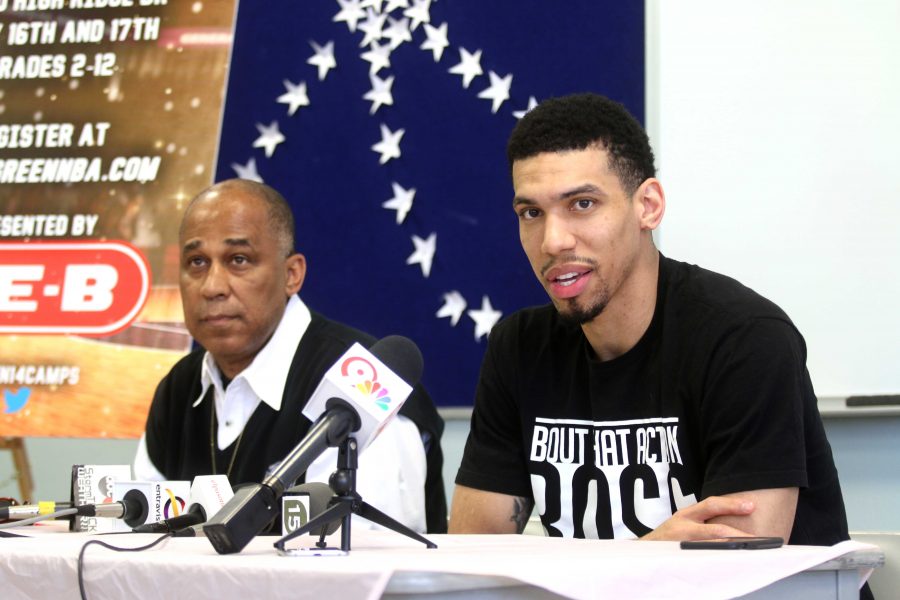 Michaela Román
San Antonio Spurs shooting guard Danny Green held a press conference Wednesday, May 25, at the Don Haskins Recreational Center in West El Paso to announce his summer basketball camp. Green is holding a basketball camp for students from grades 2-12, where he hopes to teach them the skills of the game over the course of two days.
"I will be here, I will be attending the camp," Green said. "We are exited to meet and greet some of the fans and obviously the kids."
Green was questioned by a myriad of reporters for about 10 minutes, where he was stoic, yet delighted about the opportunity to visit the Sun City. Green's camp will take place at the center, located at 7400 High Ridge, from July 16-17.
The object of the camp is to teach kids a skill set from his experience in the NBA. He emphasized defense in the press conference and with good reason. In his last season alone, Green rated in the top 10 for overall defense, which is impressive since he is on a team that has NBA Defensive Player of the Year, Kawhi Leonard.
"A lot of coaches are looking for the guy to do the dirty work and play defense–stop the guy, lock the guy down, contain him, get the rebounds, get the loose ball," Green said. "Every coach wants a player that can play defense."
This camp is as much about basketball as it is an opportunity for Green to make an impact on youth. He grew up in the state of New York and never had the opportunity to go to a summer camp like the one he is going to be holding.
For Green this is an opportunity to make a difference in a kid's life, he also said he plans to use his fame for good. Well aware of his influence on youth, he said the camp is a perfect opportunity to get through to kids.
"I don't see myself as a celebrity or a hero or a star, but some of these kids do, so whatever you say to them is gold," Green said. "They take it and they run with it and they hold on to it forever."
Registration for the camp is ongoing and will cost $199, which includes a Nike Danny Green camp shirt, a camp photo with Green and an autographed item from Green. For more information, visit dannygreenbasketball.com.
Juan Carlos Navarrete may be reached at [email protected]