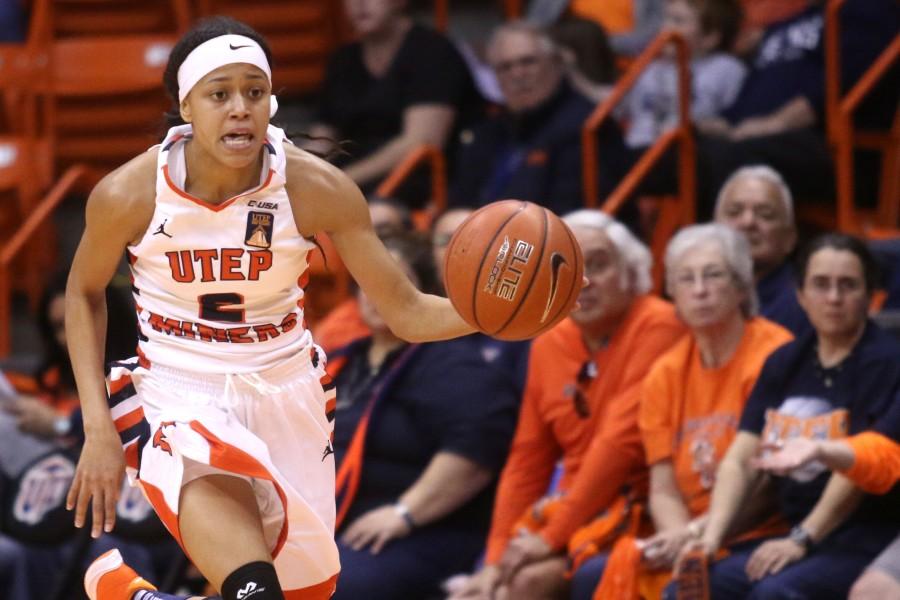 Michaela Román
It was just like any other day at the Foster Stevens Center as senior women's basketball point guard Cameasha Turner was finishing up her workout. Little did she know that the events after practice would change her life.
As she flipped through her phone after her routine workout at the practice facility, Turner received an email from Notre Dame University, where she had applied to law school. She took a deep breath and clicked on the email, which congratulated her on her admittance.
This was the goal she had envisioned for herself from the first day she got to UTEP. She wanted to play college basketball at the Division I level and then go off to a prominent law school.
"My heart dropped," Turner said. "It was a bittersweet moment. I wasn't expecting it, but also wasn't counting it out. It was just the feeling of all my hard work paying off and it actually come into reality. I was kind of excited, but shocked at the same time."
According to Turner, the message was extra sweet since she had just been practicing at the facility that gave her back so much.
"It was a coincidence being there and finding out," Turner said. "I was like basketball-Notre Dame—I found out I got accepted after playing basketball, so it was pretty cool."
Now, Turner will graduate from UTEP with a degree in criminal justice on May 14. During the span of her four years, she believes that all her goals were surpassed on and off the court.
"The only disappointment was not making it to the NCAA Tournament, but overall I've reached goals that I never thought I would achieve," Turner said. "The one goal I set out for myself was being a student athlete, that's what I prided myself on. I did that for the most part, so it was a blessing in both ways."
During the span of her four years on the Miners' basketball squad, Turner experienced the best and worst parts of the team.
She had playing time as a true freshman in the 2012-13 season and appeared in 28 games as a key off-the-bench player. The impressive start to her collegiate career translated to her sophomore season. Turner started in 36 games and was labeled as the best defender on the squad. This season was even more impressive due to the WNIT championship run that the squad had.
Although she went through a high during her sophomore year, her junior year was a slump for the team. Jenzel Nash and Chrishauna Parker, two major assets on the team, were sidelined for the season, which left the reins in Turner's hands. She led the team in points per game (15.0) and rebounds per game (6.0).
Her senior year was the most noteworthy. She was second on the team for points per game (13.1), led the team in field goal percentage (.495) and minutes played (30.5). She contributed heavily to the Miners' perfect home record during the regular season and helped achieve their regular season Conference USA first place title.
Turner described her time playing basketball for the Miners in one word: perfect.
"All the fans coming out to every game and sharing special moments with me—it meant everything to me to go out there and play," Turner said.
And, Turner credits a lot of her success in her collegiate career to head coach Keitha Adams.
"She [Adams] believed in me when I didn't even believe in myself," Turner said. "Her beliefs, the coach she was and who she was off the court helped me and inspired me. It made me believe that I can do this and I can do anything I put my mind into."
Even though she will not be putting on a Miners' jersey again, Turner will not abandon her basketball roots and plans to continue to play during her free time.
"When I went to visit Notre Dame last week, I played a pick-up game," Turner said. "I'm still going to work out and join one of the intramural teams they have out there. I'll still be playing and staying sharp."
She believes that basketball can serve as an outlet for her future busy lifestyle and study schedule.
"Going to law school and being able to get away, sweat a little bit, relieve some frustration and get away for a while and play the game I love is a blessing to me," Turner said.
Her goals when she first got to El Paso were all met. Now, she has new goals she has set for herself going into law school.
"In law school I want to maintain a high GPA, get better at learning about the law and what it takes to be an attorney," Turner said. "After law school, I want to practice law and become one of the top defense attorneys in the United States."
Turner also wants to one day own a law firm and in the later future become a judge. She is aspiring to go into criminal law after Notre Dame. 
"The ultimate reason for what I'm doing is to take my family and the situation they're in and give back to them," Turner said. "I want kids from back home to understand they can do what I'm doing. I want to be an inspiration to the people back home and make my mom proud."
Adrian Broaddus may be reached at [email protected]