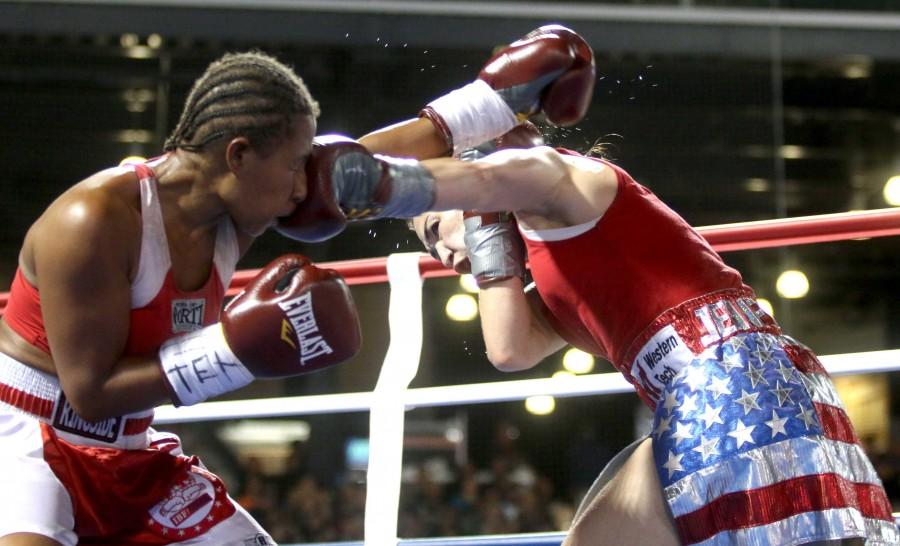 Michaela Román
Jennifer Han became El Paso's first boxing world champion in September of 2015 in front of 1,500 fans. There was more than twice that number in attendance tonight at Southwest University Park as Han defended her IBF World Featherweight title for the first time.
Han, 13-3-1, was supposed to fight Dominican Lilian Martinez, but after visa problems she was replaced on the card by #6 world ranked Calista Silgado. Silgado, who is from Colombia came in to the fight with a 14-5-3 record, but was no match for the El Paso native. Han controlled the fight from start to finish on the way to a shutout victory. All three judges awarded every round on the scorecards to Han.
It was a clash of styles with Han playing the role of the boxer and Silgado looking for one shot that would end the fight. As Han bounced around the ring picking her shots and landing punches, Silgado walked Han down through out the fight swinging for the fences on every punch.
"I thought she'd want to box a little bit more, but she wanted to knock me out with every punch which is okay because I was able to adapt to that too," Han said.
The jab proved to be the key factor in Han's control of the fight. With her left hand she established a favorable distance that kept Silgado at bay, making her miss time and time again.
"I have a good jab, but sometimes I forget to use it," Han said. "But today I didn't. It was very effective against her."
Calisto spent a great part of the fight hunched and made it difficult for Han to land punches. The uppercut could have been effective, but she failed to use it enough through out the fight. It is one of the things she plans to work on once she gets back in the gym.
Continue to improve is her main goal as she looks forward to her next defense, perhaps in June – this time against Martinez.
"I feel that I've improved as a boxer in general," Han said. "My level has gone from 1 to 10, but I can get to 100."
Luis Gonzalez may be reached at [email protected]