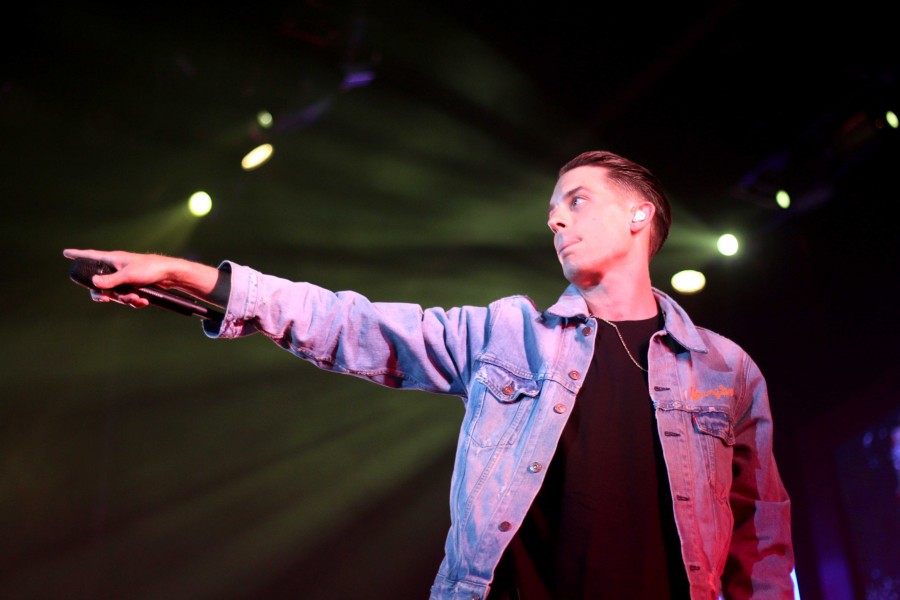 Michaela Román
When G-Eazy brought his tour to El Paso, "When It's Dark Out Tour," it had been noted as a highly anticipated event for the Don Haskins Center on April 24; but it was evident that the Bay-area rapper is nothing more than a teen sensation, store-bought rapper and a panty-dropper.
The tour was in the spirit of his fourth studio album, "When It's Dark Out." While his first major studio album, "These Things Happen," was more critically acclaimed, it seems that "When It's Dark Out" is just a collection of commercial rap that loses the rapper's uniqueness. This was G-Eazy's first appearance in the Sun City since Neon Desert in May of 2015.
After his crew, comprised of rappers such as Marty Grimes, headlined the show in an under-par fashion, the stage was set for G-Eazy. As his DJ and drummer came out with instrumentals, the curtains fell and revealed a rugged, motel-inspired theme for the stage and G-Eazy waltzed out dressed in a basic denim shirt with dark jeans and vans. As teenage girls fangirled over the stick-figure-looking rapper, he hyped up the crowd immensely with his opening track to his album, "Random."
After his opener, G-Eazy transitioned to more songs off his new album, such as "Order More." He seemed to enjoy the El Paso crowd during his second trip in less than a year, and even talked about how he wanted to return to the city to eat at L & J Café, which was humorous.
Despite the less-than-average start with tracks off his new album, G-Eazy picked up-tempo tunes with his older banger, "Far Alone." The track took the audience on a journey back to his hometown, Oakland, Calif. He transitioned to "Tumblr Girls," which was entertaining; yet, seemed to lose the crowd by the end of "Let's Get Lost." He picked up a crowd rally when he played "Lotta That," which had the fans screaming the hook of the song.
G-Eazy closed the first half of the concert with "I Might," which was nothing more than a lady enticer.
As he took a break, his DJ—DJ Quiz—played some G-Eazy classics that came across as an unimpressive attempt since the rapper was not onstage to rap along. Hits such as "Lady Killers," "Monica Lewinsky" and "Stay High" sounded like they came straight off an iPod. Midway into each track, the crowd was bored and lost interest. There were too many tracks to follow and the idea, although admittedly different, was simply uninteresting.
Returning to the stage with "Don't Let Me Go" was the highlight of the concert. He appeared atop the motel and rapped the first, then swiftly came down to the stage and finished the track. "Some Kind of Drug" followed with impressive drums that complimented the song.
While flows got better, graphics atop the stage started becoming childish and strange as the show progressed. The graphics appeared on a billboard above one of the motels above G-Eazy and complimented the misogynistic, party-themed show. The graphics not only had an erratic pattern, but also were tough to see and follow along. They looked childish at points, portraying G-Eazy as a child-like cartoon and moving emoji at one point.
He rallied the crowd with "I like Tuh" and "Loaded," which the entire audience sang along to. Then, he followed with "Me, Myself and I." The song was a hit and featured a great use of lighting. The concert should have ended on that note, but he followed with "You Got Me" and "I Mean It" to close his show.
Lyrically, G-Eazy faltered in all different areas. The rapper is still rapping about things he used to four years ago—degrading women, excessive partying and facing stardom. Nothing is new, there is absolutely no quality in his lyricism. One of his most outlandish lyrics, "What if I did fuck Rihanna? What if I had two bitches at once with no drama?" While he shows talents of a entertainer, there is no depth in his lyrics.
One of the few positive takeaways from the show is how genuinely impressed G-Eazy looked with El Paso—something that could spark interest for an actual good hip-hop artist to come to El Paso in the near future. He constantly fed off the crowd and said things like "El Paso is the most lit city…"
Adrian Broaddus may be reached at [email protected]