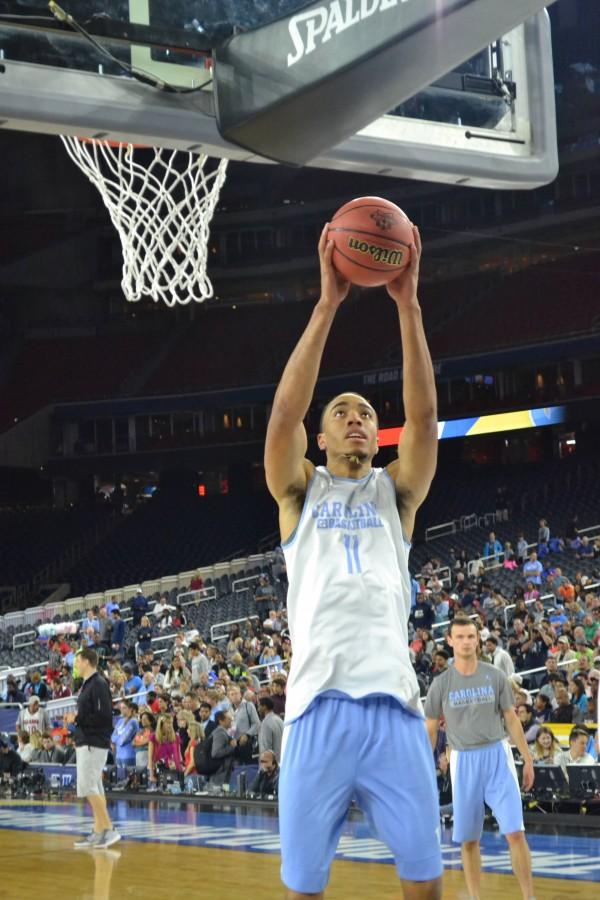 Adrian Broaddus
HOUSTON—Four years ago two different freshmen hobbled into a dorm room in Chapel Hill, N.C. They were inexperienced, unfamiliar with each other and straight out of high school. Now these two seniors—guard Marcus Paige and forward Brice Johnson— could be throwing on their jersey for the last time in the final four round against Syracuse on Saturday, April 2.
"My teammates, I love them – that's why I came back (to UNC for his senior year)," Johnson said. "I don't care about the All-American awards; I want to win a national championship."
Saturday's matchup against the Orange will be the third time that two teams square off this season with the Tar Heels coming on top both times, 84-73 and 75-70, respectively.
"They're a tremendous team," Syracuse head coach Jim Boeheim said. "They've got tremendous size, depth. They can hurt you inside or outside. We know how good they are. But at this stage you're going to go out and try to play your best no matter what."
At the start of the tournament, critics were angered that Syracuse actually reached the tournament with their 19-13 finish and disappointing loss in the first round of the ACC tournament to Pitt; however, Boeheim and his tenth seeded Orange have clawed their way up to the final four throughout the tournament.
"The Syracuse games, the games went right down to the wire," North Carolina head coach Roy Williams said. "Both games within the last three or four minutes, we were up one, scored the ball, took it to three. At their place about five minutes to go, I think it was still a one—or—two possession game."
Top seed Tar Heels
On the other end, the Tar Heels (32-6) are the last number one seed that still remains alive in the tournament. In the four games they have averaged nearly 90 points per game. Their dynamic attack on offense can be credited to Johnson and Paige.
"(Paige has) Been one of the most decorated, most discussed, most adorned with awards," Williams said. "He's covered everything from his freshman year to being one of the most criticized, to one of the most effective players ever in North Carolina history, to accomplish the most."
While Paige led the team in nearly every scoring category, it has been Johnson who has been racking in the points during the tournament. The 6 foot 10 scoring machine has been averaging 21 points and shooting 63 percent in the tournament.
"I'm just trying to end my last games right," Johnson said. "I'm trying to win a championship.
Despite the positive appraisal going towards the Tar Heels, there have been academic fraud allegations against the program within the past month. These discrepancies will more than likely be addressed and investigated by the NCAA during the off-season.
"The headlines don't deteriorate us from the fun – we earned this, we've enjoyed this," Paige said. "It does bother me a bit but I put that on the back-burner because this is my last weekend to be a college basketball player."
The orange-colored underdogs
There is no denying that this is a new Syracuse team from a month ago when North Carolina defeated the Orange 75-70. While North Carolina has been an offensive threat all year, coach Boeheim's defense has been holding offenses and holding their shooting percentages. Teams in the tournament average 56 points and 36.4 percent shooting against the Cuse.
"I think we're rebounding a little bit better over the last few games in the tournament, a little bit at the end of the year, too," Boeheim said. "I think our defense is pretty similar. I think it's been pretty good all year long. Our offense has been the weak spot for us over the course of the season."
Defensively, Syracuse has stunted teams with their notoriously effective 2-3 zone. They force the perimeter shot, something that North Carolina has struggled with all season.
"I think as a team we've stepped up our defense and have really been playing together," center DaJuan Coleman said. "North Carolina is a good team, they get the ball in the middle. North Carolina when we played them didn't shoot too many 3-pointers on us and we want to keep that going."
Against Virginia in the elite eight round of the tournament the Orange overcame a 16-point deficit in the second half to win 68-62. The comeback was sparked by a 25-4 run ignited by freshman guard Malachi Richardson, who hit 23 points in the game.
"I need to be more consistent—I've struggled with that this year," Richardson said. "Seeing the ball going early will definitely help out."
Richardson and the Orange's comeback against Virginia credits to a switch in style of play by coach Boeheim. In the second half, Boeheim called a full court press that nearly shut down the Cavaliers' offense.
Although it proved to be deadly to the Cavaliers, Paige of UNC is not worried about the Orange's press defense.
"We feel confident that if any team presses us, it is giving us an advantage," Paige said. "We like to play fast, playing up-tempo and running up the court, so we have our regular press break if [Syracuse] tries to press us or trap us."
Tip off is slated for 6:49 p.m. MT in NRG Stadium and will be televised on TBS.
Adrian Broaddus may be reached at [email protected]