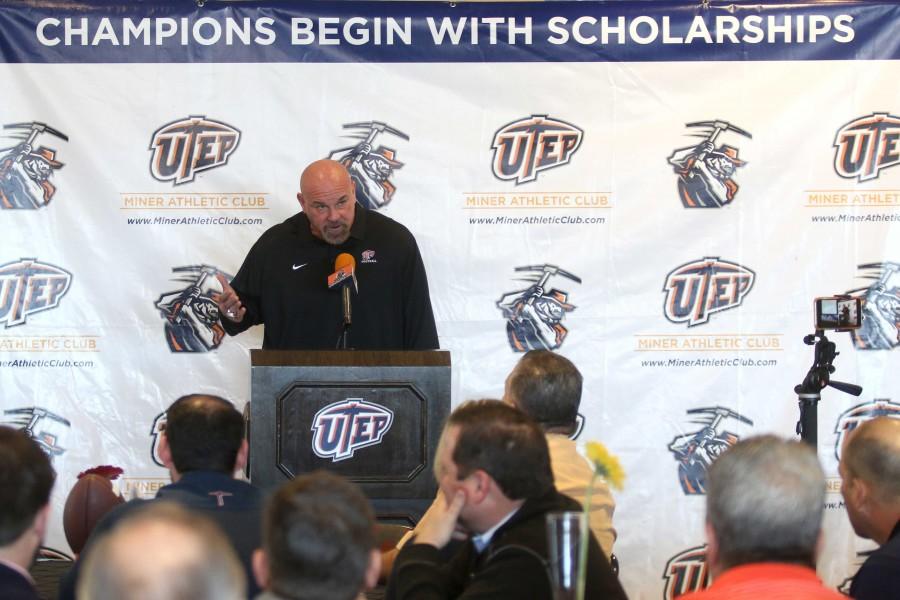 Michaela Román
UTEP football head coach Sean Kugler presented 24 new additions to the team on Feb. 3, who will sign their national letter of intent to play at UTEP.
From Texas alone, the Miners gained 19 athletes. Out of the other 24 signees, two come from Washington, and one from Maryland, Kansas and California.
The prospects differ from both ends of the ball, emphasizing one major attribution: speed. The Miners will gain four linebackers, four defensive lineman, four running backs, four defensive backs, three offensive lineman, two wide receivers, one quarterback, one athlete and one tight end.
"One of the main things we try to do is get to know them as student-athletes, get to know their families and get to know their character," head coach Sean Kugler said. "We try doing our best job to bring players into our program that is going to bring to right type of players for our program. I'm very excited to introduce this year's class."
A key project that Kugler has improved since being here is local recruitment. UTEP obtained seven individuals from the Sun City, the most in a recruitment class under Kugler. Now, the Miners have signed a total of 17 El Pasoans throughout the four years Kugler has been with the school.
"The guys we got, we are very excited about," Kugler said. "I have goals as a head coach to have a player from every single high school on this team."
This class that Kugler obtained have demonstrated the ability to move. Whereas last season they signed a strong recruiting class, this year shows major agility.
"I think we got more speed than we anticipated with this class, which we will always take," Kugler said. "Our goal was to build up both sides of the ball – the offense and defensive line. Now you are going to see a 3-4 on the defense, so it will be new players in those position."
At times, recruits that have committed to a college, end up de-committing. Even though Kugler experienced individuals who decided to take their talents elsewhere, he believes it is just part of the process.
"There's some heartaches – you lose some guys who you've invested a lot of time in," Kugler said. "It's very rewarding to put so much work into some of these boys and have them stay loyal."
After signing four new coaches – Brent Pease (offensive coordinator), Tom Mason (defensive coordinator), Theron Aych (receivers) and Don Yanowsky (linebackers), Kugler and his new staff had to tackle the responsibility of finding new prospects quickly.
"Usually what we do (as a staff) is take a few days off after this whole process," Kugler said. "Don (Yanowsky) was outstanding. He's been at some outstanding places. Don, Theron (Aych), Brent (Pease) Tom (mason) all knocked out recruits and they've only been here a short while. Not only excited about their coaching capability, but excited as far as recruiting."
Here is a list of the Miners' recruits for 2016 per UTEP Athletics:
2016 UTEP Signing Class Roster
Name                         POS   HT     WT     Hometown (Previous School)
Tiano Tialavea           DL       6-3       350     Seattle, Wash. (O'Dea HS)
Keith Sullivan             DL       6-7       255     Houston, Texas (Aldine Davis HS)
Christian Johnson       DL       6-2       255     El Paso, Texas (Parkland HS)
Josh Ortega                 DL       6-2       275     El Paso, Texas (Montwood HS)
Justin Rogers             DB     5-11     185       Los Angeles, Calif. (Los Angeles HS)
Broderick Harrell       DB     5-11     195     Wolfforth, Texas (Frenship HS)
Eric Foster                 DB     6-0       185      El Paso, Texas (Americas HS)
Joseph Pickney           DB     6-0       185     Crosby, Texas (Crosby HS)
Sione Tupou               LB       5-11     240     Allen, Texas (Allen HS)
Dedrick Simpson       LB       6-2       260     Houston, Texas (Dobie HS)
Dylan Parsee               LB       6-2       210     San Angelo, Texas (San Angelo Central)
Kolbi McGary           LB       6-0       205     Cedar Hill, Texas (Cedar Hill HS)
Walter Dawn               ATH   5-6       170       Mesquite, Texas (Poteet HS)
Brannon Bullitt           WR     6-0       210     El Paso, Texas (Chapin HS)
Richie Rodriguez         WR     5-9       175     El Paso, Texas (Eastwood HS)
Amorama Noel           TE       6-3       240     Houston, Texas (Alief Elsik HS)
Kevin Dove                 RB       6-0       250     El Campo, Texas (El Campo HS)
Antonio Dupree         RB       5-11     225     Baltimore, Md. (Gilman HS)
Quardraiz Wadley       RB       6-0       180     Kennedale, Texas (Kennedale HS)
Ronald Awatt             RB       5-11     195     Wolfforth, Texas (Frenship HS)
Mark Torrez               QB     6-0       185       El Paso, Texas (Eastwood HS)
Tanner Stallings         OL       6-1       300     Hutchinson, Kan. (Hutchinson CC)
Bobby Deharo             OL       6-4       270     El Paso, Texas (Montwood HS)
Jared Goldwire           OL       6-6       300     Covington, Wash. (Kentwood HS)
2016 Schedule
On Thursday, Feb. 4 Kugler announced the 2016 football schedule. The Miners will open their season at home against New Mexico State on Sept. 3. Then they will travel to Austin to take on the Texas Longhorns on Sept. 10. Afterwards, they will return to the Sun Bowl to take on Army on Sept. 17.
The Miners' spring game will be April 17 at 7 p.m.
UTEP Football Schedule:
Sept. 3             NEW MEXICO STATE
Sept. 10           at Texas
Sept. 17           ARMY
Sept. 24           SOUTHERN MISS*
Oct. 1             at Louisiana Tech*
Oct. 8             FIU*
Oct. 15           BYE
Oct. 22           at UTSA*
Oct. 29           OLD DOMINION*
Nov. 5             HOUSTON BAPTIST
Nov. 12           at Florida Atlantic*
Nov. 19           at Rice*
Nov. 26           NORTH TEXAS*
Home games in ALL CAPS | * Denotes C-USA Games
Adrian Broaddus may be reached at [email protected]