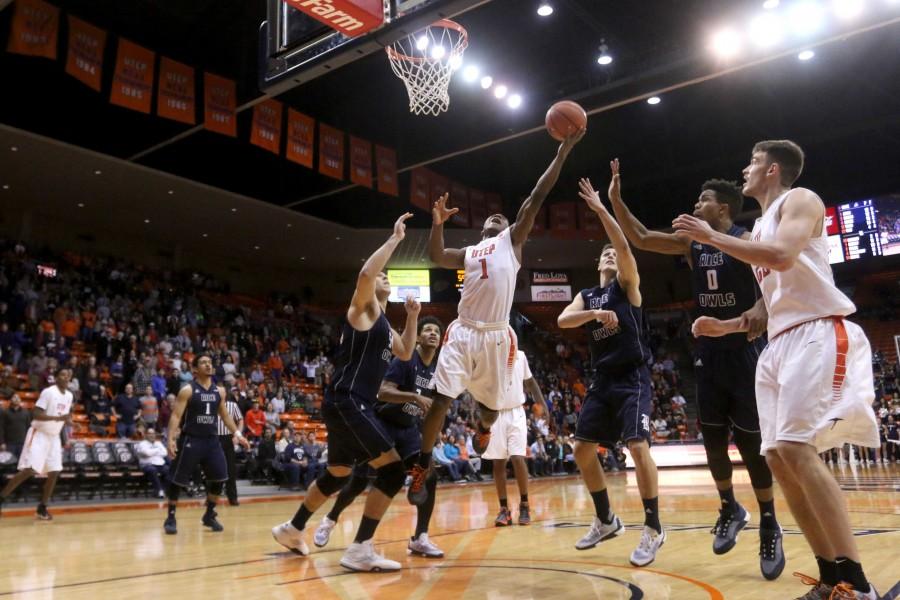 Michaela Román
Coming into the Conference USA season opener, guard Marcus Evans and forward Egor Koulechov of the Rice Owls led the conference with 19.8 points per game and 19.0 points per game, respectively. However, the Miners' defense was able to hold the high scoring duo to only 24 points tonight, and stole the 61-60 win over Rice in the conference opener.
The game came to a last second finish as Evans of the Owls hit a go-ahead jumper for Rice with only 23 seconds left on the clock. Instead of calling a timeout to set up a play, guard Dominic Artis ran the court quickly and drove it in for a lay up, which would put the Miners 61-60 over Rice. With less than ten seconds on the clock, Rice desperately drove it down, but Evans failed a deep, game-winning jumper, and the Miners left with the win.
"We didn't want to call a timeout, we wanted to play on a flow because that seems to be where we are at," head coach Tim Floyd said. "We didn't want to give them time to change defenses."
The 24 points the Rice duo produced was 14 shy of their usual 38.8 ppg. Instead, Rice evenly distributed points between the duo, Max Guercy (11 points) and Bishop Mency (11 points).
For the first half, Lee Moore shut down Marcus Evans defensively, holding him to only two points.
"We keyed on him a lot during practice," Moore said. "We took away his shots and made the other players have to step up for them. I knew it was a big key to take him out of the game."
The last 20 minutes, Artis took hold of Evans. Artis only allowed him to score three-of-11 from the field and did not allow a single three pointer out of the conference leader.
"I want to be that guard defensive-stopper," Artis said. "Last year we had Julian Washburn, and that's something I want to do, play defensively as hard as I can."
Offensively, four separate Miners recorded over 12 points. Moore led UTEP with 15, followed by Terry Winn (14), Dominic Artis (14) and Omega Harris (12).
In the first half, the Miners stormed out, dominating both ends of the ball. They got off to a quick 10-3 lead. Finally Koulechov hit a three for the Owls, making it 12-6. Miners flirted with a ten-point lead, winning as much as 18-9, 31-23 and 37-29 in the half. They held Rice to 38.5% shooting on the floor.
After the break, Rice stormed out seeking a comeback. Approaching the 15-minute mark, center Hooper Vint was charged with a technical foul for an unsportsmanlike after math, and was sidelined for 11 minutes due to his 4 fouls. UTEP had to play small, using Paul Thomas, Christian Romine and even Tevin Caldwell at the no. five spot.
"Really disappointed in the self-discipline of our guy – he's a fifth year senior," Floyd commented. "He's a better player than that, and should be setting the tone for how we should approach things."
However, Artis and Moore were able to prevent the come-from-behind victory from the Owls and held on to the win.
With the win under their belts, the Miners (9-5, 2-0) extend their conference win streak at home to 12 games.
Next they will face North Texas on Sunday, Jan 3 in the Don Haskins.