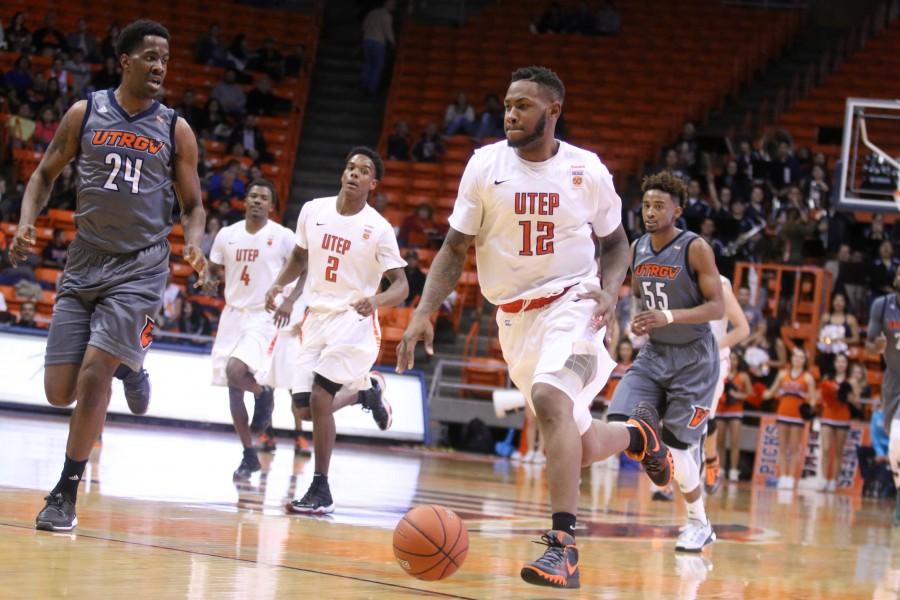 Michaela Román
Dominic Artis hit seven three pointers and recorded 21 points, as the Miners cruised over the University of Texas Rio Grande Valley Vaqueros 85-64 in the last game UTEP will play in 2015.
This was Artis' career high for total points and three pointers. He is the seventh Miner to hit seven-or-more threes in a single game in UTEP history.
"[Dominic] is a good player," Floyd said. "We tend to forget that they sat out last year. I was pleased with Dominic on defense, battling the perimeter. I think he took a step forward tonight."
This was also the last non-conference game for the Miners (8-5), who have won their final game in the month of December each of the last seven years.
The win puts UTEP at the same amount of wins they had last season. After the non-league action in the 2014-15 season, the Miners won 13 games in Conference USA play.
Accompanying Artis in scoring was Terry Winn (18), Hooper Vint (12) and Earvin Morris (10). Vint also added his first double-double for the season, adding 11 total boards.
"It was a good win," Floyd said. "It's what we expect. This is a team that has been damaged and bruised. I hope we can continue to defend and guard."
The defense also excelled in the second half tonight. They held UTRGV to only 9.1% three pointers. Three players, Artis, Omega Harris and Lee Moore, had three-or-more steals on the night, and transitioned 28 points off of UTRGV turnovers.
The offense ended the night hitting 33-for-71 shots from the field, totaling 46.5%. In the first half they shot 55.6% from three-point range.
"Our guard play was really good tonight," Floyd said. "Artis and Moore ball movement is so well right now. Looks like after all we can shoot it."
Floyd rotated seven freshmen into the mix today to continue and give the younger players experience. Paul Thomas came off the bench and scored a basket and had three rebounds. In his return to the court from his injury, freshman Brodricks Jones also came in and added five rebounds for the team.
"It was important for giving these guys minutes, Floyd added. "They helped to extend our defense."
Although it was a good change and addition to the works, Floyd understands that the multiple player rotation will not be a normal thing.
"We looked at seven at the big guys tonight," Floyd said. "That's too many because guys can't get in the flow tonight. We can't do that every night."
Next up, the Miners will enter conference play. They open up Conference USA against the Rice Owls on Friday, Jan. 1 in the Haskins Center. Also at home, the Miners will host North Texas on Sunday, Jan. 3.
Adrian Broaddus may be reached at [email protected]