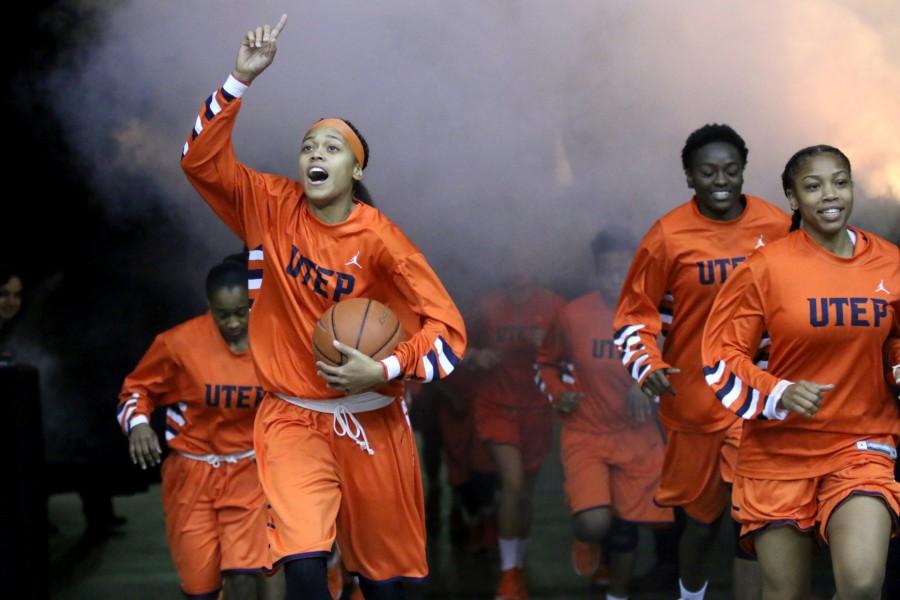 Michaela Román
Keitha Adams and the Miners have not started the season 8-0 in two seasons; however, rolling on a 7-0 undefeated start, the group vies for their eighth win as they host the University of Texas of the Permian Basin today, Dec. 14, at the Don Haskins Center.
The Miners are one of 15 teams in the country are still unbeaten. They currently seek their best start since 2011-2, when they began 10-0.
Tonight marks the first of three games the squad will play this week. After tonight, the Miners will participate in the Long Beach Classic, facing Long Beach State on Friday, Dec. 18, and UNLV on Saturday, Dec. 19.
Even though they are in the exclusive group of undefeated teams still around, coach Adams continues to see potential improvement from her group.
"Areas we are trying to work on is our execution and being in sync with one another on the offensive end," Adams said. "We've competed, that's the positive, and they've been so supportive of one another."
The squad faced their toughest challenge last week on the road against rivals New Mexico State. After denying the Aggies a late second-half comeback, the Miners pulled off the 71-65 road victory.
"We had to handle some adversity and worked our way through it," Adams said. "We learned about working together and hanging in there together."
Senior Agata Dobrowolska finished the night with her first career double-double, totaling 15 points and 14 rebounds. The squad also finished on top against the Aggies in rebounds and turnovers.
Prior to her electrifying game against the Aggies, Dobrowolska had eight points and seven boards. However, it was the defense that truly has made an impression on Dobrowolska. The team has held opponents to 59.3 points per game, the highest being 66 points, against Northern Arizona. They also rank 23rd in the nation in turnovers per game, averaging 21.7, and 18th in the nation for recording 12.0 steals per game.
"I think defense is what has really helped us this year," Dobrowolska said. "We have been aggressive, and all seven games we have played hard, so that led us to the wins."
Like the defense, the offensive attack has seen a significant improvement since last season. Guard Jenzel Nash leads the team with 102 points, 14.6 points per game; however, the squad has an even distribution for scoring. Along with Nash, Cameasha Turner, Starr Breedlove, Sparkle Taylor and Lulu McKinney all average for at least 8.5 points per game.
The bench has also added to the offense's success. Ten Miners have earned at least 10.0 minutes per game. The bench has outscored opponents 187-95 thus far.
"We've got depth this year," Dobrowolska said. "No matter who we have on the court, if they are a newcomer or not, we feel confident with them. Not a lot of teams give opportunity to newcomers as we do here."
One key newcomer to the starting rotation has been Breedlove–the transfer from Louisville. Breedlove has hit double figures in scoring in six straight games, and ranks third on the team for scoring, totaling 84 points, 12 points per game.
"Starr has played a lot for us at the point," Adams said. "She brings quickness, athleticism and good ball handling."
Like the Miners, UTPB (3-5) has brought many newcomers to the forefront. With only TeAnna Edman-Rowe returning from last season, the Falcons bring in 17 new faces to the court. Niniva Taito, who averages 15.1 points per game and has recorded 121 points on the year, leads the Division II team. Khadijah Vigil leads the group in boards, with 52 boards and 6.2 per game.
Starting a hot undefeated streak would mean a lot to Breedlove. Last season, the Miners started their first seven games 3-4. However, before the season, Breedlove knew that the squad had a mission.
"Our record last year wasn't so good," Breedlove said. "This year we said we aren't going to lose anymore. We are going to give it all we got."
Along with Breedlove, coach Adams also thirsts for a hot start, making up for the below average season they had last year. The Miners finished 12-16 and 11th overall in Conference USA.
"We're coming off having a tough season last year to where we're hungry and eager," Adams said. "We weren't very happy with last year. We want to compete every night."
Adrian Broaddus may be reached at [email protected]