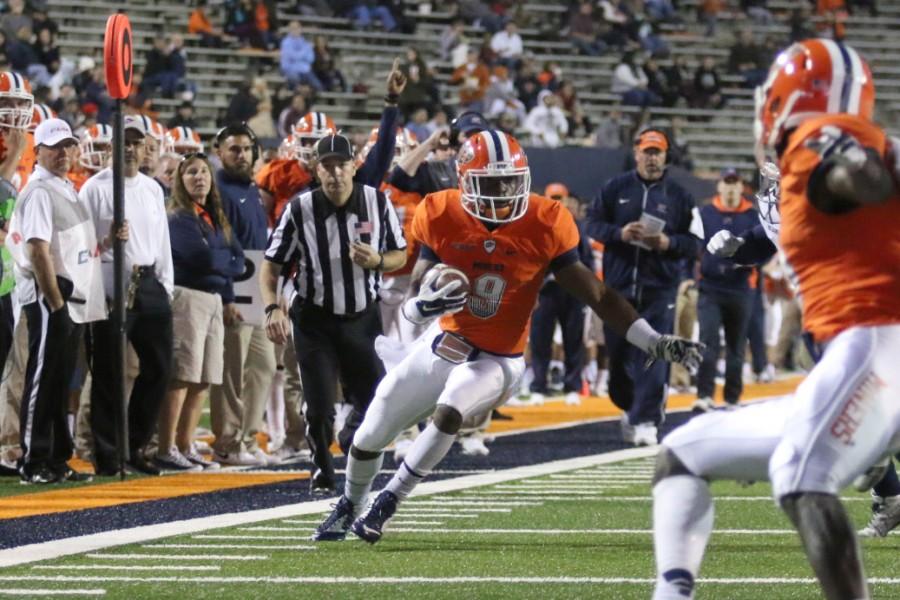 Michaela Román
They have been beaten down, torn to nothing and left to scraps for any chance to win a game. After a 16-plays, 73-yard drive, featuring a balanced attack from Mack Leftwich through the air and Jeremiah Laufasa on the ground, kicker Jay Mattox nailed the 24-yard go-ahead field goal to lift the Miners to a 24-21 victory over the Rice Owls.
In the win, the Miners showcased an extremely balanced offense. Leftwich ended the night with a pair of touchdown passes, while Laufasa led the team with 95 rushing yards and a touchdown. The Miners outgained the Owls in total offense 392-326 on the night.
With the win, the Miners keeps their bowl dreams alive, improving to 4-5 on the season. The win tonight was their first victory over Rice in five seasons.
"You have to trust in your team," head coach Sean Kugler said. "That's what I want this team to do – I want them to believe in themselves and know they can go do these things. This is probably my most satisfying win as a head coach just because I know where our team is at and I know how hard they fought. Very rewarding."
Prior to the game-winning drive, Nick Usher blocked the Owl's 38-yard field goal attempt, which would put Rice in the lead, with 8:13 left in the game. With the ball in his hands, Leftwich was able to chip 7:25 off the clock on the 73-yard game winning drive. Laufasa accounted for 52-yards on the drive, which resulted in a easy chip shot for Maddox.
"Anytime you get a field goal block, it's huge," Kugler said.  "That's our fourth blocked field goal this year. It was a huge momentum swing. I think it energized the sidelines and the offense took control of the game. Really, at the end of the game that was Miner football.  The line was pounding it, we were running basically the same play over and over again to a senior back that was running extremely hard, and he was injured."
In the first half, both teams were neck-and-neck, finishing the first two quarters in a 14-14 tie. Both teams were nearly tied in time of possession and the Miners outgained the Owls 223-173. Leftwich was able to connect with Jacquan White for two touchdowns, one for 58-yards and the other for two-yards. White ended the night with four catches for 90 yards.
At the end of the half, Laquintus Dowell, who led the team in rushing yards and was key on special teams, exited the game with an injury.
"When he went down, everyone else knew that they had to pick their game up," Leftwich said. "We used it as a rallying point because obviously it's tough to see him go down, but we knew we had to pick it up."
Kugler had the upmost confidence in his offense, but more specifically his quarterback entering the game. Leftwich completed 50 percent of his passes, going 18-for-30 for 231 yards and a pair of touchdowns.
"The formula we're doing is trying to control the clock but also take shots downfield," Kugler said. "Mack for the third straight week didn't turn the ball over, he's been playing outstanding, and he's efficient. He missed a couple balls early in the game, but he settled in. Mack hasn't lost a game in the Sun Bowl, let's keep that trend going."
On the defensive end, Alvin Jones tied his carrier high with 11 tackles. Other notable defenders in the game were Jimmy Musgrave who totaled six tackles, Ismael Harrison with five tackles and Roy Robertson-Harris with four tackles and a sack.
"[This win] keeps us in bowl contention and we got the head-to-head lead on them," Jones said. "Everyone was flying around and feeding off each other. We didn't miss as many tackles as we did last week. For the seniors who haven't beat Rice, it gives them a lot of confidence. Hopefully it's just a stepping stone to next week at ODU."
To keep their bowl game hopes alive, the Miners will travel to Old Dominion next Saturday, Nov. 14.
"We're not dead yet and our kids know that," Kugler said. "They want to go to a bowl game.  We've got to get two of these next three to be bowl eligible and our kids are going to fight to go do that."
Adrian Broaddus may be reached at [email protected]