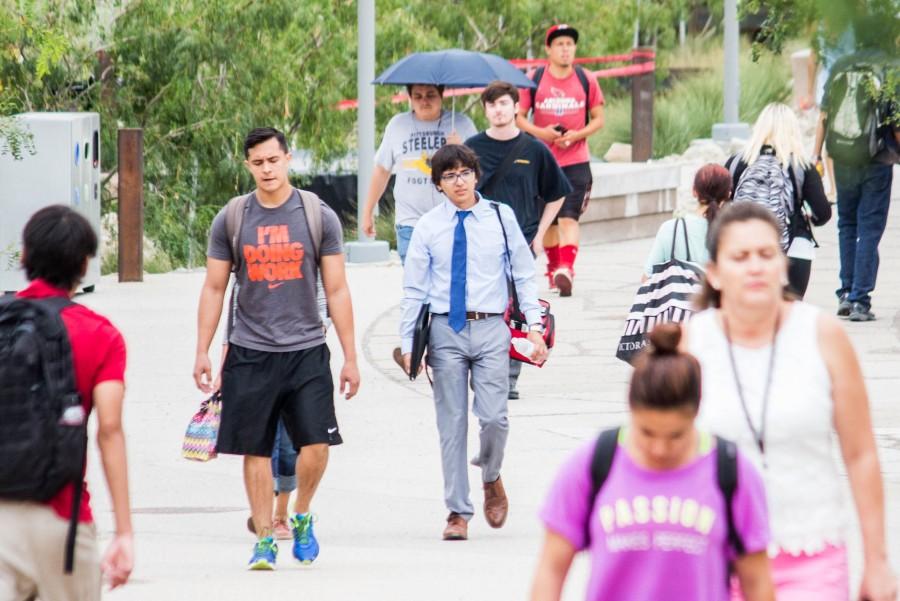 Andres Martinez
The University of Texas at El Paso opened its doors in 1914 to 27 students under the name of Texas State School of Mines. Over the next 100 years, UTEP has seen its enrollment figures grow to much more than those original 27 students.
It was announced last week that UTEP has 23,397 students enrolled for this school year, a 1.4 percent increase from last year's 23,079 figure. This makes it 17 straight years in which the university has recorded an increase in the number of students who are attending.
"It's not so much about it being great for UTEP, it's great for this community," said Vice President of Student Affairs Gary Edens. "Raising education throughout El Paso has been a goal for many, many years. We're really proud of what we're doing here at UTEP to increase the number of students that are pursuing a college education."
The biggest increase recorded for UTEP was in the number of graduate students. A 12.8 percent increase in graduate students is a great sign that the university is headed on the right track towards achieving the coveted tier-one status.
With over 100 graduate programs, that include 20, soon to be 21, doctoral programs and 78 masters programs, UTEP is becoming a good option for students seeking education after their undergraduate career is completed.
"We have such a range of opportunities and we have very high level excellence with the programs that we have," said Bess Sirmon-Taylor, associate dean of the Graduate School. "We have world-class researchers and professors with really strong reputations."
Enrollment also saw a rise in new undergraduate students, with 4,998 compared to last fall's 4,840.
There was an increase in both local and out-of-town students, but with 80 percent of the students being from the Paso del Norte region, making UTEP very much a commuter school. That is exactly the goal of UTEP, according to Edens, and it is the focus of most, if not all, of its recruitment resources.
"We're still vastly from El Paso, which is what we want," Edens said. "We're a regional university. We don't go and recruit in Iowa and Ohio–we want students from this region to come to UTEP and get a degree."
Focusing on the schools in and around El Paso, UTEP uses a vast amount of resources to continue with the trend of increasing enrollment year after year.
"We do a lot," Edens said. "We have a pretty robust team that uses technology and uses electronic media and social media to recruit and dialog with juniors and seniors and our transfer student population."
UTEP recruiters are present in area high schools on a daily basis; targeting juniors and seniors on the importance of a college education, along with letting them know about the opportunities that the university can provide them. Those types of visits are followed up with informational packets sent electronically. Last year UTEP emailed an information packet to every single junior and senior in every school throughout Region 19.
The university also works with students in terms of financial aid and scholarships—looking to make their path toward a college education much easier and smoother.
Transfer fairs at El Paso Community College and college nights at local high schools are other ways in which UTEP continues to increase its enrollment—which is the goal from year to year.
That is really all UTEP is concerned with, seeing growth no matter the percentage.
Each year the target is to see a 2 to 3 percent increase in enrollment, but there are many variables that impact enrollment. The target is not an obsession and coming in under that figure is not the end of the world. Many different variables account for enrollment figures and just to keep the numbers at an upward trend is good for UTEP.
"The last few years we've been just under that (2 to 3 percent target), but that's great too," Edens said. "We want everybody that graduates from a high school to come to UTEP."
The magic number for next year is 24,000 and the university is looking at more than just entering students. Retaining students who are already part of the student body is as important as being able to recruit as many freshmen and transfer students as possible.
Losing students to graduation, transferring to other colleges or to them dropping out directly affects the total number of students enrolled at the university. The less transfers and drop outs there are, the more the enrollment figure increases with the incoming new students.
UTEP is making a great effort not just to bring students to campus, but also to keep them here.
"We not only look at the students that are brand new coming to the university, but we're looking at how we can serve the current students that are here," Edens said. "We're working really hard to make sure that the retention numbers are positive and they have been over the past few years."
Luis Gonzalez may be reached at [email protected]