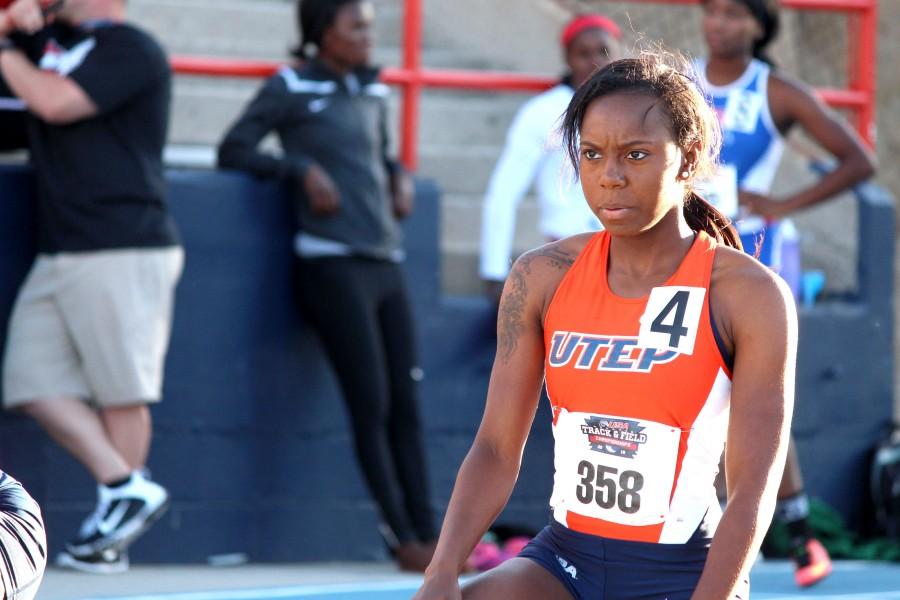 Andres Martinez
The Conference USA Track and Field Championships continued at Kidd Field on Saturday, May 16. After the third day of competition, both of UTEP's men's and women's teams sit in second place. Western Kentucky leads both sides, leading the Miner women by 22 points and the men by two.
The meet began with senior Taylor Gunn and sophomore Samantha Hall both competing in the discuss throw for the Miners. Hall took first place with a personal and school record toss of 56.4 meters. Gunn came in second with a 52.34-meter throw.
"I cannot describe it, after I threw it I started crying," Hall said. "I was frustrated with the wind, all I could do was throw my final throw."
Gunn not only had a great day with discuss–she also graduated today. Her mind was not always on graduation though.
"I was thinking about technique," Gunn said. "My feet hurt and I was hungry, but I was thinking about my technique."
On the men's side, one of the most anticipated events of the day was the javelin throw. Four of the top 11 in the nation in this discipline competed tonight. UTEP's Rasmus Maukonen was unable to come away with the crown, but his third-place finish gave the Miners important team points.
"I gave them (the team) points and I ended better than I was on paper," Maukonen said. "It would have been cool to throw further."
UTEP was able to qualify several athletes in the hurdles. Greta Kerekes and Anna Kay James both will be racing for the conference title on Sunday thanks to their performances on Saturday.
Kerekes and James qualified in first and second place, respectively.
The men's team found valuable points in the long jump thanks to Brandon Moss, Carlos Herrera and Zacharay Newman Jr. Moss' second-place finish, Hernandez' coming in in fourth and Newman finishing fifth gave UTEP a total of 17 points.
In the long jump UTEP had a second place jump at the event, which helped utep with totals. UTEP women also had a good event with long jump as they ended fourth at the long jump event.
To close out the night, senior Anthony Rotich performed to his usual standards, taking the 3,000-meter steeplechase. Rotich clocked in at 8:59.64 to win the event for a third consecutive year.
"It's cool to win at a home meet and show the fans that it is possible here," Rotich said.
The conference championships will conclude on Sunday, with the Miners vying for the gold individually and as a team. Among the events scheduled for the final day of competition are the 200-meter and 400-meter dashes and the 100-meter hurdles.
Juan Carlos Navarrete may be reached at [email protected]
[aesop_gallery id="11119″]