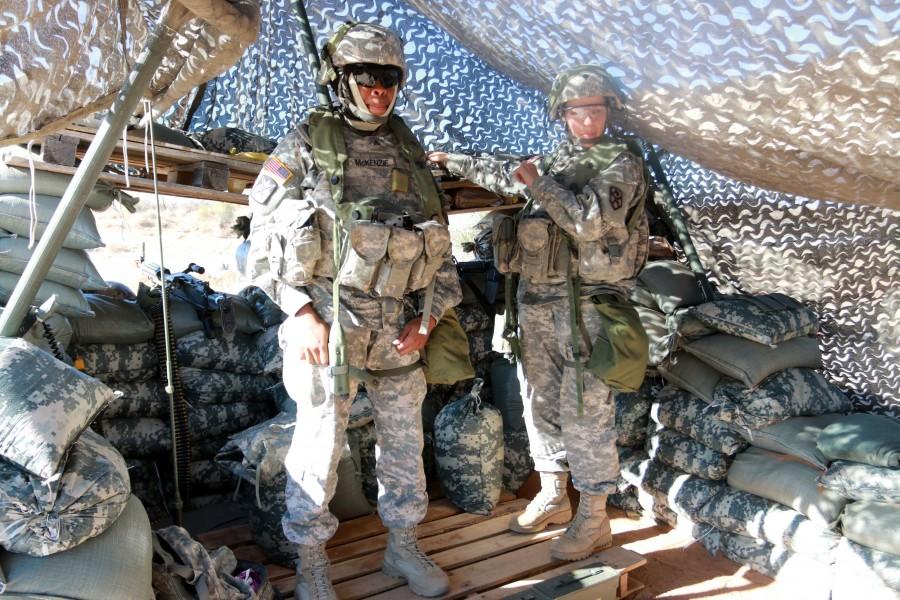 Michaela Roman
Sitting inside a makeshift "hill" made out of camouflage netting that is sustained by sandbags and wooden crates are two soldiers, both women, both immigrants, both united by a common task.
Before the military they were continents apart. Now they are separated by inches under the unforgiving El Paso sun, far away from the rest of their brigade, surrounded by a vast landscape of loose dirt, weeds and the passage of the hours.
The camouflage netting is supposed to make their tent look like a hill from afar, a façade meant to trick the enemy. The beige-and-brown colored cloth is perforated by S-shaped cutouts that break their faces into fragments of lightness and darkness.
"These two soldiers are both members of the force protection team, and their job is to ensure that everyone inside…is able to work on their job by offering them protection," said Sergeant Adam Hinman, public affairs officer. "They're going to look to see if there are any enemies approaching, any unidentified vehicles, and as needed they're going to stop and engage and call it up to get help, if they need it."
"Or kill them," said Specialist Alena Stepanova, financial management specialist with the 4th Financial Management Support Unit.
Although they are joined by their similarities, the differences between the two are vast.
Spc. Stepanova is tough, she scored a perfect score of 300 on the Army's physical fitness test, something Sgt. Hinman says with awe. Her home country spills out through her Russian accent. She is private and prefers not to talk about why she left Russia.
Unlike most people in the military, who join for the benefits it can provide for themselves or their family, Stepanova joined because she wanted to become a pilot.
"I wanted to become a helicopter pilot and warrant officer," Stepanova said. "There is no age waiver for helicopter pilots, I cannot do it because of my age."
And the cold far-away country she was raised in provokes nostalgia and a dislike for El Paso's hot weather.
"It's just different (Russia)," Stepanova said.
Her partner, Sergeant Radia McKenzie, financial management specialist ith the 4th Financial Management Support Unit, is from a much warmer country–Jamaica. Her native accent still lingers in small hints and traces.
She is more willing to talk about her past and says she came to U.S. when she was 16 years old with her brothers and sisters.
When she first immigrated into the U.S she went to New York and was surrounded by other Jamaicans, it wasn't until she entered the military that she received a real culture shock. 
"We love to hug people–we are huggers…In my culture we touch and it's a sign of a connection," McKenzie said. "When I came to the military that's when I experienced all these different people from different states and different places and different countries, and so you actually experience a lot of different cultures, some people they are okay with hugging…but some people they are not okay with that."
Unlike Stepanova, she joined the military because of her son.
"After college I got married and I had my son and I decided that I need to take care of my family," McKenzie said.
Apart from the beaches, the greenery, the sea breeze and the sense of relaxation, McKenzie also misses the discipline from Jamaica.
"The military is a very good organization because it has the same structure that I'm used to, discipline and standards," she said. "That's why it's easy for me to adapt to the military lifestyle."
And it's what ultimately unites the two and follows every action behind their daily routine. As they wake up at 5 a.m. to be at their post by 6 a.m., and is what sustains them through the 12-hour day, it's what ultimately dissolves the difference between Spc. Stepanova, and what Sgt. McKenzie calls her,  "battle buddy."
Maria Esquinca may be reached at [email protected]