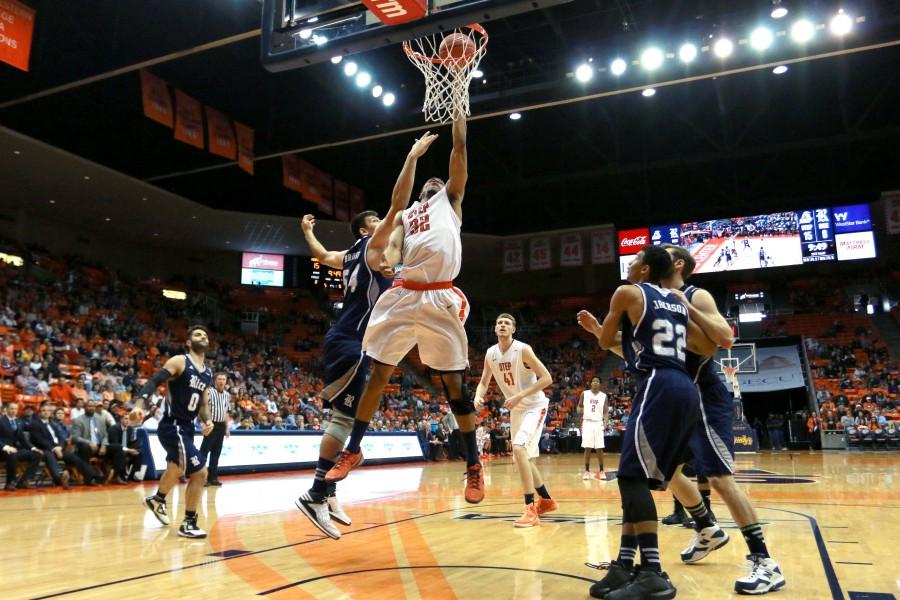 Michaela Román
The UTEP Men's basketball team won it's 21st game of the season today, with a final score of 68-65 over the Rice Owls to close out the regular season.
In front of their home crowd for what may have been their final time, senior C.J. Cooper, Cedrick Lang and Julian Washburn led the Miners to a tight 68-65 victory over the Owls.
Four Miners scored in double figures this afternoon with sophomore forward Vince Hunter leading all scores with 22 points. Hunter also added 12 rebounds to the win.
Washburn was also impressive in his final regular season game as a Miner. The senior guard, who averages 9.7 points per game, scored 19 today. He shot a very efficient 8-11 from the field, which included key baskets towards the end of regulation.
Lang was the third player in double figures with 11 points and 5 rebounds. Cooper scored four points and recorded 4 assists.
With the win over the Owls, UTEP will finish the regular season tied for second place in the standings await the result between Old Dominion and Western Kentucky, which will decide how the ties are broken. If Old Dominion prevails at home the Miners will be the second seeded team at the Conference USA tournament by UAB this upcoming week in Birmingham, Alabama.