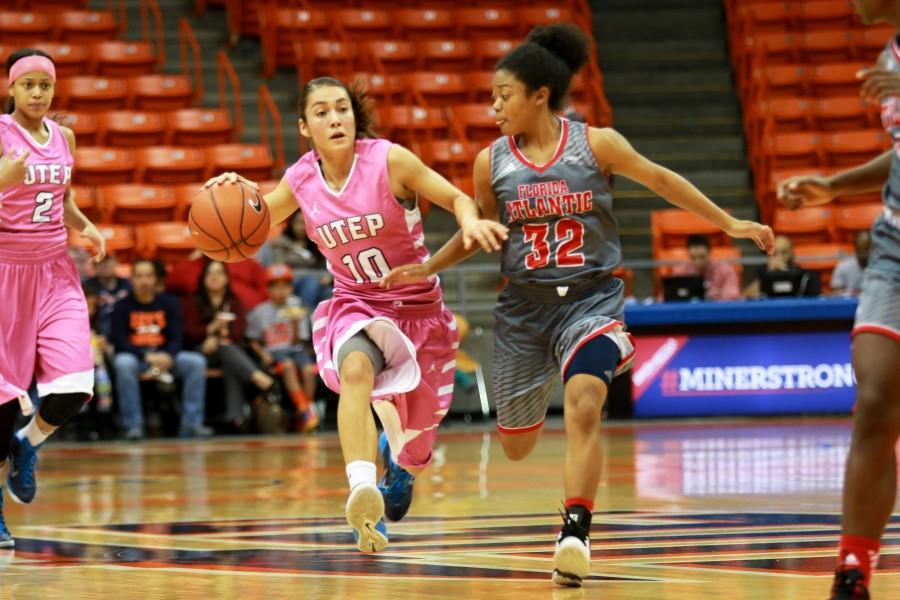 Michaela Román
After a close game at home, the Miners dropped their sixth game in succession tonight at the Haskins Center 68-63 against Florida Atlantic University. The Miners now find themselves with a tough road ahead as they are 3-7 in conference.
The Lady Miners basketball team got off to a quick start in the first half where they led by as many as nine. The Miners lost steam defensively though and went into half time 36-34.
The Miners defense rebounded well in the first half when they outrebounded the Owls by five. The Miners lacked on defending FAU's three's and allowed the FAU club to shoot for 60% and go 6-for-10.
The Miners were outscored from the bench with the FAU Owls outscoring the Miner bench by over 50%. The Miners also gave up their lead over FAU by allowing them to shoot for 50% from the paint.
The Miners got off to a slow start for the second half where FAU led by as many as eight in the half. The Miners struggled early in the second from the free throw line as they only shot 33%.
"We lost two possession game, we missed nine free throws, we make our free throws, and you hit a couple more shots." Coach Adams said.
The Miners defense got the Miners the ball back off rebounds yet they failed to score. The Miners rebounded well all night as they had 43 total rebounds and over 20 offensive rebounds, but they could not score off those offensive rebounds during the second half.
"We only scored 27 points in the second, we are trying hard, we are competing, we were in a position to win that's what you want," Adams said. "Our offense was not able to close it out, you have to do extra things to get over that, free throws can help."
The Miners defense also failed to neutralize FAU's offense as they shot for 53% from the floor. FAU also shot for 56% from the three-point line and seven of those during the second half.
The Miners have been on a loosing streak dropping their sixth game today at home. Coach Keitha Adams will continue to be resilient with her team and their effort is praise worthy.
"I told our team we are facing adversity, we are looking at it right down the barrel," Adams said. "When you face adversity you can fee bad for yourself or you can meet it, greet it and beat it, we have to come out swinging and fighting, keep hungry and keep going."
The Miners will face FIU this coming Saturday and will try to stop the damage caused by the loosing streak. The Miners are now 8-11 and 3-7 in conference play and are in 11th place in conference USA.
Juan Carlos Navarrete can be reached at the [email protected]