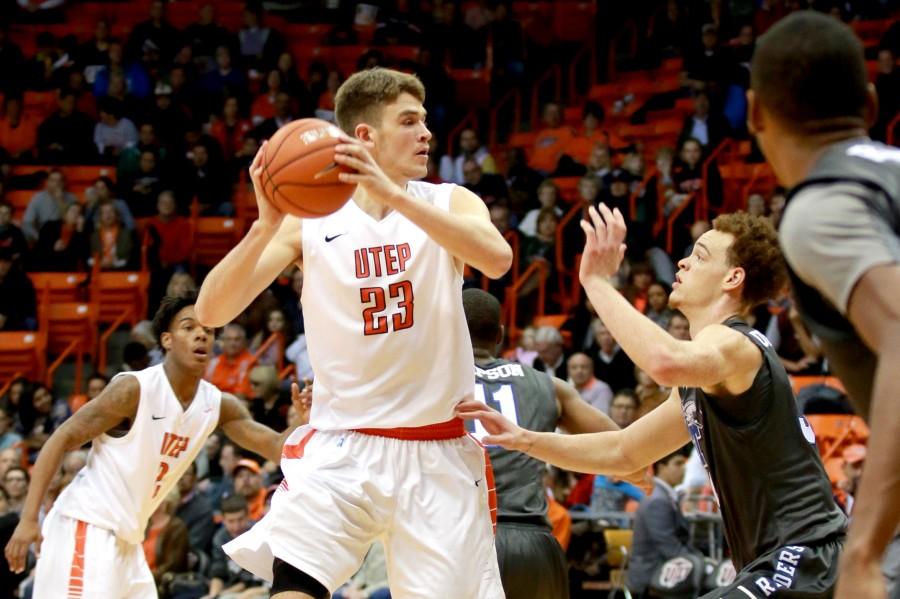 Michaela Román
The UTEP men's basketball team had a historic shooting night on the way to their 14th win of the season. The Miners missed only four of their 16 three-point shots and beat the visiting Middle Tennessee Blue Raiders by a final of 83-70. The 75% shooting from beyond the arc is the best any UTEP team has ever shot on a single night.
After turning the ball over on their first two possessions, it seemed like the Miners could not miss in the first 20 minutes of play tonight in the Don Haskins Center. They made six consecutive three-point shots and did not miss until there was less than three minutes to play in the half. UTEP was near perfect at the line as well going 17-18 from the charity stripe.
"We made every shot, it's just one of those nights," Miner head coach Tim Floyd said. "I don't ever remember having a team shoot it like that, ever."
Leading 45-38 at the break, the Miners' impressive shooting night continued in the second half. A 10-1 run to start the final period pushed the Miner lead up to 14.
The Blue Raiders never went away but never really seemed to endanger the positive outcome for UTEP. Middle Tennessee was able to cut the leads down to five points with just about five minutes to play, but Floyd's squad finished the game with a 12-4 run that included one three-pointer from senior guard C.J. Cooper and two from junior guard Earvin Morris.
"We have a lot of shooters on this team," Cooper said. "I think tonight reflected that."
UTEP was led by senior guard Julian Washburn's season-high 18 points—50% shooting, 4-4 from beyond the arc and from the free-throw line. Four other Miners scored in double digits. Cooper scored 12, Morris 10 and sophomore forward Vince Hunter had 17 points. Hunter was a perfect 9-of-9 from the foul line.
"Really proud of Vince (Hunter)," Floyd said. "He spent an inordinate amount of time working on his free-throws."
Senior center Cedrick Lang recorded a double-double on the night, sixth of his career. He scored 11 points and grabbed 10 rebounds—five on each end of the floor.
Tonight's offensive explosion might overshadow the drop defensively UTEP has had in recent games. After allowing opponents to score 70 points in only six of their first 17 games this season, the Miners have allowed at least that many in three of their last four. It's something the Miners are looking to work on as they face another tough road trip.
"We can't rely on making every shot, every game," Washburn said. "We have to get our defense better."
The absence of Matt Willms due to an injury suffered against UAB on Thursday night makes it a little bit tougher on Floyd and his squad when it comes to defense. Willms, an imposing presence in the paint, was on the sidelines with a boot on his injured right foot.
"I don't know when we're going to get Matt (Willms) back, but he is a terrific player and a big, big part of what we do on the defensive end," Floyd said. "A lot of shots were not changed back there on the back end that normally are."
UTEP improves to 6-3 in conference play and remain tied for fourth place in the conference with Old Dominion and two games back of league leader La. Tech. The Miners will return to the road when they travel to Florida next weekend to visit Florida Atlantic and Florida International on Thursday and Saturday, respectively. FAU bested the Miners a year ago at the Don Haskins on a banked Marquan Botley three-pointer with three seconds to go in the contest.
After two straight losses last time they played away from the Don Haskins Center, the Miners have their sights set on not only continuing the winning streak, but also on those teams above them in the standings.
"It feels good to get this win," Washburn said. "We have to get these two wins on the road to get back in contention for number one in this league."
Luis Gonzalez may be reached at [email protected]