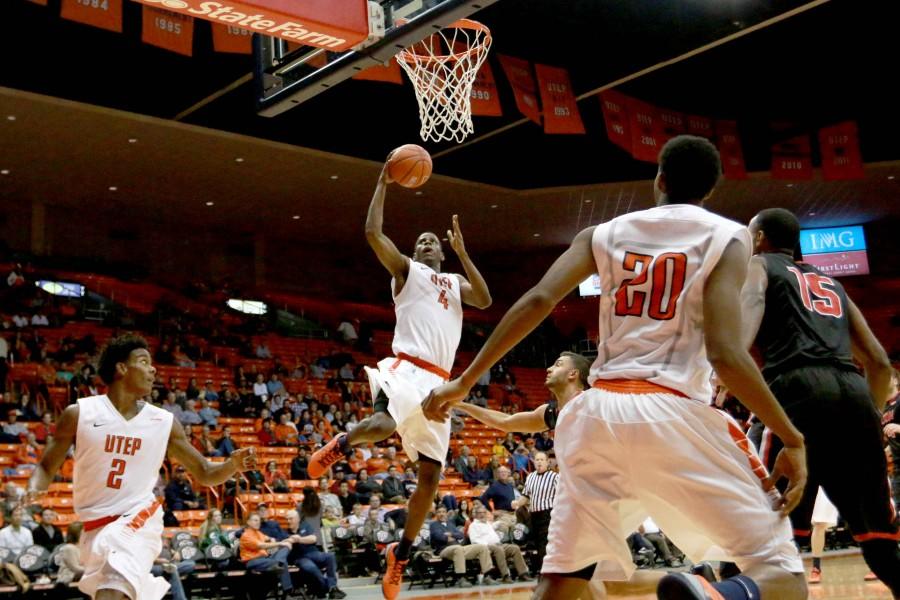 Michaela Román
In front of a crowd of 6,570, UTEP men's basketball team took care of business tonight beating the University of the Incarnate Word by a final score of 81-65. The visiting Cardinals were no match for the a Miner team that was bigger, faster, stronger, and simply more talented.
Miner head coach Tim Floyd and his staff scheduled this game with an easy win in mind, but after a win at Princeton and one of the highest shooting percentages in the country, the undefeated Cardinals seemed to be more of a threat than expected.
"We were hoping we were scheduling a win when we did this," Floyd said. "But when we looked at Incarnate Word we got really concerned."
Still, the result was never really in jeopardy for Floyd's squad which used its size advantage and defense to dominate the visitors from start to finish. With the score tied at five with at the five minute mark, sophomore forward Vince Hunter scored six straight unanswered points and the Miners never looked back. Hunter's buckets sparked a 22-10 run in favor of the Miners that limited he Cardinals' offense to just 15 total points going into the last five minutes of the half.
UTEP limited UIW to just 34.9% shooting and 24% from beyond the arc.
"I felt we did a great job defensively," said senior guard Julian Washburn. "We still have to control our turnovers, but I like the way we played as a team."
The excessive Miner turnovers, a season high 20, were offset by their dominance under the basket. The UTEP big men had their way against their smaller opponent, scoring 48 of its 81 points in the paint and grabbing 47 rebounds. Hunter recorded 12 rebounds to go along with his 16 points, both team-highs, on the way to yet another double-double night.
"That's the way it should've been," Floyd said. "With the size advantage we had that was our intent from the start. We were going to go in there and we were going to keep going in and keep going in."
Along with the great performance inside and an efficient 64% shooting night, the opportunity to provide extended minutes to underclassmen on the roster was very important.
"I like the fact that we were able to get Lew some minutes, Omega some minutes, Earvin Morris some minutes, Hooper Vint some minutes tonight," Floyd said. "We're going to need all of those guys throughout the course of the season."
Freshmen guards Omega Harris and Lew Stallworth played 26 and 18 minutes, respectively. Stallworth was a perfect 4-4 from the field and Harris led the team in assists with six. Newcomer and junior guard Earvin Morris played 24 minutes and sophomore Hooper Vint played 12.
Coming off a three-game losing streak, the victory is welcomed by the miners who will now enjoy a seven day break before hosting Southeastern Louisiana next Tuesday night. The Miners will look to use this time to improve and grow as a team, with a meeting with #3 Arizona looming close.
"We made a lot of mistakes both offensively and defensively, but it's a process and all about getting better a day at a time," Stallworth said.
Luis Gonzalez may be reached at [email protected]